Second City Toronto's latest show, Mission Totally Possible, is an absolute joy to experience. This upbeat comedy show, Second City's 86th Mainstage Revue, opened last week and will be performed at Comedy Bar Danforth throughout July.
The opening number is a dynamic musical performance explaining the mission outlined in the show's name — the world might be messed up, but it's still totally possible to have a laugh, despite it all.
The show stars an ensemble cast of six comedians: PHATT al, Andy Assaf, Andy Hull, Nkasi Ogbonnah, Hannah Spear and Jillian Welsh, with Second City alumna Ashley Botting returning as director.
Mission Totally Possible is a high-energy collection of musical numbers, improv, just enough audience interaction, and plenty of sharp and witty sketches that carry the show. There really isn't a dull moment.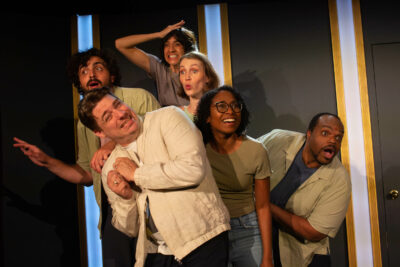 A Hamilton-esque rap number/comedic roast about the shortcomings of Canadian Prime Ministers was a standout act, as was a heartfelt segment about the life saga of a lesbian couple performed to Tegan and Sara's "Closer." Another crowd favourite was a hilarious recurring bit about the difficulties of taking off a sports bra.
The group's comedic range is pretty clear throughout: they successfully tackle tougher topics like divorce and abortion, execute a clever sketch about female pleasure and even find a humourous take on a seemingly mundane interaction between coworkers. The performers have magical moments together as an ensemble, but also shine in dual and solo acts.
Another added delight was the many references to Canadian places and people, as you don't often come across mentions of Alexanian's or African Lion Safari in mainstream comedy specials.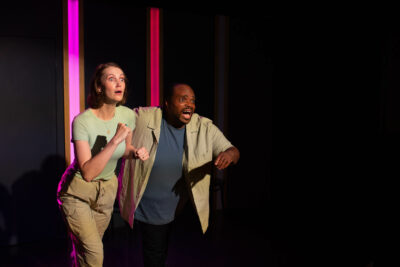 If, like us, most of the comedy shows you've watched recently have been through a screen, it's definitely an incredible and rejuvenating feeling to be back in a room full of actual people, laughing along with everyone. The energy from the comedians is palpable, even from the very back of the room. The intimate venue only enhances this energy, allowing it to spread throughout the crowd.
Fast-paced and well-varied enough for anyone to enjoy, Mission Totally Possible makes for a lovely night out — and laughter-wise, it absolutely accomplishes its mission.
For behind-the-scenes content from Mission Totally Possible, head over to our Instagram this Thursday to get to know cast member Hannah Spear! Having improvised across Canada for over a decade, Hannah holds multiple nominations from the Canadian Comedy Awards and a win for Best Actress from the International Academy of Web Television. Her TV credits include Star Trek Discovery, Tall Boyz, and New Eden. Don't miss her takeover!
Mission Totally Possible is on now at Comedy Bar Danforth until July 31. Tickets are available here.