On Saturday May 13th, the most fun in Toronto will be had on the West Queen West strip that stretches from Dufferin to Roncesvalles for Parkdale's Spring Festival. Here's why we're super pumped to hit the streets:
Sidewalk Sale: Three Fates, Common Sort, Future of Frances Watson, House of Vintage, Community 54, Sylvie and Shimmy, Shopgirls: SO MANY OF OUR FAVOURITE Toronto boutiques line this eclectic strip! A slow wander on a warm spring Saturday to check out their wares hung in the sun sounds positively dreamy.
Crown Flora Mother's Day Spring Flower Market: Scoop her up the prettiest bouquet and then browse this gorgeous lush space brimming with succulents and floral arrangements that can follow you home.
West End Food Coop Market: While on the lookout for floral frocks and denim, we plan to stop for some healthy snacks. Beyond curbing your hunger, the West End Coop Market is the place to chat with the local food artisans and farmers while you shop.
Toronto Designer's Market Pop-up Patio: This permanent indoor market moves outdoors for a Pop-up Patio – enjoy more household items, clothing and jewellery designed by local artisans and designers! (1605 Queen St W)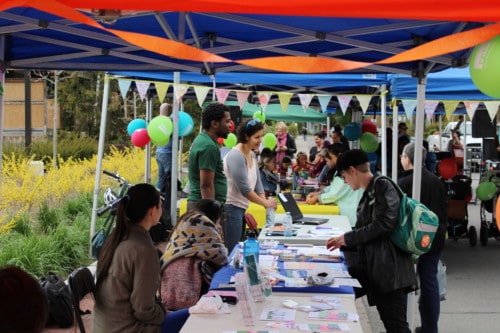 Parkdale Flea Market: Browse this special spring edition of the Parkdale Flea Market, bringing together some of the best and most unique products from antiques, vintage, collectables, local artisans and designers. Get there early to snag the most coveted trinkets! (1266 Queen St W @ Noble)
Foodora Night Market: The daytime festival transforms into nighttime festivities with a 10,000 sqft outdoor Food Market that includes food vendors, DJ, bike parking, patio seating & more! From $5 to $12, enjoy cuisine from all around the world: Local Kitchen, Guu Izakaya, Mojito Cubano, Daiko, Tibet Kitchen, Glory Hole Doughnuts, Food & Liquor and more! – whatever you fancy, you'll find it at the Foodora Night Market! Entry is free and food vouchers can be purchased online or on site. Each purchaser receives a $10 Foodora coupon, plus a chance to win a $200 gift card to any Parkdale Restaurant, a $30 Foodora Credit and your favourite Toronto's Finest artist-designed cell phone case! Get your tickets here. (1325 Queen St W @ Cowan, 4pm-10pm)
Mobile Skate Park: Get your kids to burn off some energy on a skateboard or scooter at Evolve mobile skate park. Equipment and instructors will be available on site to rent for free. Space generously provided by Toronto Parking Authority. (1624 Queen W)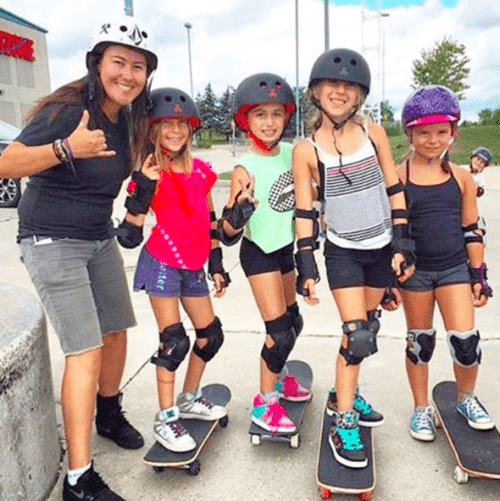 Pirate Life: ARGGH! Join the crew and search for treasure! The pirates have sailed into Parkdale and need your help to solve mysteries and riddles. Any festival that promises a pirate ship is a no-brainer. GET ON BOARD.
Kids Zone: Yes, this is where the pirate ship will be docked, but also where your kiddos can get creative with free crafts organized by Environmental Art Educator Extraordinaire Linda Naccarato. While there, have them transform into an animal with face painting by Isabel & Cotton Candy! (Callender Ave & Queen W)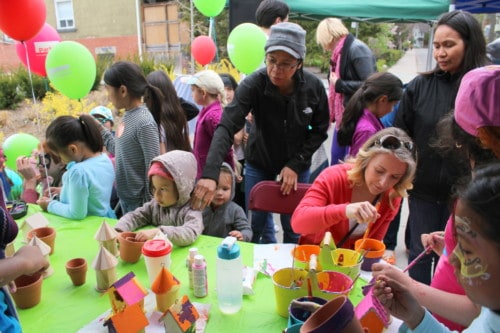 Parkdale Song Project for Canada 150: The Grade 7/8 students from Parkdale Junior & Senior PS and Fern PS as well as the Grade 5/6 students from Queen Victoria PS will be hitting the streets to sing their hearts out! Enjoy a thirty-minute concert with songs created in a Canada 150 fund-supported project facilitated by Juno-nominated and Queen's Diamond Jubilee Medal awarded singer-songwriter Mike Ford (Prologue to the Performing Arts). The diverse learner-created songs explore and celebrate local and national stories with lyrics in English, French, Tibetan, Tamil, Hungarian, Spanish, Mandinka, Tagalog, Arabic and Cree. Accompanying the student performers will be Mike Ford and Parkdale percussionist Brad Hart.
Music to our Ears: Enjoy a mix of musical genres from Francophone Jazz by Amelie et Les singes bleus band, Greek Folk by Alaniaris to world & folk music by the Kitchen Orkestra quartet. There's something for every music lover!
Art in the Streets: Explore a large interactive photography installation of 3D Cubes produced by Parkdale Collegiate Institute Students, guided by local artists Hitoshi Murakami and Vincent Luk from Northern Contemporary Gallery, in conjunction with the Parkdale BIA. Or leave your mark on Parkdale with Parkdale-based visual artist Bareket Kezwer as she invites you to share what makes you happy in her interactive chalk installation – come out and take part in her ongoing project #365daysofsmile
Flower Giveaways @ Tulip Zone: Hundreds of blooming flowers will be handed out to visitors and just in time for Mother's Day! OMG, is there anything this street fest doesn't have?
This is a street festival dream come true! With so much to do and see, get outside and explore, taste, listen, learn and love. There's only one Parkdale, so join us at Spring Into Parkdale next Saturday.