Abra Shiner has lived in her West Queen West apartment for 23 years. Deep roots in this part of Toronto, which has seen dramatic transformation in the past two decades, is rare. Once a neighbourhood full of artists is now a stretch of towering condominiums and big-box retailers. Abra has witnessed many changes since 1999, and has grown alongside them. But in November, the longtime tenant (who's always paid rent on time), was handed an eviction notice from the new landlords, despite her terminal cancer. "My health isn't good enough to withstand a move," she says earnestly.
Abra was diagnosed with metastatic breast cancer a year ago. It quickly spread from her breast into her lymph nodes. "I have a chain of infected lymph nodes in my neck which are inoperable," she tells me from her bed, where she's recovering from yet another surgery. The cancer has spread to other organs, and the treatment has also taken a toll.
"The medication has a lot of side effects. I've been going through menopause for about six months, and just had my ovaries removed," adding that the medications have also caused arthritic pain in her spine. "My bones ache. My wrists click. It's so weird to be in a 42-year-old body and dealing with so much old lady stuff. My strength and energy is not what it used to be. But some days are good days and I really relish those. I want to spend those good days enjoying my life, I don't want to spend them searching for an apartment or packing 23 years of my life into boxes that I don't know if I will ever have the strength to open."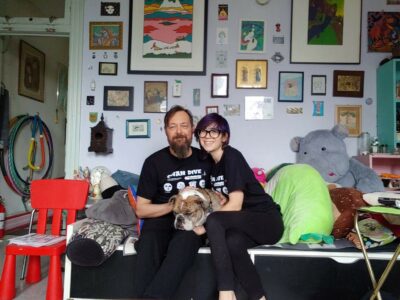 It's a message that Abra has tried to convey to her landlords several times. First in person, then with a doctor's letter, which explained how moving at this point in her illness would be extremely dangerous, and could shorten her life. "They didn't open the letter, they handed me back a paper copy of the eviction notice. The next day I received notice that they had filed the eviction to go through the landlord/tenant board, so I called them back and I tried to explain again and asked if they had opened my letter. They hung up on me and said they'd call back and I haven't heard anything since."
Beyond being a long-time resident, Abra is also the owner of a popular west-end bar, Swan Dive. Her community has stepped up to support her in this crisis, including launching a GoFundMe page to help pay for legal services. Abra doesn't want a fight, she doesn't have the energy for one, but she's willing to go to lengths to save her home, and extend her life.
Local politicians have also gotten involved. Spadina-Fort York MPP Chris Glover sent a letter to the landlords, and Ontario NDP Leader Marit Stiles has also reached out, making it clear that what they are doing is not right. Abra's oncology team at Princess Margaret Hospital has also expressed their concerns.
Renoviction is all too common in Toronto, especially with rising rent costs—if people see an opportunity to make more money, it often comes at the cost of another person's wellbeing. Abra's story, and the heartless actions of her landlords, tell a bigger story about a changing Toronto, and how the real estate market and unaffordability are pushing people out. This is also a story about what defines a neighbourhood… what makes a home home.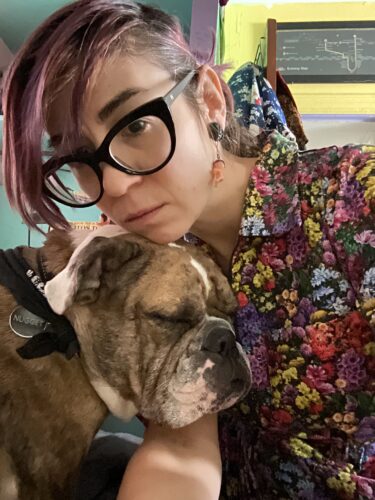 "I know every beam of light that comes in through the windows in this house. All the cracks in the floors… I put down the tiles. I watched them decay," she tells me, reminiscing on old chapters. "I love this building and it's not just me, it's all the tenants. We have not had a lot of help with repairs since the original landlord that we had. It's been rocky at times, we haven't always gotten along, but we've always managed to take care of each other."
Since making her story public, Abra has received a wave of press. Global News reached out to Rick Deol, one of the current owners, who responded that the eviction is because the building is in need of repairs. But Abra disagrees, stating assuredly that, "the building is up to code." When something happens in the common areas, it is the tenants who've historically dealt with the issue. "When something breaks, we tend to fix it," says Abra, describing many hours spent patching up holes, fixing doors, painting walls, and ensuring that everything is safe and in working order. Improvements are something she's taken pride in over the years; she knows the building better than anyone.
Like the tenants in the apartments, Abra has also observed the many lives of the building's storefront. Since she first moved in in 1999, it's morphed from being a coin laundry to a psychic shop to Queen's Quay Antiques (also known as the best stoop for a good game of chess) to Erin Stump Gallery and most recently Dynasty Plants, which occupied the space for nearly a decade.
As rent continues to skyrocket, buildings like Abra's, which hold so much history, character and soul, are viewed less as buildings to care for, or homes for people, than a means to profit that only the wealthy can afford, an opportunity for a quick flip (one of the landlord's Abra's been dealing with has "gtaflip" in their email address).
Across the street from Abra's home, on the grounds of CAMH, is a giant mural that reads "You've Changed". It has loomed over the neighbourhood for years, and with each passing month, feels more relevant—at times menacing.
West Queen West still has some of the grit and charm it has always been known and loved for, but for many it has become unrecognizable. The rapid growth of our city comes with a cost. "The community is still here but a lot of us are being pushed out."
Want to support Abra? Head to the GoFundMe page.