When asked to be a #BritaHydrate ambassador at Bud Light Digital Dreams, my weekend plans were cancelled. Immediately.
As a sucker for all things luxurious, it was nearly impossible for me to say no to a two-day stay at the Trump Hotel Toronto, VIP tickets to Digital Dreams and an all-access pass to the #BritaHydrate dome.
After a full work day, I was whisked away from my apartment and taken to the Trump Hotel for dinner at America to meet the rest of the #BritaHydrate team.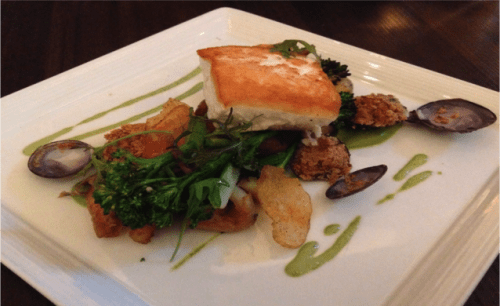 After only consuming a Tupperware-packed lunch at my desk, I indulged in pan-roasted halibut with crispy potatoes, soft-shell clams and green goddess dressing. Dessert followed with a Mississippi Mud Slide topped with crème fraîche and caramel popcorn.
With full bellies, we retired to our suites­—with three televisions—for a good night's sleep. (Seriously, the beds are amazing.)
Day 1
Decked out in our festival attire of cut-off denim shorts and floral rompers, we made our way to the first day of Digital Dreams. After following a long trail of poncho-clad ravers, our driver dropped us off into what was a full-on rainstorm.
Looking down at my open-toed sandals, I quickly realized I hadn't made the most practical choice for the clusters of muddy puddles and slippery stairs. But before I had the chance to step foot in front of a pulsating stage, the festival was cancelled due to swaying electrical equipment.
Back in the car we went, but this time to Gusto 101. Over a plate of bay clams, oysters, shrimp and calamari that is Linguine ai Fruiti di Mare, I was schooled on the EDM culture. As a Digital Dreams first-timer, I was unaware of the popular dance move known as "the shuffle" and the finite details of the outfits sported by festivalgoers. By the end of my last mojito, I felt confident about grooving my way through Day 2.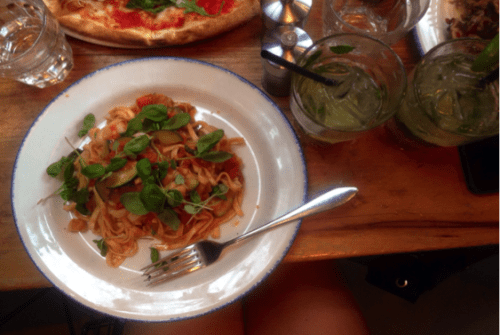 Day 2
Donning pants, a jean jacket and a bright blue poncho, I felt much more prepared to take on the festival headstrong. Plus, with my Brita water bottle in hand, I knew that I would stay hydrated as I attempted to shuffle the day away.
We made our way to the #BritaHydrate dome to fill up our water bottles and to take refuge from the rain. Inside, servers carried trays of water shots, white furniture was scattered and a DJ skillfully set the tone of the projection mapped dome.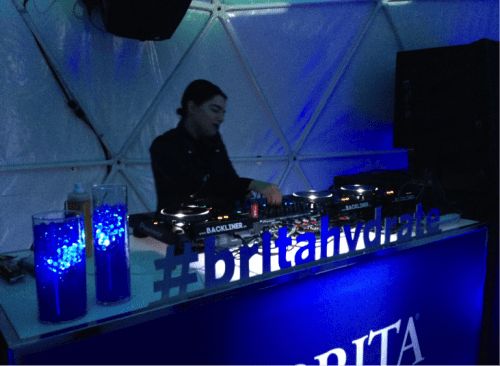 Though, the dome wasn't the only spot to quench your thirst. There were free Brita hydration stations set up around the festival grounds, which proved to be very useful in between stage hopping.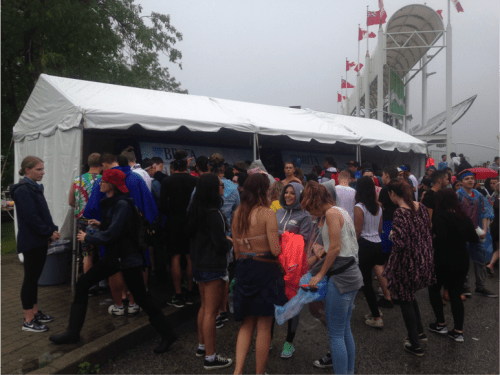 It wouldn't be a full festival experience without enjoying the offerings from the rows of food trucks—and Digital Dreams wasn't lacking in variety.
From the Food Dudes' mac N cheese balls and Captain Crunch Fish Tacos to the pulled pork wrap at JP's Barbeque, I thought I was going to have to be rolled out.
Just when I thought I had hit my carb limit of the day, I spotted Chimney Stax Baking Co.. With a wide assortment of specialty breads baked on spits, I ignored my better judgment and ordered the cheesy garlic stax. And, I am sure glad that I did.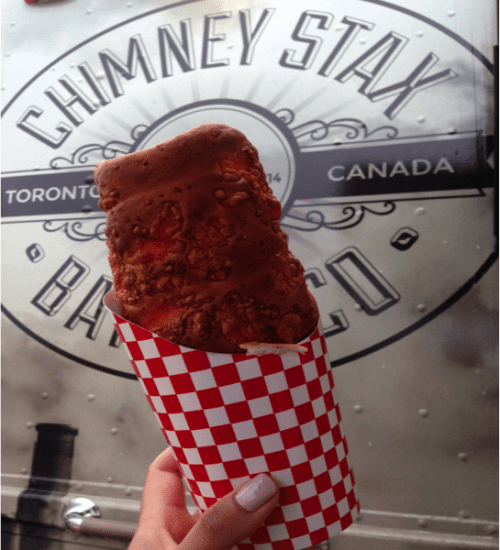 The day was capped off with rain dancing at Amtrac's set at the TD Echo Beach stage. As the music pulsed and the eclectic crowd swayed, I couldn't help but share in the spirited energy of festival. Rain or shine, Digital Dreams has proven itself to be one good party.