Fed up with spending time, money and energy trying to figure out what to wear during TIFF, actor and comedian Naomi Snieckus (Mr. D) took it upon herself to change the game and the convo. Instead of finding a dozen outfit changes for the onslaught of TIFF events (something Naomi considers to be wasteful), she approached one of her favourite local designers to create a custom-made dress that can be styled several different ways. Starting today, Naomi will be making the rounds—from TIFF lounges to the red carpet—wearing the "Naomi Dress," designed by Diana Coatsworth.
Whether her initiative has a small or big impact is not known yet, but in any case, Naomi has one dress she loves very much, and she's excited to start new conversations about fashion sustainability, filmmaking, #AfterMeToo and MORE.
SDTC: When and why did the idea of wearing one dress for TIFF come to you?
NS: I came up with the idea of wearing one dress to all the events mostly because I like saving time! Ha! I always try to do something a bit different for the events during TIFF, and I thought, "Wouldn't it be great to not have to worry about what I was going to wear every night and just have one dress?"
I do enjoy a fancy frock every once in a while, but I also enjoy supporting new designers, so I thought this would be the perfect combo. When I asked Diana Coatsworth about this idea, she jumped at it, as did Aldo shoes and W Salon, and that's all I needed to make this project happen—some people saying yes!
I love the TIFF festival so much, but sometimes getting outfitted for the events is tough on time and on budget for people. There's also a lot of waste in our industry and I felt like I could help cut-back on that. I wanted to do something that would support the glitz and glamour of the festival and the passion of coming together as a creative community! I am thrilled that Diana Coatsworth agreed to join me for this project. You know what they say: if you need something done, ask a busy woman!
What conversations are you hoping to inspire?
I know a lot of people in our community feel like there is a great deal of waste in our industry. Trying to find ways of cutting back is important to me. Whether it is in (wardrobe) purchasing or bringing my own tupperware and cutlery to set for lunch, I think it's important to do what we can, environmentally.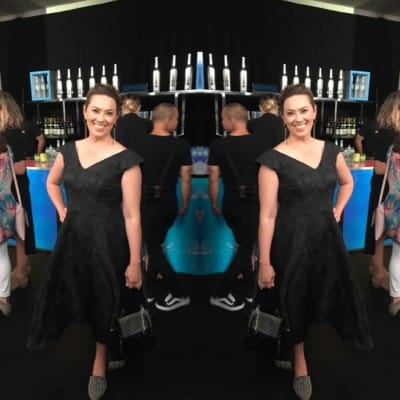 While part of your initiative is to redirect conversations on the red carpet, we're still curious about how you went about choosing or creating the "Naomi Dress."
This was the brainchild of me and Diana Coatsworth. I showed her some designs that I thought would be versatile as well as dresses I feel comfortable in. She came up with the fabric and other nuances that make it a really original and special piece. It was definitely a joint effort, and I couldn't have done it without her incredible talent. Plus, now if you want your very own "Naomi Dress," you just have to ask Diana—she's got the pattern and everything!
When you think of the first time you attended TIFF, how has your approach to it changed today?
Oh my goodness, I was so overwhelmed with where I needed to be and what I needed to wear. Carolyn Rohaly from CBC is a dream; I wouldn't have known where to go or what to do without her direction. Also, there are some very generous photographers at these events that taught me how to work the red carpet! I would have six chins in all photos if it weren't for them.
Beyond the "Naomi Dress," you have something pretty fun planned for the WIFT-T Reception at TIFF. Can you share with us a little about the flip-flop project?
Again, I'm all about redirecting the conversation to films and projects we are working on. Every year one of my favourite events is the WIFT-T Reception at the end of the festival. I noticed that every time I spoke to a woman that night, we spoke about how our feet hurt from the week in heels. I thought, "Wouldn't it be great if we could all just wear flip-flops so that we weren't talking about painful feet and we could talk about exciting projects instead?"
When I told my idea to Amanda Smith and Lorraine D'Alessio at D'Alessio Law Group, they jumped at the opportunity to support this venture. This is what I love about the community: there's always somebody around that is ready to support your idea. Look out for lots of great sandal fashion at the party next week.
What excites you most about #TIFF18?
The coming together of our community. Seeing great films with a theatre full of passionate film lovers. Having some laughs with friends and getting inspired to create projects together. Firecracker Department has some really exciting productions coming up and Katelyn Cursio (my co-producer from Carousel Pictures) and I are jazzed to share them with everybody.