Seeing film crews take over city streets and venues in Toronto (and all over Canada) is a normal occurrence, but with Netflix's new Netflix in Your Neighbourhood, fans can see exactly which locations made it into beloved hit series and films.
Virgin River, To All The Boys, Locke and Key, The Umbrella Academy, and Ann with an E are just some of the beloved series that have been filmed right here at home, and Netflix in Your Neighbourhood shows off the sets and landscapes that have helped shape these films and series, and in some cases, inspired them.
To launch Netflix in Your Neighbourhood, decals have been placed in filming locations across the country. In Toronto, we've already spotted these giant circles outside the Royal Ontario Museum, and Ripley's Aquarium.
In a press release, Netflix shared how people who have watched Canadian content are 2.1x more likely to say Canada is their #1 travel destination. From breathtaking landscapes to local food & drink, they conducted a study that shows how popular Netflix series filmed in Canada directly impacted travel.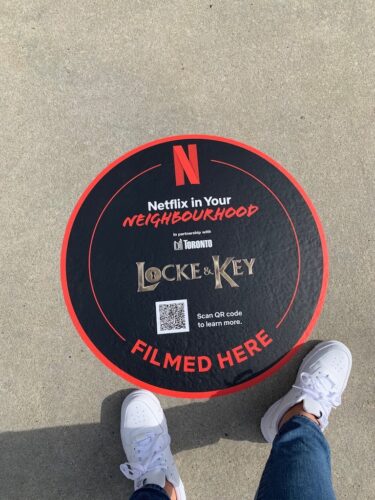 The new initiative brings an unexpected thrill for pedestrians, and definitely adds an exciting dimension of fun for fans. Netflix in Your Neighbourhood also does a fantastic job at introducing parts of Canada to the world, attracting visitors to both our vibrant streets and our most majestic parks, through the power of storytelling.