Do you have a "female" body but identify as masculine? Finally, the underwear of your dreams has arrived! Toronto's mega-queer underwear startup, New FRDM, is set to launch their limited-edition Prototype Pairs during Toronto Pride Week!
This androgynous underwear line provides masculine intimate apparel for androgynous women, genderqueers, and trans-masculine folks. Their minimalist-style boxer briefs are designed for FAAB (female-assigned-at-birth) folks who desire a masculine intimate apparel fashion statement. The underwear comes in two styles; Trunks ($30), and Packing Trunks ($40). The Packing Trunks also have a pocket for inserting a packer or STP (stand-to-pee) device.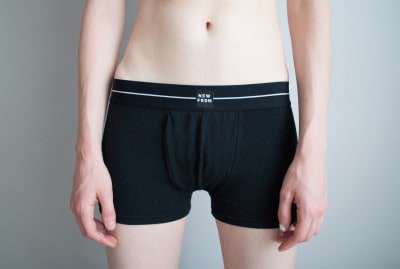 New FRDM has teamed up with TKVO (1450 Dundas Street West) for the product's soft launch party: Thursgay Predrink. On June 30th from 7pm – 11pm, browse New FRDM's Pop Up Shop, sip on $2 Steam Whistles, groove to a live DJ, while meeting new queer friends and allies in a chilled-out atmosphere. See you there, handsome!