Noémie Says Yes is an absolutely stunning feature debut from Quebec writer and filmmaker Geneviève Albert. The film is a devastating portrait of a 15-year-old girl who, abandoned by her mother, falls into a bad crowd and is quickly manipulated into prostitution by her pimp boyfriend.
While a narrative film, Noémie Says Yes is a survival story that mirrors the heartbreaking reality of far too many Canadian youth. The film inspires much-needed conversation about the cracks within our childhood welfare system, and society's failure to protect vulnerable girls.
Kelly Depeault received a Canadian Screen Nomination for her breathtaking performance as young Noémie, a beautifully complex character audiences won't soon forget. The film has been selected as the closing-night film for the 10th anniversary of the Future of Film Showcase, Canada's most sought-after festival for emerging Canadian filmmakers.
We connected with Albert to discuss her phenomenal breakout feature.
Can you share with us where the idea for Noémie Says Yes first came from? What's the origin story of your film?
I have been interested in prostitution for a very long time, and I question its presence in our society. This film is in no way autobiographical, but I turned to this reality for my first film because it is a key subject that mobilizes me as a citizen and as a filmmaker. While researching this topic, I learned that in Canada, the average age of entry into prostitution is 14-15 years old. It is this staggering statistic that convinced me to focus my story around a teenager who is encouraged to prostitute herself.
What themes/ideas were really important for you to explore?
At the heart of my film, there is a reflection on consent, hence the title "Noémie Says Yes". Because it is the argument most frequently used to defend prostitution in the public sphere. The logic used is as follows: if a person consents to prostitution, then the choice is not questionable. However, contrary to popular belief, saying "yes" is not enough to give consent. Certainly, there are "yeses" that are enlightened. But there are a multitude of "yeses" that are ambiguous or obscure. "Yeses" that are in reality acts of submission, renunciation or blindness. "Yeses" that are obtained in a context of manipulation, or even in a context of constraints, whether financial, psychological or physical. The "yeses", like humans, are not all born equal. We cannot hide behind the misleading argument of consent to endorse prostitution.
Which films made you want to be a filmmaker?
The first two films that impacted me when I was young were Au Revoir Les Enfants (1987) from Louis Malle and Empire of The Sun (1987) from Steven Spielberg. I just realized these films were made the same year! Let's call it my lucky year. But more importantly, these two films feature children going through terrible ordeals. I saw these films several times in my youth. When I saw them again as an adult, I was taken by the same emotion. These masterpieces have not aged a bit over the years. They definitely made me want to make movies.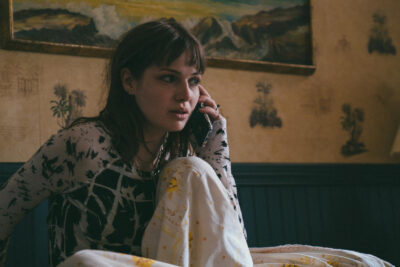 What did writing Noémie Says Yes look like?
It looked like a very, very, very long journey strewn with pitfalls! I learned a lot while writing my first feature film. I did a lot of research because I don't have a background in prostitution. So, I interviewed girls who were prostitutes, women who had gotten out of prostitution, as well as a pimp. I also met judges, police officers and educators. I needed the validity of reality to make this film. It was important to me to create characters and situations that corresponded to the current context. I wanted my writing to be precise and frontal, without sentimentality and without exaggeration. I fed on all the testimonies that I collected. It took me 7 years to write and get all the funding for my film. I believe that to make films it takes talent, but it also does take a gigantic reservoir of perseverance.
How would you describe your approach to filmmaking?
It is hard to say after one movie. Maybe I can say that by making films, I want to make the invisible visible by confronting us individually and collectively with different disturbing and worrying realities. Moreover, for "Noémie dit oui", I adopted a hyper-realistic approach and I believe that I will stay in this groove for my next films. But maybe not! The future will tell us.
The Future of Film Showcase runs from May 18-21. Noémie Says Yes will close the Festival on Sunday, May 21st. Info and tickets here.