Nuisance Bear, directed by Gabriela Osio Vanden and Jack Weisman, was shot in Churchill, Manitoba and shows a perspective of polar bear life rarely captured on camera.
A directorial debut for both filmmakers, Nuisance Bear will receive its world premiere at TIFF 2021, as part of TIFF's Short Cuts programme—an exciting lineup of 38 films from 22 countries, announced earlier today.
In less than fifteen minutes, the moving Canadian short touches on several timely issues including the ethics of eco-tourism, the current realities of our climate crisis, and the complicated relationship between humans and endangered wildlife.
"I love animals probably more than people," says Gabriela, who has spent five years making this film with Jack. "What we really hope people get out of this is to think critically when you travel about the impact you are having."
Unlike most nature documentaries like BBC's hugely popular Planet Earth series, where we see animals in their natural habitat, far away from people, Nuisance Bear shows polar bears wandering through the streets, dumps, and backyards of Churchill, while also capturing the chaos that ensues around them, be it tourists snapping pictures or conservation officers blasting guns to scare off the majestic creatures. "It was important for us to show that it's almost a circus there. The bears are not really in the wild, they are interacting with so many different types of human activity all day long."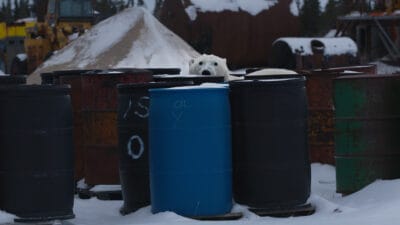 When we think of the climate crisis, the image of a lone polar bear swimming vast distances to find ice or land is a common visual that comes to mind, but there are other realities of climate change that are less documented. "Before we start seeing these big massive changes, and losses of certain species, there are these other strange things happening that we wouldn't normally think about," says Gabriela, explaining that the people of Churchill are seeing more polar bears, because the ice is melting."These animals are super intelligent, so they are adapting to what's happening around them before they go extinct. They are being attracted to human activity."
A seasoned cinematographer, Gabriela wanted to get up close to the polar bears to show their perspective as much as possible. They engineered a rig that allowed them to mount a camera and long telephoto lens to the front of the car so they could control the camera from inside the vehicle and safely film moving polar bears at eye level. This approach allowed them to capture the never seen before sequences in the film. "It's definitely more nerve-wracking than your typical documentary shoot. You need to do what you need to do to be safe," she says, adding, "You don't push it."
In the film, we also see how the residents of Churchill have learned to live with the animals. A particularly striking Halloween scene shows costumed children being escorted by police while trick-or-treating, in order to ensure they aren't nabbed by an onlooking polar bear. "It's spooky on a whole other level for sure," says Gabriela, pointing out that the population of Churchill hovers around 900, but swells to over 10,000 during the month of October, as tourists flock there for bear season.
In recent years, the destination has become increasingly popular. Last month we published a story that shared how there has been a surge of bookings for "Polar Bear Safaris", an item that makes many people's dream-trip bucket list. "I understand why so many people flock to a place like Churchill to see them. They are the last apex predators of that size on land. There's an innate respect that they command when you're in their presence. This experience has made me really consider eco-tourism and my involvement in it."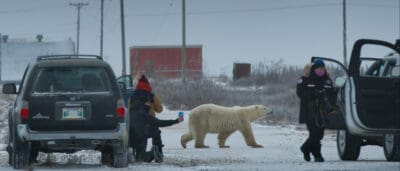 For Gabriela and Jack, making Nuisance Bear is a project that has consumed them for years. "We think about and talk about the bears all the time. We got entranced with this, and sort of obsessed … we had to do it." While busy making the film, they were never preoccupied with submitting it to festivals—it was a labour of love they were compelled to do. But the fact that the emerging filmmakers will have their world premiere at TIFF this September is something they're thrilled about -"It's exciting, surreal and such an honour."