I have yet to join a Wild Women Expeditions trip, but I have subscribed to their newsletter for years. Whenever I receive an email from them, detailing a hiking trip in Nepal along the base of the Himalayas, a trek to visit old-world charms in Croatia, or some other enchanting itinerary, I am instantly transported far away from my desk and the present moment, imagining myself on one of their exciting adventures. "I will do this one day," I think to myself. But then a notification pings and I jolt back to my pressing to-do list.
Travel has been something many of us have dreamed about since March 2020. Like so many things in life, when something is off limits, you tend to want it even more. Escapism has also looked differently… while it has always been fun, our imagination has also served as a survival tactic during the pandemic, temporarily lifting people from a state of anxiety or fear. With travel restrictions easing, and 41% of Canadians (12 and over) now fully vaccinated, getaway fantasies are becoming possible realities, but there are noticeable shifts in where people are going.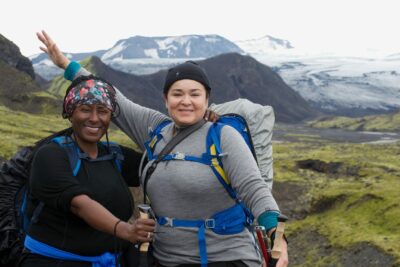 Jennifer Haddow has been running Wild Women Adventures for the past 11 years, and right now, she's witnessing activity like never before. "I've never seen anything like this," she says, describing the uptick of bookings. "It's off the charts." After months of wondering whether her business would bounce back, she's heartened by the activity.
Adventures in Iceland, Ireland, Croatia, Greece, Spain, Azores, Galapagos Islands, Peru and Patagonia, are just some of the trips organized for 2021. But what's especially fascinating for Haddow is the number of women booking trips to the Arctic and Antarctica. "Hundreds of women are booking polar expeditions. I did not expect that!" says Haddow, explaining that these types of adventures are the kind that people save their whole life for. But the pandemic has shifted how we value time, with the resounding message that there is no time like the present; future time is never guaranteed. "They are going for the big bucket list…the trips of a lifetime."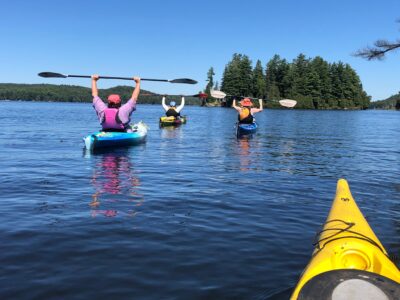 After an intense year of being cooped up, with mothers often carrying the brunt of juggling virtual learning and full-time jobs, women are in need of a goddamn break. We can't help but think that the popularity in polar travel may also correspond with a desire to get as far away as possible. Serenity is something that has been nearly impossible to achieve, and there's probably no location on earth as quiet and serene as trekking the barren lands of Greenland, or paddling through the icy waters of Antarctica (Wild Women does both).
Haddow has noticed other trends too. "Up until very recently, Canada was saying 'Don't leave Canada', so Canadians were booking up Canada. We've added new tours in the Rockies and we are offering a lot in BC and Ontario," she says, sharing that beyond the hiking, kayaking and canoeing adventures, the popular Polar Bear Safari in Churchill, Manitoba has also seen a surge of interest.
For Americans, Europe and Iceland are the big destinations of choice, which has to do with the way that countries have opened up their borders to Americans before Canadians, and Canada taking longer to mobilize vaccinations. "There are places in Europe where Americans can go that Canadians can't, like Portugal," explains Haddow.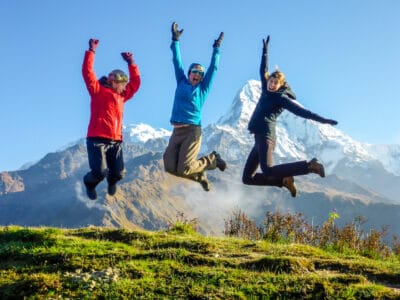 While the pandemic has altered where we travel, what hasn't shifted is the style of travel that the Canadian company has always championed, since it first launched in 1991. "We don't do busses, we don't do cooking classes in the city, and fundamentally our tours are about being out in wide open spaces in small groups." It's a type of exploring well suited to our current era of hypervigilance, but Haddow makes it clear that Wild Women Expeditions has taken extra precautions to heighten care, when it comes to travelling near or through First Nations communities. "When we did an assessment of the risk and impact, the ethics, and the values we have as a company, we decided to be very, very careful about not going into First Nations territories without really being sure that we are being welcomed. In Canada, Haida Gwaii is a good example—we really respect the requests of the Haida nation on our tours, and make sure that our clients that go into those ares, like our sailing trips, are vaccinated and tested. We're being especially sensitive to the risks and impacts on First Nations."
In early March, when COVID-19 was raging across the country, and only a small percentage of Canadians were vaccinated, the idea that travel would pick up again seemed like a very far-off dream. There were many times where I couldn't imagine myself ever boarding a plane again; Haddow admits that she too had moments where she questioned the future of the industry. "To own an international travel company over the last sixteen months has been, um, an experience," she says, with a nervous laugh, but she's feeling confident about the future. "When you go through any challenge, where you think 'Am I going to make it?', and you survive, you usually come out stronger. We're bouncing back stronger."