The O'Pears (Meg Contini, Jill Harris and Lydia Persaud) are releasing their sophomore album, Stay Warm, on December 7. The album features a collection of original songs as well as traditional holiday interludes, but don't worry, this isn't your typical cheesy Christmas collection. Instead, think of family reunions and new love while taking in the chill of blowing snow, drifting hearts, and seasonal solitude.
The O'Pears will celebrate the release of the album on Tuesday, December 11 at the Drake Underground. We caught up with them to ask about their holiday traditions and hopes for the new year.
SDTC: What holiday tradition did you enjoy most as a kid?
Meg Contini: Hiking through the woods with my family to find a Christmas tree!
Jill Harris: Singing at the Christmas Eve service with my family.
Lydia Persaud: Sitting down with my family after Christmas dinner and watching The Griswold's Family Christmas.
How will you spend your holidays this year?
Meg: Flying home to Alberta and spending time in the mountains with my family. I only get to see them once or twice a year, so I can't imagine ever missing this tradition!
Jill: Spending time with my family in Toronto, and having Friendsmas with some pals: a tradition we started last year.
Lydia: Heading home to Brampton, ON, for a week or so and spending time with my family.
What should we be paying more attention to?
Lydia: Giving to those who are living in marginalized communities by donating winter jackets, warm clothing, toys, food etc. and/or lending our time to community initiatives. Also taking time to check in with our friends and family who have experienced loss, and offering a spot at the dinner table to someone who might be spending Christmas alone.
Word or phrase we should use more often?
Meg: I love you.
Lydia: Gratitude, honesty.
Do you have any new year's resolutions?
Meg: Take a long-postponed trip in Europe with my brothers!
Jill: Finishing partly written songs, seeing family, and giving back to the community more.
Lydia: Make more time for travelling, writing and relaxing.
What's a current goal of yours right now, big or small?
Meg: Finish reading Don Quixote…I started it in 2009. And finally get started on recording a solo project.
Jill: Being creative daily.
Lydia: Living more honestly, and staying healthy for the remainder of 2018!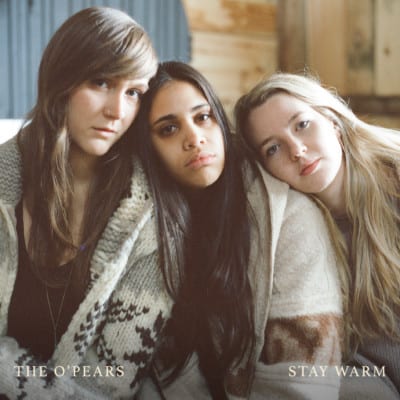 What was a moment you recently experienced that shifted your perspective?
Lydia: Making Stay Warm has been a deeply altering experience for The O'Pears. Writing our first concept album has been a challenge but extremely rewarding for the development of our writing.
What are you currently enjoying in life?
Meg: Learning pottery and spending time outside of the city.
What book/TV show/film did you recently consume and want to rave about?
Meg: Baroness von Sketch Show! Those ladies are awesome.
Lydia: Sorry To Bother You, Insecure, She's Gotta Have It!!!
Can you share with us two snippets of your childhood that you think shaped who you are today?
Meg: Singing in choirs, and being the oldest of four kids.
Jill: Performing in musicals with my whole family, and deciding to go to a non-arts high school but being as involved in music as possible, in and outside of school.
Lydia: Joining the church choir and getting my first solo on "O Come Emmanuel".
How do you chill out?
Meg: A book, a bath, a record on, and some twinkly lights.
Jill: Hanging out with friends, sitting in the park and journalling.
Lydia: Being in nature/by water, taking a walk, going to the spa.
What musicians got you interested in making music?
Meg: Queen and Led Zeppelin.
Jill: The Beatles, Joni Mitchell, and Sufjan Stevens.
Lydia: Stevie Wonder and Shania Twain.
What are three lesser-known facts about you?
Meg's a Gemini, Jill's a Leo, Lydia's a Libra.