My passion for driving was instilled in me from a very young age. As a child, I would be playing with toys on the carpet while the Daytona 500 or Monaco Grand Prix blared on the television in the background. Arranging Barbies or building Playmobil sets would be interrupted with cars aflame or TV announcers sputtering effusively about Nigel Mansell or Mario Andretti. Now, the hum of Formula One race cars comforts me, as it is a noise I associate with my childhood.
My father also had an interest in cars that deepened with age. In his fifties, he'd drive across entire continents, including a rally across South America in a 1965 Ford Mustang, and a trip around the world in eighty days. It wasn't just Dad who loved driving; my mom has always been a wickedly assertive driver and prides herself on being the "Queen of Parallel Parking." To this day, in her seventieth year, she remains adventurous in her off-road quests. Clearly, my love for road trips and aptitude for driving were not only fostered but also inherent. That's why when Ford Canada invited me to test drive their new 2017 models around the backwoods of Muskoka, Ontario, my response was, "HELL YES."
The impetus for this event?
During the last five years, Ford's global SUV sales went up more than 80 per cent with last year reaching an all-time record of nearly 1.7 million SUV sales globally
SUVs are also the top-selling segment in the Canada and the U.S.
Ford is the #1 SUV Brand from 2009 to 2016 and Ford is on track for #1 in 2017
With those stats in mind, Ford wanted to give us an opportunity to test out their latest models, and explore how design features – be it interior comfort or fuel efficiency – can help consumers find the vehicle that best suits their needs.
In this funny world of blogging, you get a lot of unique opportunities. They don't always pay the bills, but sometimes they offer terrific life experiences; the Ford Muskoka SUV Program I was invited on ticked ALL the boxes:
– Stay overnight at Muskoka's elegant Sherwood Inn
– Take a wildlife photography workshop with Canadian Geographic Photographer-in-Residence, Michelle Valberg
– Participate in an astronomer-led stargazing expedition
– Explore Muskoka backcountry in Ford's latest SUVs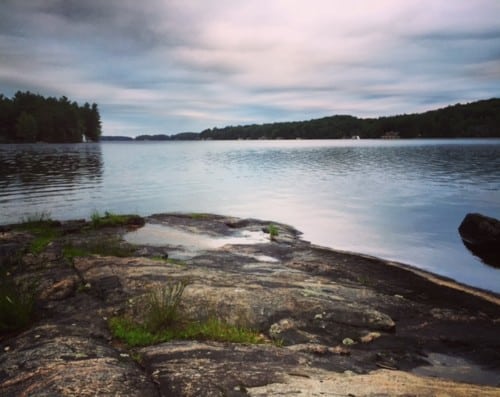 It was a phenomenal itinerary that also gifted me a mini escape from the demands of real life. So here's what went down:
The Ford excursion group met at Toronto's Alt Hotel by Pearson Airport. There, we were each assigned a car. I was partnered with Steve Dolson of LXRY Magazine, and we were handed the keys to the Ford Explorer 2017 XLT. Steve got us to Orillia, and then I took over from there until Lake Joe. Thoughts on the car: smooth, total comfort, control, excellent visibility, and luxurious features like built-in massage that you can control from the dashboard computer screen. (Totally over the top; totally amazing.)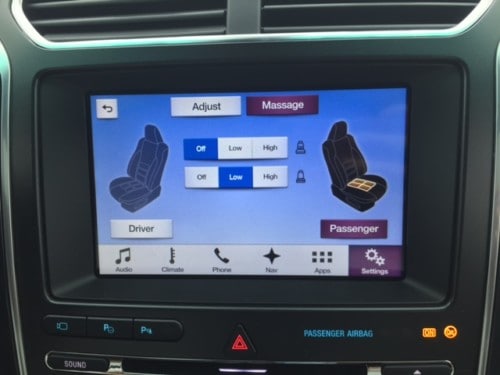 Upon arrival to Sherwood Inn, we settled into our rooms (I scored with a beachfront cabin) and then congregated for refreshments and Michelle's photography workshop.
There's a reason Michelle's work hangs in Canadian embassies around the world: it's jaw-droppingly stunning. I listened to every word she said, took notes, and sat in awe of her work.
Top tips I gleaned from the workshop:
– Change your movement. Move your body to get different angles and perspectives.
– Think foreground. People often consider the background but miss points of interest in foreground.
– Take chances and try new things. Slow down the shutter speed. Capture the movement in the frame.
– Play. Experiment with texture, reflections and views that are more abstract.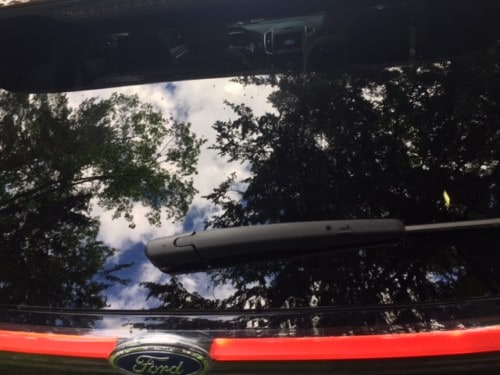 Hearing Michelle's stories about photographing polar bears in Nunavut and grizzlies in BC was both fascinating and invigorating; I couldn't wait to zoom down the gravel road and explore the natural surroundings.
Being quite the competitive bish, I was determined to win when Ford challenged us to a photography contest, where we applied what we learned from Michelle while figuring out a compelling way to include our sport vehicle in the wild.
This time, I was handed the keys to a Ford Edge. So Steve and I hopped in the car and went on a mission to find interesting dirt roads that offered nice scenic views – not hard in these parts!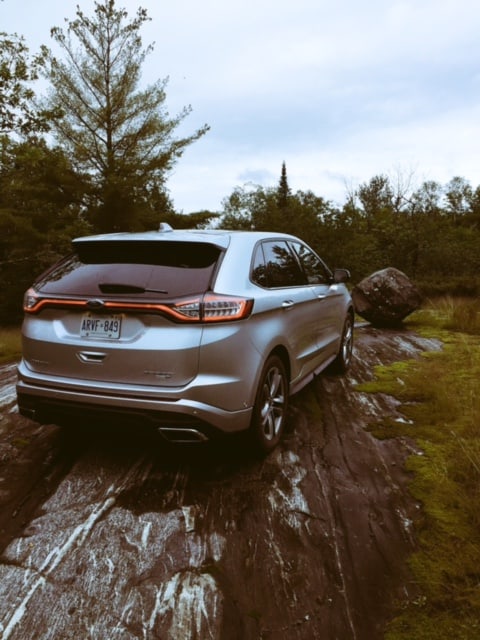 I took a series of pics (unlike most of the crew who were using fancy SLRs, I was shooting with my phone) and decided that the snap I took of the Edge resting atop a giant moss-speckled rock was my favourite.
After winding around the woods, we returned to Sherwood for dinner, followed by s'mores, stargazing, and a campfire.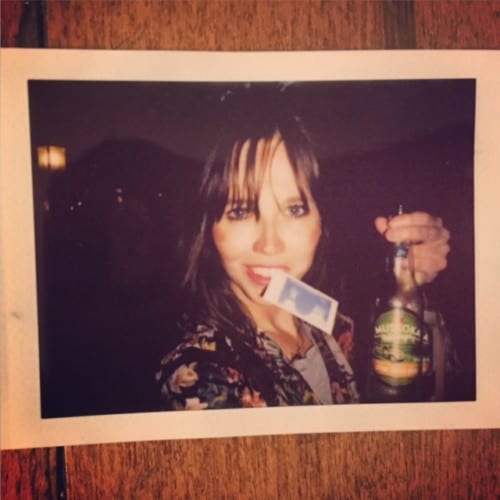 I got up the next morning at 5am to quietly take in the stillness of the lake. Just like Michelle said, the best moments in nature are when you sit silently and let it unfold naturally. Resting on a jut of land, sipping a coffee, I suddenly heard a rustling of feathers. Out of nowhere, a mommy duck and her ducklings emerged from the water and waddled right in front of me. Maybe not polar bears, but at this point in the venture, I was missing my son, and this little interaction tugged at my heart and felt magical.
Before our journeys home, we met in the Vintage Restaurant for breakfast where the photo contest winner was announced. Guess who won? This bish. I'll admit, the pride I felt in that moment was as if I just won a prestigious award versus a little competition amongst a dozen bloggers, but it was kinda fun to beat all those fancy cameras.
This summer has been full of amazing road trips, and this was definitely a most treasured one. Drive on, drive further…the adventure never stops.