A place to work, socializes, shop and be inspired by art & design, Offsite ain't your grandma's concept store. Vanja Vasic (the founder of |FAT| Arts & Fashion Week), along with partners Siya Chen and Calder Ross, created a stunning space that is cafe meets boutique meets gallery. We caught up with Vanja to learn more about Offsite, and the inspiration that led to its conception.
SDTC: Describe Offsite in one paragraph.
VV: Offsite is a space that combines the cafe environment with fashion boutique and art gallery. We have a very strong focus on locally made goods, selling work by Canadian designers and artists and offering locally roasted specialty coffee. The space is designed to be constantly evolving and changing its programming and retail environment with curated fashion and art exhibitions, presentations and performances, alongside coffee and a social setting.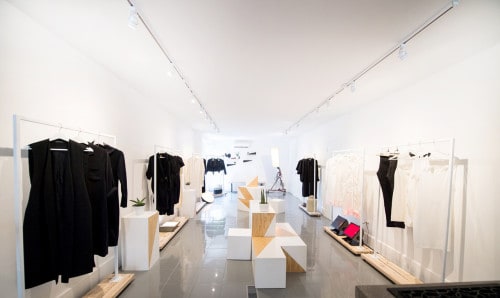 How did the idea for Offsite come about?
The space is a collaboration between three partners, Siya Chen, Calder Ross and myself. Offsite is a combination of our talents and interests. Siya has worked in arts, curating and film for many years throughout Canada and China, bringing a strong organizational element and art knowledge to the space. Calder runs a renovations company and works as a stage manager for Fashion Art Toronto, so he has a lot of experience with design, building and event production. I have been producing Fashion Art Toronto for the last eleven years, where my passion for combining art with fashion and promoting Canadian design really grew. The space serves as an "offsite" space from all of our other projects and interests, and it is mean to be an "offsite" to Fashion Art Toronto where we can showcase smaller thematic exhibitions throughout the year and sell work from artists and designers we love.
What's been the most exciting part of the process? Most challenging?
The most exciting part is the dreaming, the planning, designing the space and watching each element come together. There's a really big sense of joy and accomplishment as each piece of the picture is created collaboratively and added to the space. Almost every element of the store you see has been created by hand by one of us, and from this perspective it's been really fun and rewarding to work together as a team, doing something physical. At the same time, the physical element and long hours on top of our other projects has been a challenge. We've all had to sacrifice a lot of free time to create the space.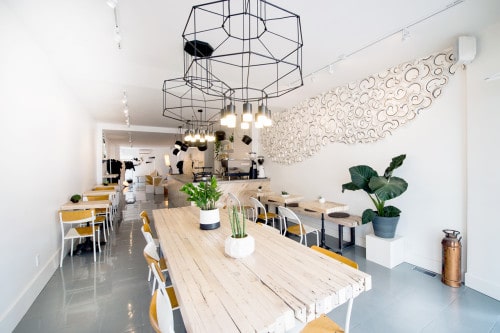 What's your favourite thing in the shop right now?
I love the central coffee bar Calder designed and made by hand. It creates a dynamic focal point within the space. The coffee bar combines hand poured and polished concrete with 100-year-old repurposed wood that have been milled, stained white and assembled in a herringbone pattern. This repurposed wood was the starting point for the design of the whole shop and is seen in other furniture like the communal and small tables. Providing a more minimal and clean overall aesthetic, the bar is a reminder of the beginning of the process and where the ideas emerged.
What makes Offsite different from other concept stores in Toronto?
What makes Offsite different is that the entire space is curated like a gallery, providing a new approach to the retail experience and coffee shop environment. Every six to eight weeks, Offsite changes its space, artists and products, offering a fresh perspective, theme or narrative by highlighting a new series of art, fashion, coffee and related products.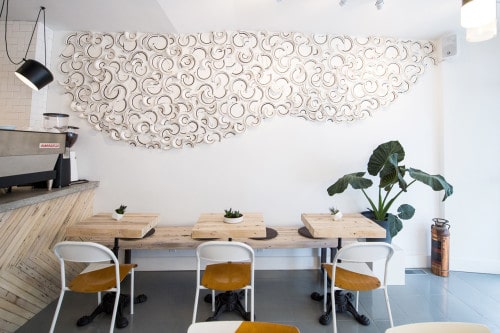 Can you tell us a bit about your career trajectory up to this point?
My career focus has always been on the mix between art and fashion and promoting local Canadian design through Fashion Art Toronto. I have worked with hundreds of local designers and artists by programming, curating and presenting a broad range of work, with the goal to elevate Canadian fashion, and bring the art and fashion community together. This next step of opening up a physical space is a really natural one as it combines all the ethos of Fashion Art Toronto. The vision for Offsite is for the space to present the work of local talent, a place for people to work, connect and collaborate, and a place that is always bringing new ideas to fashion and art.
You have so much going on. Between Fashion Art Toronto, a slew of personal projects, a baby on the way, and now Offsite. Where do you find the inspiration and drive to keep going?
I find a lot of inspiration in this city right now, and I think we are in a really exciting time in Toronto. There is so much happening in terms of fashion, art, film and culture. So many great ideas and talent are emerging from the city and there is a big sense of pride in being Canadian. I feed of that energy and spirit and find it inspiring to expose and promote all of the creativity and creation coming from Canadians. It's a great time to be part of this buzz within Toronto, to be a contributor of fresh ideas bubbling here and to be part of creating a Canadian identity.
What's the best piece of advice you ever received?
I was given a birthday card a long time ago that read, "Leap and the net will appear." It's always something that has been in the back of my head throughout my career and life projects.
Offsite opens this weekend at 867 Dundas Street West.