Okpik: Little Village in the Arctic is a stunning and eye-opening documentary about one family's pursuit to becoming fully self-sufficient, living off the land in a remote location on the north end of the Mackenzie River.
Before we're introduced to Okpik, the film takes audiences on a blizzardy tour through Tuktoyaktuk, or "Tuk" as the locals call it. The hamlet sits on the top northwest corner of the Northwest Territories in Canada. The closest town to Tuk is Inuvik, which is 104 km south; Whitehorse—which most Canadians would consider to be the far north—is an 18-hour drive south. Tuk is as remote as it gets, one of the coldest places to live, and food costs are exorbitant.
In Tuk we meet Inuvialiut elder Marjorie Ovayuak, who is wearing a winter hat and jacket inside her home. She's recently burst a vessel in her eye from hauling heavy buckets of water around— what she's forced to do to have a bath when the pipes freeze, which is a regular ordeal.
"Things that are pretty extraordinary to a southern audience are so everyday for me, as someone who lived in the north, whether that's things of beauty or things that are hard and challenging," says filmmaker Tiffany Ayalik. "Here's an elder who has an injury to her eye because her house wasn't made well. She's living in social housing and she had to wait over a year for a doorknob, because you're not allowed to do any repairs on your own. The capacity is so under what the needs are, to keep these homes healthy and functional."
It quickly becomes apparent that the homes in Tuk lack very basic requirements needed to withstand the brutal elements: the foundations are shoddy, the insulation is poor.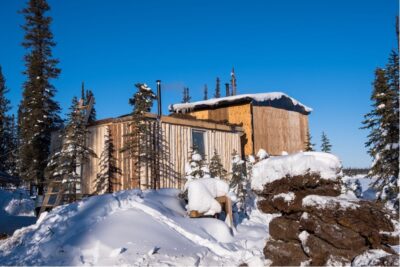 The film then moves to Okpik, an off-grid community 16 km north of Inuvik, and audiences are shown a very different way of life. Okpik was started by Kylik Kisoun Taylor, a self-described "bush man" of Gwitch'in and Scandinavian descent. Taylor lives here with his family, a move they made during the first six months of the pandemic, when he was forced to liquidate his tour company. Their home is heated by the wood they chop, water comes directly from the Mackenzie river, and energy is harnessed by the sun and the wind; they do not rely on any major corporation. Taylor explains that he doesn't pay rent or property tax, and the cost of living there is only $5 a day. "We're trying to create a self-sufficient village out here," says Taylor, who describes the existence as peaceful and happy.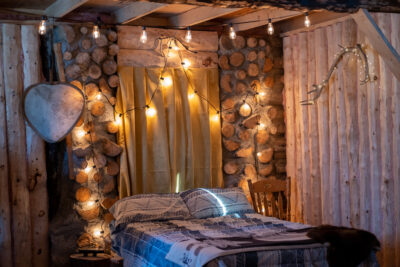 The documentary shows us how Taylor and his family live in this environment, and how he invites people to experience it and participate in community building. "This village is not about Indigenous or non-Indigenous, it's about a need, and we need a place where cultures are mixing."
It's a line in the film that resonated deeply with Ayalik. "I feel like in Canada, at large, reconciliation is put heavily on Indigenous peoples. We're not the only ones who need to reconcile with the business of Canada, the concept of Canada, the legacy of Canada, and colonialism. Non-Indigenous settlers, especially non-Indigenous white settlers, are being left out of the conversation, but they are also involved in trauma. I would be traumatized if my ancestors were the ones inflicting this harm!" says Ayalik, who respects the fact that Taylor is using Okpik as a space for everyone to learn, to listen, to heal, and to see how an alternative way of living is possible. "The siloing that's happening, the further entrenching of right and left… the further divided we get, the conversation just breaks down completely. Places where we're forced to come together and see each other as humans, and learn from each other, acknowledge each other's humanity, that's really what he's trying to create on a micro level at the camp."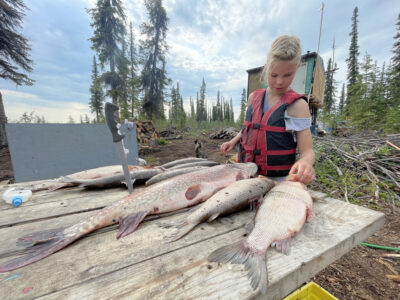 The way of life that the doc presents is alluring. It's hard work, but Taylor doesn't see it as "work", just a rewarding connection to the land. Instead of a traditional classroom, his daughter is learning to hunt and fish. Their home is cozy and their days are fulfilling. Modern-day society, the one we've created, with packages being delivered containing plastic things built on the other side of the world, or commuting to a job in a tower for 2 hours each day—this is the norm for most, and certainly the pandemic has made us question all of these things, but Okpik: Little Village in the Arctic takes that examination further.
"The world is trending towards more instability, we are definitely not going into any sort of stable phases…with the climate, with politics… We are running full tilt towards instability," warns Ayalik. "The more autonomous we can be, to feed and house and clothe ourselves, the better off we'll be."
Okpik: Little Village in the Arctic plants a seed of what life could be like, a blueprint that you may be inspired to follow, even just a little bit. The film is being released in both English and Inuvialuktun; an endangered language. Watch it on CBC Gem.