Housing, minimum wage, childcare, taxes: there's a lot to consider when choosing the party you want to vote for in an election. But if there's a sure way to understand a party leader's values, it's to evaluate their support, or lack thereof, of our libraries.
Ontario Progressive Conservative Leader Doug Ford has been very vocal regarding his disdain for the Toronto Public Library, and when it comes to cutting the budget, it's high on his list. To understand what that fully implies, it's important to examine what our libraries mean to us: Who do they serve? How are they used? What do they stand for?
The library is the heart and soul of a city, where no matter who you are, you're welcome and cared for. It's a rare space in modern society where all can comfortably sit, think, learn and recalibrate.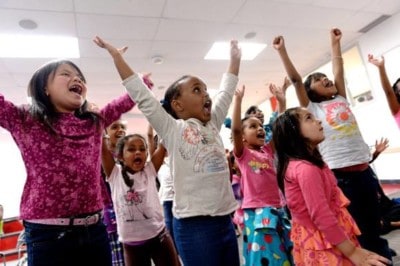 Walk into any local branch and it becomes obvious that a library is much more than a place for reading: it's an inclusive, safe and accessible space that provides shelter from the cold, a clean washroom, a drinking fountain, Wi-Fi, and a built-in community to help combat isolation and loneliness.
In these spaces, low-income citizens can use free internet to access employment opportunities or connect with loved ones; new moms can find companionship and support; elderly people have a destination that welcomes them at no cost; children can access free books and videos that they may not be able to afford; you can even rent an instrument!
In 2017, the Toronto Public Library recorded 17,370,032 visits to library branches, 5,715,226 computer sessions, and 958,731 people attended its free educational and social programs. In fact, a recent statistics report from the Toronto Public Library disclosed that Toronto had the highest circulation, in-person visits and electronic visits per capita compared to other large urban systems in North America.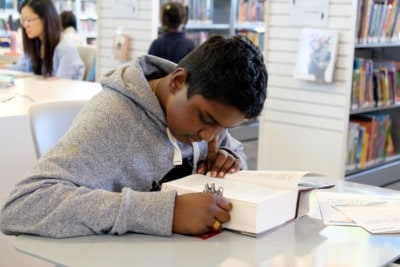 There is nothing else that serves the citizens of Ontario in a more humane and accessible way than our library systems. If you want to support everyday people, then this is an obvious place to start. With people of all ages, backgrounds, shapes and sizes in mind, the library is undiscriminating. It stands for the safety and advancement for everyone: the highly educated and privileged professional, the newcomer to Canada, and the homeless family trying to get back on their feet.
If you don't support our libraries, then you don't have all citizens' best interest at heart. Be sure to vote for the party that serves humankind. Like everything in life, we function better when we function together. Cut the library system and you are cutting the main artery of civil society; those most desperate for oxygen will not receive it. That's simply no way to be.