Orchrd, the app created by a handful of Canadian (and predominantly female) artists, wants to help you cut through the clutter, broaden your interests and fundamentally change the way you explore online.
Every day the Orchrd team chooses content and organizes it under 'emotion' categories (like Current, Aha, Geeky, Sexy, Zen, Inspired, Joy, or Empathy). The app asks you to pick an emotion and swipe through articles, photos, videos, and songs. It remembers what you've read so it only gives you what's new, and when you find something you want to save, you 'plant' it into your Orchrd profile.
I sat down with Ali Momen (Founder), Kinnon Elliott (Designer), & Zarrin Darnell Martin, Julia McLellan, Nadine Villasin (Curators) to learn more about it.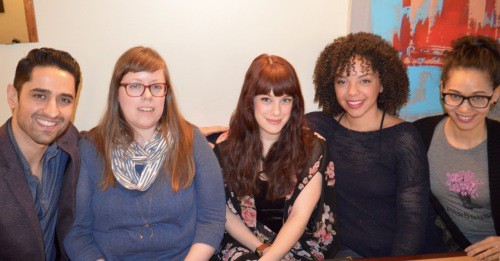 SC: What is Orchrd?
Zarrin: The problem with the Internet is that there's too much out there. Two years ago, I think we were in my kitchen, Ali said to me "I think I've got this idea for an app. Instead of categories of 'sports' and 'arts' and 'news', why not 'feelings'?" So what we've done is created an app that curates online content not based on subject but rather feeling.
How did this app come about?
Ali: I've always been a geek and one day the idea came to me, it's hard to find really good content on the Internet. At the same time, I gravitate not to what piques my interest but rather piques my heart. So I thought; wouldn't it be great if there was an app that instead of asking me 'What are you interested in?' asked me 'What do you want to feel?' That was the beginning.
What was the process to start Orchrd?
Ali: As a theatre actor, the process was very similar to putting on a play. I have a certain set of skills but needed to find a team to make it all possible. So our designer, Kinnon, came on board. I don't know how to code so I needed our programmer, Brandon Holland. After that point, I wanted curators. I loved Julia's Pinterest wall, she's got phenomenal taste. Zarrin is one of my closest friends; she's a journalist student, driven, artistic. Nadine is bright, intelligent, and a multi-disciplined artist. I needed this whole team.
Orchrd's design is really gorgeous, how did that come about?
Kinnon: It was really fun because we had a few meetings at the beginning and we talked about the overall function of how the app might work. Essentially, how do people use it? And that's how we landed on the colour aspect. Ali sent me a list of the categories but we were looking at what would unify content within each. As in when you scroll through Hip, how do you know you're distinctly in Hip versus Sporty? So we thought of using colours to code the content and essentially distinguish Orchrd from any other app.
What makes Orchrd different?
Julia: The coolest thing about Orchrd is that it's "hand-picked". It's a group of humans selecting and putting together online content, which is different from anything else out there. It's hand-curated.
How do you pick material?
Julia: Anything that makes you feel. The best part about curating for Orchrd is that you don't have to judge your choices like "Is this interesting" or "Does this apply to me right now", but rather "Has it made me feel something and where's the best place to put it?"
How do you curate a source of content for Orchrd?
Julia: It's different for all of us. Some of us post things every day. Some of us choose to do once a week and post a lot. I personally like to collect a bunch of things and then I can ruminate on them and then decide what I like the most.
Zarrin: It's a creative process. You find the content and then you have to come up with a great title or tagline. I have to decipher what emotion to put it under and the accompanying image. I take great joy in the work. And it's exciting that people around the world are seeing that.
Who uses Orchrd?
Ali: It's 65% female. Which is very much our demographic. When it first came out, usage was predominately in Canada but then we had some nice press in the United States and that took it global. Currently, the majority of our usage is in the U.S. and the next biggest country is the U.K. But we do have people using it in Australia and India.
Why do you think the majority of your users are women?
Nadine: Women tend to make emotionally based decisions and I think that's often looked at in a negative way. But it's a positive thing. Think about how people decide their plans for an evening: "What do I feel like doing?" "What movie do I feel like seeing?" "What's my mood?" These are the ways we make decisions in the hopes of finding joy. Male or female, we are multi-dimensional in our interests.
What past experiences do you draw on to curate Orchrd?
Ali : Nadine is a yogi and has a degree in politics so you'll find a lot of her picks under Worldly. Julia loves to travel and do DIY-kinda stuff so you'll see a lot of her picks in Wanderlust. And Zarrin… Zarrin finds a lot for Sexy.
Zarrin: I'm very open about sexuality and talking about it. I'm the person if you have some deep dark secret, you'll come to me. So I love posting in Sexy.
Do you describe yourselves as Entrepreneurs?
Nadine: I would argue that as artists we are all entrepreneurs. People always tell artists that as if we don't know. We are the ultimate entrepreneurs dealing with limited resources, often producing our own work. We are self employed multi-taskers always making something out of nothing.
What's in the future for Orchrd?
Ali: We have plans for an Android version, and a web version. We're also looking to add community-based features so users can comment on content. I'm most excited about The One. Every day at 5pm, you're going to get an editor's choice of the best thing we've found for that day. It's really cool!
Find out more here.