One of the fastest growing companies in Canada—ELITE Digital Agency—is powered by a diverse group of women who are shaping the future of digital marketing. They've recently expanded with a brand new Health division, so we were curious to know more about the interesting women behind the work. What are the tech trends they anticipate in 2019, and where is the industry headed?
We caught up with them last week to learn more.
Hurriyeh Iftikhar, Social Media Coordinator
SDTC: How did you propel yourself to ELITE digital agency, and what was your education/experience prior?
HI: It's summer 2016, I'm fresh out of university and ready to take over the world. I graduated with double honours in Bachelors of Managerial and Organizational studies from Western University. I specialized in Global Commerce, which is a great combination of economic, business, accounting, and (my favourite) politics! I was thrilled to get my first job at Friends of Syria, Canada. This is where things took a turn: I was employed as a Social Media and Administrative Manager. I learned to create ads, launch campaigns, and measure success on digital platforms. I knew then that I wanted to be in digital marketing.
I love being creative, and this gave me the perfect platform to channel my passion into a career. After two years in not-for-profit and the real estate sector, I upgraded my skills with a digital marketing certification from Cornell University. Then I was ready for busy agency life. I applied to ELITE Digital and from the moment I walked into the office, I knew this was going to be a great move for my career.
What exactly do you do at ELITE, and why do you love it?
I am the social media coordinator. I manage organic and paid social media campaigns, help develop client strategy, do community management, and optimize our campaigns to best suit client needs and goals. We have a diverse and vast client roster, and I love building their campaigns and strategies.
I love how every day is a new day for me at ELITE. I love brainstorming and bringing unique, interesting ideas to the table with my team. I love coming to work with people who share my passion and encourage my learning. It's amazing to work with people who actually want to see you grow in your role and excel in your career.
Biggest challenge you've overcome in your career?
When I think of challenges, it wasn't so much about "building" as it was "fighting for" my career. It was challenging for me to realize that my ambition was not a far-fetched dream. Growing up as a girl in Pakistan, I always knew that I had to fight to earn the same respect as men. I come from a family of educated and empowered women, but I still had to break societal barriers to build my career.
I was fortunate enough to have my mom by my side. She raised three daughters, and as a single parent she really put her all into building our self-worth. So to summarize, the biggest challenge I had in my career, was actually getting one for myself.
Fave tech tool, and why (how do you use it on the daily)?
This is hard to answer. I really do like Hootsuite. It's convenient and allows me to monitor and manage our client accounts with ease. I get a quick glance on what has been published, what is scheduled, and if something needs to be flagged. We have to be extremely vigilant with our monitoring as community management is vital when it comes to establishing a brand's image.
Tech trend in 2019 that you're excited about (and why)?
Artificial Intelligence and Augmented Reality. We're definitely going to see an increased and improved AI presence across digital media platforms, and companies will surely adopt AR advertising to be able to resonate with their audience on a very personal level. We live in the age of the consumer. It's all about fast, customized, and effective communication. AI is mind-blowing. It allows companies to extend their customer service to new levels.
It's predicted that by 2020, 85% of our engagement with businesses will not involve another human. We already have self-serve options, voice recognition-based, automated customer service, and personalized chat bots. AR is also where the future is headed, where customers can experience their purchase before deciding. Isn't it amazing that you can place IKEA furniture in your empty lounge using AR? The level of personalization and customer convenience that AR provides is phenomenal. I'm really excited to be part of an industry that's revolutionizing the way we interact with each other and businesses.
One fun fact about yourself?
I'm not usually shy—I really enjoy public speaking—but I still have a hard time singing in front of people. I love to sing and I'm working on getting the confidence to sing on stage.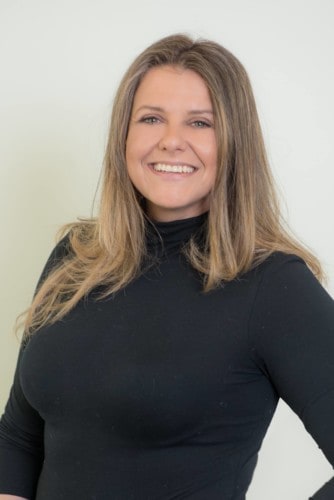 Sharon Serebro, Senior Creative Director
SDTC: How did you propel yourself to ELITE digital agency, and what was your education/experience prior?
SS: In July 2016 I arrived form Israel, and I decided to journey into finding my dream job. I was looking for a company that was intelligently advanced and open to accept diversity. Without completely knowing, I found the exact fit for me. ELITE has become a home, where I can share my experience and my knowledge with younger teammates and learn daily from them.
What exactly do you do at ELITE, and why do you love it?
I'm a Senior Creative Director. My job entails a wide range of responsibilities, including bringing on clients, getting to know their businesses, establishing their project requirements and brand; conducting industry research to review competitors and determine consistencies in the industry to determine how clients will stand out; establishing the UX and UI of websites; leading, training and inspire the creative team; setting creative standards and objectives; aligning with the marketing department to come up with winning strategies; making client presentations and produce budgets; completing creative briefs and curate mood boards for projects; and reviewing all final design work before final execution or launch of project.
Biggest challenge you've overcome in your career?
I've been in this industry for over twenty-five years. I started in this world doing everything manually. Slowly as the world progressed, I had to progress with it. As a young designer, learning new programs and methods was an easy task. The older you get, the harder it is to change habits and especially your line of thought.
The printed media was my specialty. In 2008 I realized I had no choice but to change everything and move to new technology. I had to be retrained. I enlisted back to college and earned myself a webmaster certificate (with high honors). I learned that the new media works faster; therefore, expectations of timelines changed as well. The ability to reach millions intrigued me. I had to learn how a user interacts with machine (i.e., computer/internet). I had to study new ways of engagement, e-commerce, or any communication. Social networking has become a must, yet I had to understand the ability and strength of this route. Google became prominent. The world became smaller, so the competition became much more intense. I had to completely accept the change so that I could continue to creatively market clients. This accomplishment held many set back tears and agony, yet I overcame.
Fave tech tool, and why (how do you use it on the daily)?
Adobe is my best friend together with my Wacom (interactive pen). In the past I used my pencil; today I use the electronic pen to draw my sketches immediately into the computer.
Tech trend in 2019 that you're excited about (and why)?
Imagine having a cup of coffee with a friend without the interruption of the phone ringing, Imagine using a map to be able to get to locations unknown, or reading a book and not a short blog that just summarizes the story.
The world has become too easy, less personal, maybe more efficient but lacking the human touch of feeling. I believe this will change in the near future because people need affection, real communication and simple love. The trend is slowly happening: We're trying to tell more stories to enable the human need for attention and feel. The concepts are starting to be more "touchable" so that the audience can relate to the situation and seek help when needed. We try today to return the human aspect that we lost through advanced technology. I do believe the upcoming trend is to humanize technology.
One fun fact about yourself?
I love cooking, especially for other people.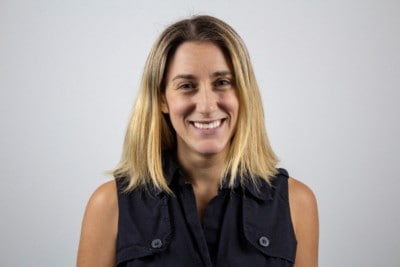 Tracey Burstyn, Account Director, ELITE Health
SDTC: How did you propel yourself to ELITE digital agency, and what was your education/experience prior?
TB: Earlier in my career, I was working in a newsroom. I was waking up at stupid o'clock for a 3 a.m. shift, working in a fast-paced industry and was reporting on historical events. I started to notice the way we received information was changing. People were no longer listening to the news; they were making it.
The show I was working on was cancelled while I was on maternity leave, and I made a decision to make a career change. Digital marketing seemed like the logical next step. I was over thirty, on maternity leave with two children, and I went back to school so that I could start a career in digital marketing. I enrolled in courses to complete a certificate of digital marketing at the University of Toronto and started looking for positions in my new career. I found a job posted for ELITE and I applied. The position was perfect for me. My job allows me to be home with my family and have a career. I am able to be the mother I want to be and have the career I always wanted.
What exactly do you do at ELITE, and why do you love it?
I am an account director for our pharmaceutical clients and I am in charge of the content we create for healthcare professionals—everything from emails to websites. All the content we create for healthcare professionals has to be submitted to a regulatory body, Pharmaceutical Advertising Advisory Board (PAAB), for approval.
What I love most about this role are the rules associated with PAAB. I love that I can work with designers to create a design that pushes the boundaries of traditional pharma while still following the rules. I love that I am a part of taking pharmaceutical websites into 2019.
Biggest challenge you've overcome in your career?
Learning PAAB code while having a full-time job and a family was not easy, but it was something I was determined to do to further my career. I knew I had to teach myself PAAB rules, so after quality time with my kids, I would stay up every night reading PAAB letters to learn. I wanted to be one of the heads in ELITE Health and have a family, so I took initiative and made that happen.
Fave tech tool, and why (how do you use it on the daily)?
Digital notepad, because I love to make lists. Lists are a great way for me to prioritize.
Tech trend in 2019 that you're excited about (and why)?
When people think about virtual reality (VR), they usually think gaming and entertainment. When I think about VR, I think about how it can help engage healthcare professionals and advance healthcare. VR is meant to resemble a 3D real-life experience, and doctors can learn by seeing. We can show healthcare professionals how the drugs work in a human body. We can show healthcare professionals how patients are feeling. Doctors can look inside a human body, without cutting, and practice surgery before the actual surgery. It is a way to engage doctors and continue the conversation about drugs and advancing healthcare in Canada.
One fun fact about yourself?
I lived in France for a year.