Whether you're seeking an adventure in the back woods of Ontario that will have you testing your strength, or you prefer a relaxing escape where you can unwind on a beach (we're eyeing this trip to Cabuya, Costa Rica), Origin Travels, founded by Toronto entrepreneur Britt Kasco, has a journey that suits all your wants and needs.
Kasco founded Origin Travels to connect adventurous young women (between 18 and 39) with opportunities to get off the beaten path, safely, in company of like-minded women. Their adventure retreats are designed to empower women to travel boldly and authentically.
We caught up with Kasco this week to find out how this all-female travel company came to be.
SDTC: When/where/why did you decide to launch a travel company for women? Tell us the origin story of Origin!
BK: Origin Travels was launched in January 2018. Over the last decade, I've taken every opportunity to embark abroad. Pretty sights and delicious food aside, travel has given me opportunities to think on my feet, find my way in the world without Wi-Fi, trust the guidance of others, use my body to conquer natural landscapes, and take risks.
Ultimately, it is the times I've allowed myself to nurture wild ambitions that I have walked away feeling a little more sure of myself–a little more confident/badass. There is no doubt in my mind that this confidence transcended to my daily life after returning home.
It really pains me to see women reject opportunities to travel because they do not have friends to accompany them, the know-how to navigate on the ground, or the time to plan an itinerary. I started Origin Travels to increase access to off-the-beaten-path experiences for women who have the desire to explore but prefer the company and security of a group to take the jump. Plus, there is something amazing about travelling with a group of young women who come as they are yet share a sense of like-mindedness.
Where do you travel within Ontario? What trips are you planning elsewhere?
Origin Travels operates a three-day/two-night yoga + wine camping trip ("The Wilderness Trip" in Six Mile Lake, Muskoka Region), which includes roundtrip-transport from the Barrie South GO Station. This trip was created specifically for women who want to experience summer from the other side of their office window but might not have the gear, transport or company to get up north. Additionally, we organize a lot of opportunities to get out into nature that fit into the work week, such as SUP Yoga at sunset from Toronto Island.
Internationally, we run two amazing trips in Costa Rica and Guatemala. Origin Travels' aspiration is to make all parts of the globe accessible for women who want to explore it. We are aiming to expand our line of itineraries into western USA and Canada, Europe and Morocco by fall of 2019.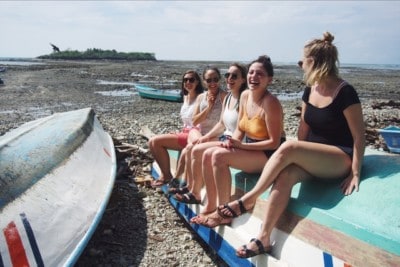 What can women expect from one of your getaways?
Our itineraries offer a balanced alternative to activity-jammed group tours and luxurious, activity-specific getaways (like yoga retreats). The Origin Travels experience combines an ideal mix of adventure, cultural exploration, and time to chill out or explore on your own. Plus, the experiences are highly customizable to suit different budgets and interests, such as surf-package add-ons or private room accommodations.
We make it a priority to have each trip led by a rad local women who can give us the best, most authentic experience. Plus, all accommodation and service providers used on the ground are vetted to ensure they are quality and locally owned and that our presence is positively impacting the communities we visit.
What have you enjoyed most since starting Origin Travels?
I started Origin Travels to help adventurous young women travel across the globe in company. I have absolutely loved seeing the instant connectivity between women on my retreats and witnessing them push their comfort zones to try new experiences together. That will never get old for me.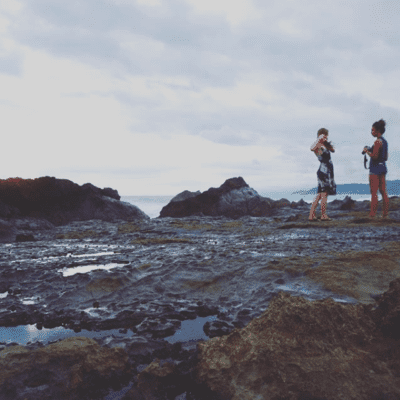 Who should sign up?
If you are female or female identifying (between 18 and 39) and want to break away from the all-inclusive-style vacation but don't have the friends to go with!
Where do you think your love for travel came from? And what were some of your first lessons from travelling away from home?
I am fortunate enough to have been raised outdoors around places I could explore, and that urge to adventure and be outside has always stayed with me.
At this point, I feel like you could drop me in any city and I'd be able to find my way. So much of this self-assuredness is owed to the many times I have found myself pushed out of my comfort zone while abroad. Travel is not so much about disconnecting from busy lives; it's about taking the opportunity to connect with the part of yourself that blossoms when you step outside your routine.
The ​all-babe​ element of Origin Travels' trips really complements this journey, as it is liberating to be completely immersed in the company of like-minded women without the pressure to look or act a certain way (e.g., forgot to shave? We probably didn't notice).
​Why the age restriction?
There is always the question of "What if I don't get along with others on my tour?" and I have been on enough tours to say there is a chance that a person may not gel with the group, but it is rare. This reality has influenced the female-only nature of the experiences and the tough decision of cutting off the participant age limit at 39.
We honour the incredible value brought by travelling with women of all ages, and there are plenty of women-specific operators without age restrictions that exist for this reason; however, by restricting the age range for our tours, our intention is to increase the chances of attracting like-minded travellers who share similar interests, budgets and travel goals.