Toronto's Yorkville neighbourhood is getting a 3-day art festival, happening Sept 24-26, with a focus on mural art. Seeing stairwells, buildings and parking lots bursting with colour is an instant mood booster; we can't wait to go for a fall wander.
The festival will include over 20 participating artists over 4 centralized zones. Each creative zone will offer free public art, creative activations, and cultural expressions. All pieces have been commissioned as public art, meaning you can enjoy for free.
"Yorkville Murals builds on the area's reputation as a historic enclave of Toronto's early art scene." says Alan Ganev, Founder of Yorkville Murals. "We're transforming Yorkville Murals into a three-day festival for everyone to enjoy. With public art works, murals, music, speakers, film, food and beverage offerings, there will be non-stop activities throughout the weekend."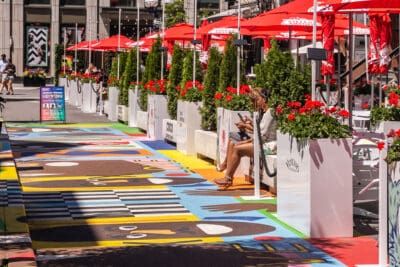 ZONE 1: Sit down and order local fares at the artfully created Café Artois and walk along "Generally Speaking" the first-ever public art work by internationally acclaimed artist Nina Chanel Abney (see photo below). The striking street installation went up in June, but feels a little different each time you take it in, and is definitely a must-see piece. Read our interview with Curator Ashley McKenzie-Barnes here.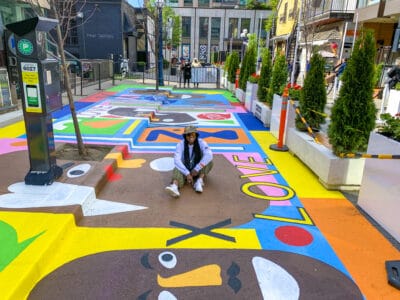 ZONE 2: Discover the works of 9 different muralists as you walk around the city blocks filled with shops and restaurants. Geese covering Sassafraz (see image below) by Canadian graffiti artist Alexander Bacon.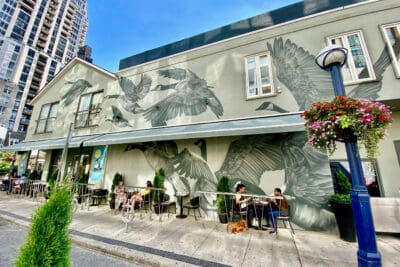 ZONE 3: Internationally recognized The Other Art Fair is opening a POP-UP art fair in Yorkville Village. With 9 participating local artists, the fair focuses on women only, and guests can explore some of the best emerging talent in Canada.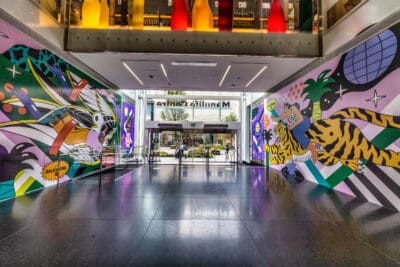 ZONE 4: Exclusively on Saturday, September 25th, The YVM BLOCK party is an art, music, and food event that will take place on the top of the Cumberland Parkade. The rooftop will be transformed into a fun, open-air event powered in part by Hennessy and Stella Artois. Massive seahorse (below) by famed Toronto multidisciplinary artist, Jerry Rugg, known as birdO.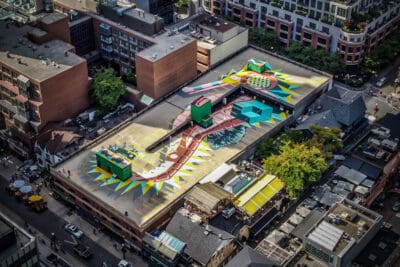 Yorkville always makes for an interesting walk, be it people watching for intriguing fashion and style or taking in the gorgeous storefronts. To enjoy it with the added dimension of an outdoor public art fest is definitely something to look forward to, and late September is perfect walking weather.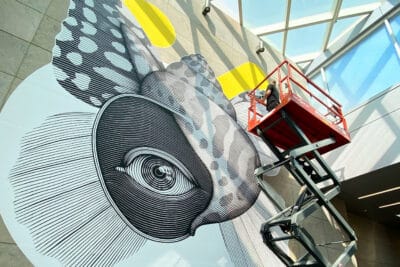 Final touches being put on enormous mural by Artist Nicholas Sanchez, also known as AlfAlfA.
The event is presented by Ink Entertainment and powered by Taglialatella Galleries. It is organized in partnership with the Bloor-Yorkville Business Improvement Association, ArtworxTO: Toronto's Year of Public Art 2021–2022 with support from the Government of Ontario.