Yorkville's Bellair Street is undergoing a transformation with the installation of a massive and magnificent street mural by artist Nina Chanel Abney, whose work can also be seen gracing the cover of the latest edition of New Yorker Magazine.
Curated by Toronto's Ashley McKenzie-Barnes, the creative mastermind behind KUUMBA's outstanding 25th anniversary Festival in February 2020, and also the organizer of last June's Block for Black fundraiser, the striking street installation titled Generally Speaking is both visually stunning and highly impactful, with messages that read "Stop Don't Kill" and "Love", highlighting the continued need for social justice and reform.
Ashley has wanted to bring Nina's work to Toronto for many years, and she's elated that it's finally happened, and in such a major way. "This is a beautiful love story to me. I've been trying to get Nina's work maybe since 2015 for Manifesto Festival. It was a pipe dream, she was really big at that point," she tells me, while heading over to supervise the final finishing touches. "Her work is so well articulated. It's controversial, in many ways, but she's also one of the only Black female artists that is so well collected in the mainstream contemporary art world."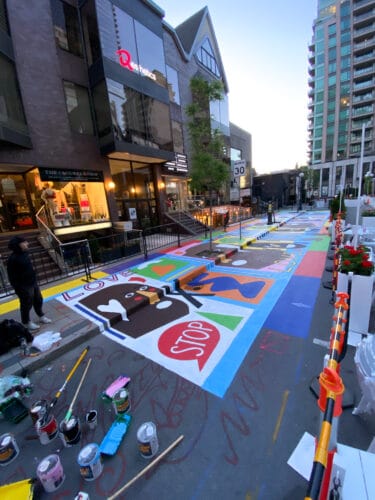 This past May, Nina's 2015 painting of two Black cops arresting a white man was purchased for $990,000 at a Christie's art auction. Generally Speaking is her first to be shown publicly in Canada.
"Painting the street felt like the right direction to go for Yorkville. There is so much socioeconomic status on display and classism within Yorkville. By taking a street, you can't avoid it, you have to see it, you have to stop, you have to engage in it," says Ashley, who is excited to see how Torontonians react to the piece once it's fully done.
While the art wasn't created for Pride Month, both Ashley and Nina identify as queer Black women and the mural's statement is certainly one grounded in love and acceptance. "A lot of synchronicities have happened with this mural, and this is one of them. To me the message is love. It's anti-discrimination, anti-hate. It's an affirmation and reconfirmation that this was meant to be there."