If you follow Toronto artist Briony Douglas, you are likely in awe of her creativity. From 71-foot installations that take over farmer's fields to building shoes as big as cars, Briony's breadth of work is prolific. She's become known for her large-scale tongue-in-cheek sculptures, but she's also one of the city's most booked photographers.
For her latest assignment, she teamed up with Nespresso. The coffee company asked Briony to create something that would share their commitment to sustainability through circularity. At first, the project had us scratching our head—we've always thought of the Nespresso pods as being harmful to the environment. But they were recently voted the world's most sustainable coffee company, and have promised that every cup of coffee will be carbon neutral by the end of 2022. By the end of this year, Nespresso has committed to making the Vertuo and Original capsules from at least 80% of recycled aluminum, or what they've described as "an infinitely recyclable material."
To demonstrate the circularity, Briony decided to transform the Nespresso coffee capsules into butterflies, creating two jaw-dropping large-scale installations at the Nespresso Yorkville and Yorkdale locations. "It's huge. It's definitely one of the largest projects I've worked on," says Briony, explaining that it took three months to build the recycled butterflies and coffee flowers.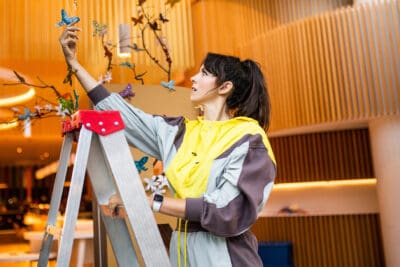 The installation in and of itself was a massive undertaking. While Briony has arrived at a point in her career that she now has a team to assist her, she remains involved in every step of the process. "I'm upside-down, I'm cutting and gluing," she laughs, explaining that one install involved a full overnight, and the other started at 3AM. "My hands were covered in blisters for weeks from the hot glue gun. It gets sore for sure, but it's so amazing and worth it when it comes together. I'm really really happy with how it turned out."
Like most artists, Briony admits that the process of creating is full of ups and downs. "It isn't until halfway through that I think okay, this is actually cool," she says, sharing that self doubt often creeps up, which might be surprising to learn, considering how in-demand she is.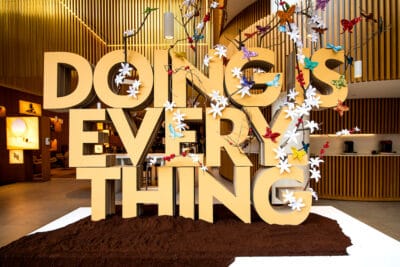 Success hasn't happened overnight for Briony, and her experience over the years has taught her that rest is crucial, when it comes to managing the waves of emotions, or negative thoughts, that sometimes come with the job. "I am my most creative when I'm well rested, and not pushing myself too much. When I'm overworked, my ideas might look cool to everybody else, but I doubt them." It's sage advice for all creatives (and anyone, really).
While these days she has agents juggling her bookings, Briony never forgets where she's come from, and the path she's travelled to get here. Earlier this week, the artist tweeted that there was a time when paying for her next meal was a real concern. Now, just about every brand, from big-name fashion labels to fast food, are eager to work with her. Big corporate companies will approach Briony with open-ended proposals, giving her creative freedom to do what she wants with their brand. "It's the best compliment… but also terrifying," she chuckles.
There have been several career highlights throughout her journey, but it was a project with Holt Renfrew that really put the artist on the map. "A big turning point for me was when I built the 500 pound, 5-foot tall elephant out of rope for Holt Renfrew." It's when people started to notice that Briony can really make something awe-inspiring out of anything.
"I see value in so many things that would be discarded by other people. To get really deep about it, I feel I spent a large part of my life feeling discarded by people that I should have been important to," she says, sharing how happy it made her to make butterflies out of the recyclable capsules. "Butterflies are a big symbol in my life, and the idea of growth and rebirth. My grandmother passed away two years ago and every time I see a butterfly, I think of her."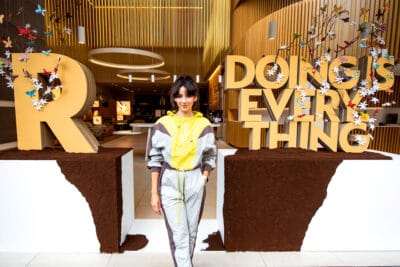 While sitting on the floor making hundreds of butterflies out of aluminum capsules, for days on end, might seem like a punishment for some, it is where Briony finds peace. "Art has always been an unintentional form of meditation for me."
We're amazed at what she can do, but it's perhaps the joy she gets from it, which is easy to see and feel, why Briony's work is so loved.