I've worked with Melanie Gordon on several creative projects, and love her documentary-style photography that always captures the absolute essence of an individual's personality, or a relationship dynamic.
Last spring, my four-year-old son and I met Melanie in a patch of woods aside the Humber River in Étienne Brûlé park for one of her Imagination Sessions. The photos of him running wild down a dirt path now hang in our home, constantly warm my heart, and act as an important reminder of what really matters.
This past fall, I signed up for her Presence Portrait offering, which was way more than posing for a picture—more like a cathartic and awakening full-body experience, one that had me laughing, crying, dancing and connecting to parts of myself that I hadn't accessed for a long time. Needless to say, when I saw Melanie post about her upcoming Friendship Portraits, I was intrigued.
Melanie describes the Friendship Portraits as "Authentic, joyful portraits of children and their best buds that celebrate friendship and inspire changemaking." It's such a wonderful and unique idea that sparked a wave of memories from my childhood.
Reading the description, I was suddenly brought back to my friend Katie's yard: I'm running to push her on the giant tire swing that hung from the tallest tree; I'm lying on her bed, slowly going through our sticker collections, comparing which fuzzy Sandy Lion stickers we had newly acquired; I am in the upstairs hallway of my house, in a leotard, forwarding and rewinding the Dirty Dancing cassette, as we try to perfect the final dance sequence. (There were often disputes , and sometimes tears, over who would be Baby.)
It was these types of memories that spurred Melanie to organize a Friendship Portrait Session at Queen West's Mini Moche. Below is a the post that she originally published to introduce the series. If it has the same effect on you as it did on me, you'll quickly be transported back to an earlier chapter in time, when you and a close friend were laughing loudly as you learned about the world through adventure and play.
Melanie's memory of time spent with her best friend Harmony.
***
I was sitting at my desk doing some planning for my upcoming Friendship Portrait Event when I got a message from an old friend that contained this picture that she had taken of me when we were 9.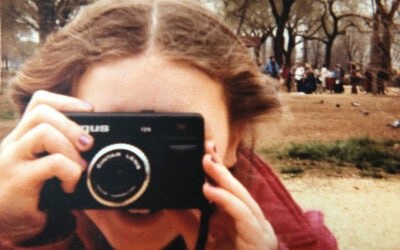 Harmony and I spent many lazy days together when we were 8, 9 and 10 being silly, laughing until our bellies ached and dreaming about what our apartment might look like when we lived together as adults. We were once a faucet for halloween – I was the cold and she was the hot. We used to "breakdance" on flattened cardboard boxes in her living room. I remember timeless days in the summer where we wandered around the neighbourhood deciding to add an "n" or a "d" to the beginning of every word or seeing how long we could last hopping on one foot. I am so grateful to have had this simple, carefree time.
A week ago, I did a Leader Within session with Sara Smeaton – a coach with whom I will be collaborating to offer a beautiful package to celebrate midlife milestones (stay tuned!) and discovered, not surprisingly, that my "inner leader" is my 9-year-old self. In the vision I had of her she was wearing my favourite outfit at the time – a turquoise shirt with bees on it and red corduroy knickers (remember those??) – and I was beaming.
On Saturday my dad dug out this photo of me at my tenth birthday party wearing my favourite outfit. Note the snazzy world map wallpaper behind me.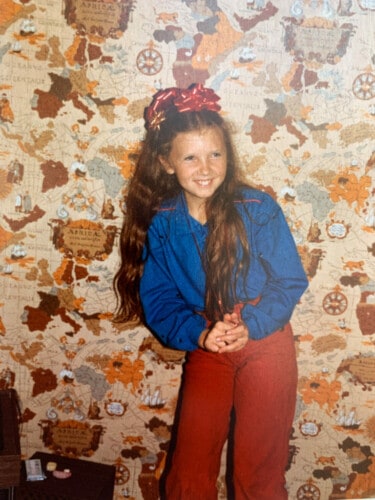 My 9-year-old Inner Leader told me this: "When we feed ourselves stories of positivity and light we become more powerful. "Remembering the spark in me and the joy and freedom I felt in my childhood is what drives my work in the world. We all have the spark of a child in us. It is also known as our TRUE SELF. I also choose to see it as my HIGHER SELF. Sometimes it can take effort to uncover it again, to "undo" our patterns and stories to allow it to shine.We KNOW who we are when we are children. We can get convinced though that we need to be someone else when we grow up.
I feel so grateful to have had a childhood that was full of love and creativity and freedom. I realize this is not the case for everyone and I do not take it lightly. My parents gave me the foundation that launched me into the world with optimism and trust and the ability to see the light in people. I can not say it enough, thank you Mom and Dad. I was an only child for 9 years and so friends were really important to me. My older daughter is 9 right now, and I have been reflecting on what my life was like in comparison to hers at this age. I hope that I'm giving her what she needs to feel free, happy, and loved. She has special friendships that are full of play and laughter, and this makes my heart full.
The special relationships that children have with their friends in these early friendships create a model for our future relationships. They teach us about trust, kindness, love and identity. I believe friends should be treasured like family.
***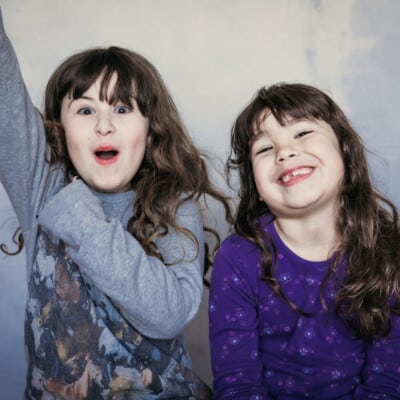 How nice would it be to gift your child a photo of them and their friend, as a forever keepsake that they could look at to remember that special time? What a beautiful way to celebrate the love between friends.
Melanie Gordon's Friendship Portraits are happening March 7+8 at Mini Moche on Queen West. Find out more here.