As adults, how much of our day, our weeks, our months, are unplanned and open to the unknown? The challenge: do something playful every day.
Playing every day didn't seem too far out of my wheelhouse. Being a Play Therapy graduate student and a Therapeutic Clown at a children's hospital, I play for a living. However, life gets serious and I've realized it's easy to take ourselves seriously too. I had a list of play suggestions on the fridge and a hefty bag of "playful" dollar store goodies including sparklers, a kite and streamers for my "bicyclette".
I was stocked and prepared for any play emergency. I thought that maybe I would have a "play task" I could do each day. "Yes!" thought my left, logical brain. "Let's plan play!"
It wasn't long before my intuitive, creative right brain shimmied her way in and took over for the rest of the month. That's how I imagine my right brain: shimmy-ing her way over to the robotic left brain, bumping the left with her beautiful curvaceous butt causing glitter to fly everywhere as she steals the microphone. The daily play became a spontaneous surprise.
Here's what happened.
The Ripple Effect
Play is contagious! My favourite story of others "catching" play happened on a rainy afternoon while visiting Vancouver. It was grey. It was wet. It was gloomy. I passed by a toy store and saw helium balloons in the window. Hot. Pink. Helium balloons. With one hand holding my umbrella and the other holding an electric hot pink heart-shaped balloon, I walked down the street as the bobbing balloon captured smiles of those brave enough to look up from their umbrellas. I popped into a café and noticed the biggest smile of the day coming from a little boy in a highchair. He lit up when he saw that balloon. It became clear that the helium-filled heart belonged to that little guy. I explained my objective to his very friendly mom and handed over the balloon.
A few weeks later, we came across a picture on Instagram that the Mom of that same little boy posted. Along with the picture, the mom wrote, "Phoenix made a friend today while we were at a café and she gave him this balloon. The kind lady told us she was doing this thing where you do something playful everyday in the hopes of making someone smile and Phoenix sure was smiling when he saw this balloon. I love that idea!"
Phoenix's mom (Raewyn) and I have since become friends on social media and have been inspiring one another to be more playful. This includes Raewyn wearing a fairy dress on the beach with little Phoenix to celebrate the summer solstice. When I commented on how cool this act of play was, Raewyn replied "I thought of you, being playful is awesome!" I now have a new playmate across the country and have experienced how one action can have a positive effect on others.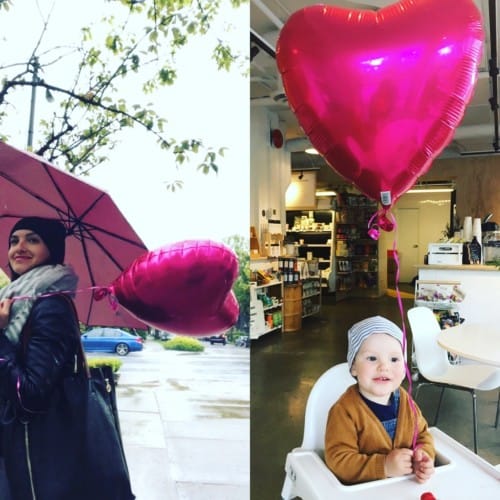 Relationships
Playing every day changed my relationships with the people I know, strangers and myself.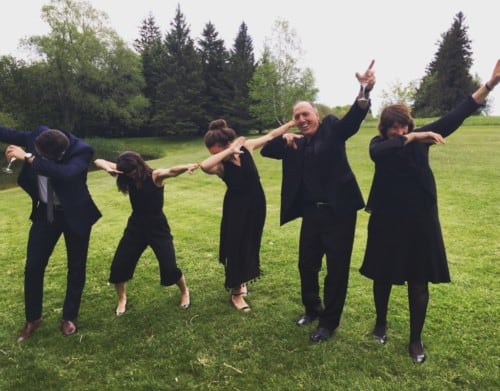 Play Changed the Relationship with the People That I Know
Play has the ability to further bond a relationship. Adding play to my interactions with friends and family added another layer of depth to our time together. Playing together allows an opportunity for a unique shared experience. For a small or long amount of time, we were engaged, present and working toward a common goal.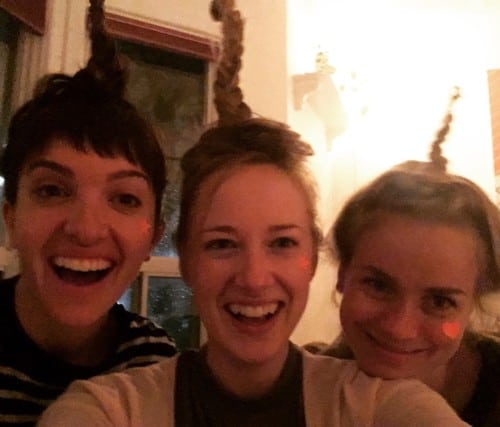 Friends were great contributors. They'd throw out a silly suggestion, we'd take a brief moment to think about it (left brain cameo) then the sassy, glittery right brain would take over (shimmy) and say, "let's do this!" Highlight shared moments: blowing bubbles, sidewalk chalk art, bringing games to bars and playing, hula-hooping, braiding each other's hair to become unicorns, creating a giant two-person "cootie catcher" or "fortune teller" game and being invited behind the bar at a café to make a latte.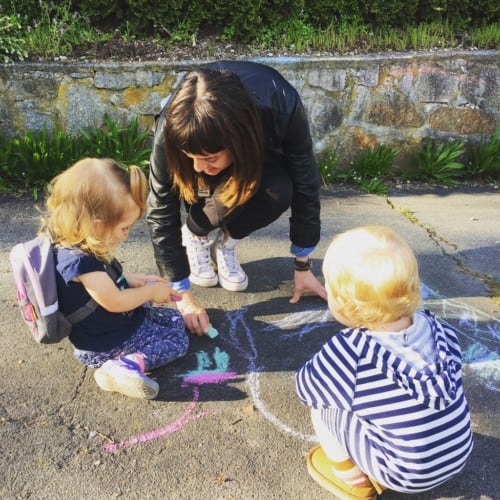 Play Changed My Relationship with Strangers
This experiment encouraged me to step out of my comfort zone and interact more with strangers. An example of this was being in a new city and seeing a hopscotch game on the sidewalk. I quickly explained what I was doing to some strangers who were eager to join along. Just like playing with people I knew, this quickly bonded us with a shared experience. It's scary and vulnerable asking other adults to play with you. I think practicing this is a good thing.
The silliest stranger play experience involved rubber duckies in a hot tub. While enjoying a much needed end of week hot tub at a friend's condo, we added several rubber duckies' to the experience to make it more appropriate to the task at hand.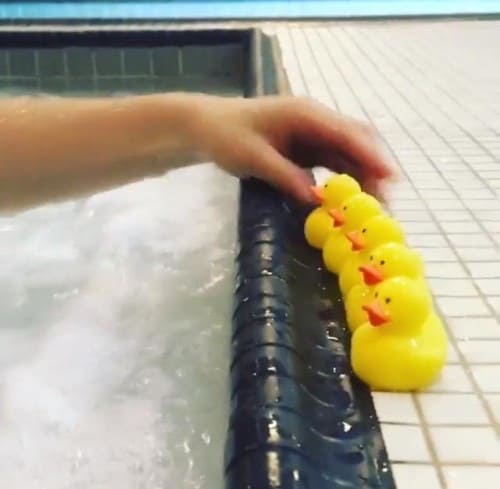 A woman finishing her swimming exercises came into the hot tub, saw the duckies, giggled and started squirting us with the water from a ducky's mouth. We joined in the play and ended up having a spontaneous rubber ducky water fight. We left the duckies in the hot tub while we went for a swim and watched as another group of adults played with the duckies, laughing and interacting with this unexpected discovery.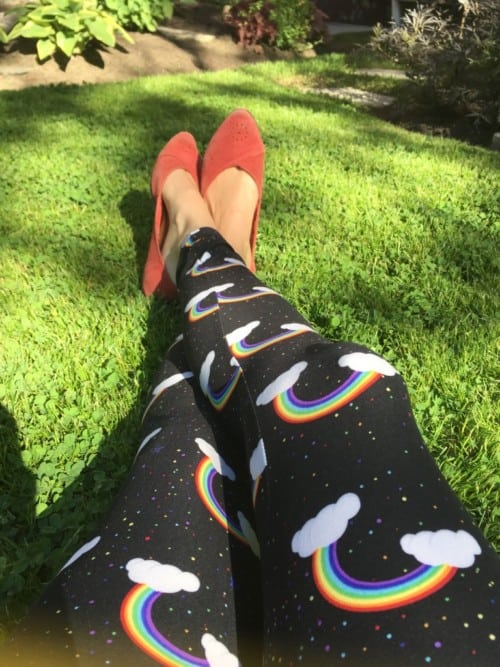 Play Changed My Relationship with Myself
Doing things for ourselves because they spark joy, confidence, sassiness and a platform for our inner child to have a voice is important. It can be as easy as jumping on your bed, wearing a colourful piece of clothing or complimenting a stranger's outfit. Playing every day for a month sparked an insatiable curiosity within. The curiosity of a child. I think it's possible that we lose this as we grow up and it's what keeps life fresh, new and interesting. Playing every day began to condition my brain into thinking "I wonder what would happen if…" I imagine this is how our brains think when we are first developing and learning. I began daring myself to do things I wouldn't usually do. Like, "I dare you to tell the barista your name is Beyoncé." With an incredulous smile, the barista wrote Beyoncé on the grande cup and when the drink was ready "Beyoncé" was called out and I sashayed (like I imagine Beyoncé would) to pick up the order. It was silly, a little mischievous and…why not?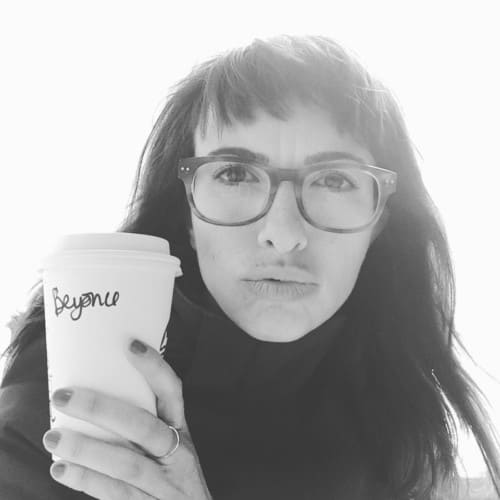 Life is busy and it was difficult to fit in time for play some days. However, there is always room for something whimsical or different from your daily routine. A moment of creativity and variety. One doesn't have to wait for vacation or the weekend to bank up all our play days. We can invite play into our daily lives. It can be simple and weird and whatever you want it to be.
The playful child within has been awakened and I have no plans of putting her back to bed. She can stay up late and party right beside her playful adult self.
Nicki loved her month of play so much that she's designed a play workshop for adults, to help spark creative flow. We hope you can squeeze into the upcoming one at Artscape Youngplace this Wednesday!