Inspired by the birth of her daughter this past spring, Caitlin Brott has expanded the Eugene and Keeks portfolio to include the most darling collection of baby clothes and accessories.
Her baby moccasins are made from preloved leather garments that she hunts down at vintage and second-hand shops. The adorable winter bonnets are wool-lined and include hand embroidered design.
Caitlin shares with us how sewing clothes for her little one has brought her closer to her family, and how a recent exhibit at the ROM impacted her design aesthetic. This Friday, she will be joining other local crafty mamas, Kate Crothers Little (Rumour & Gus) and Holly Boileau of (Woodwater) at the Planet Kid Holiday Christmas Pop-Up.
SDTC: How has becoming a mother inspired your creativity?
CB: While pregnant with my daughter, I found a huge sense of joy and purpose creating little things for her that she would cherish, and dreamt of her passing them down to her children. I grew up watching my grandmother knit and sew beautiful pieces for my sister and I, making baby clothes has made me feel incredibly close to her, to use the skills that she had shown me over all those years.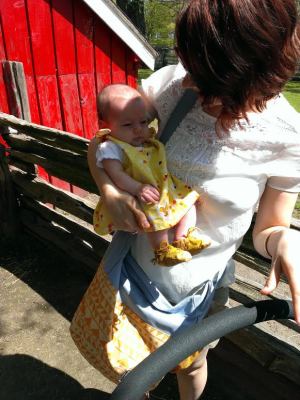 When do you find time to work on your ever growing collection?
It's definitely tricky making time with an 8-month-old around; I find the best time is in the mid-morning or evening after my daughter goes to sleep. Now that she is older, she can play by herself for longer periods of time. When that happens, I'll put on an acoustic playlist on Songza and sew and chat with her while she plays. I can also sometimes sit her in her highchair next to my table and she will occupy herself with scraps of fabric or a slice of apple and watch me. In the evening, if I'm not too exhausted, I like having a hot cup of After Dinner tea and working away while chatting to my husband.  It's sometimes the only chance we get to have a good conversation in the day.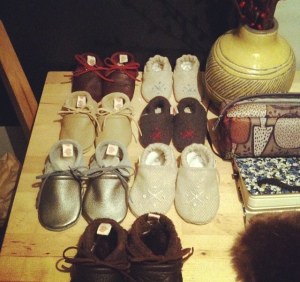 What do you love most about your collection?
I really love the holiday bonnets and slippers.  A few months ago we took our daughter to the ROM and I was incredibly inspired by the Native Canadian exhibit. There were beautiful displays of bonnets and moccasins all decorated with embroidery and seed beads.  I found it amazing that these little items were such a practical part of everyday life, but the handiwork was so intricate and decorative.  Thinking of all the mothers, grandmothers, sisters and aunts that must have sat around chatting to one another as they sewed these beautiful little pieces was such a beautiful image.  I knew I wanted to create something just as practical for a cold Canadian winter but add my own touch of decoration that would make each piece special.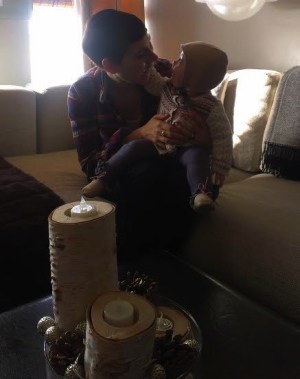 Can you share with us a favourite holiday tradition in your family?
I love my family's tradition of going to the Christmas Eve candlelight service at our church, and then coming home to a big buffet table of sandwiches and snacks.  We also open our new Christmas pyjamas from Santa and settle in to watch a Christmas movie.
I also love how my husband and I have our own Christmas celebration at home either before or just after spending time with our families.  I am really looking forward to sharing all these traditions with our daughter as she grows up.
What are you most looking forward to this season? 
Snuggled up cozy with wool socks, hot drinks and good old movies is my absolute favourite way to spend the holidays.
What snack will you be leaving out for Santa?
I'll probably leave out what I love best, some chewy ginger molasses  cookies and a nice hot toddy with Maple Whiskey! Best Ever!!
The Christmas Pop-Up at Planet Kid will run from 12pm – 9pm on Friday, December 12th. Bring your kids to enjoy story time at 4pm with local author, Irene Luxbacher. Be sure to take advantage of the photo booth by Hawk Eyes & White Fish Photography. More info on the Facebook event page, including other participating vendors.