10 speakers, 10 minutes each, 10 hearts left on stage. The Top 10 Event is an evening of powerful stories, insights and provocative conversation, which raises money for Future Possibilities for Kids. Produced by Stuart Knight, the Top 10 event is a unique fundraiser aimed at the the needs of kids in under-served communities.

This year's headliner is Jim Cuddy, lead singer of Blue Rodeo. Other speakers include famed Canadian lawyer Marie Henein, host of Laugh Out Loud Ali Hassan, multiple Olympic medalist Adam van Koeverden, award-winning author and journalist Michelle Shephard, writer and activist Enza Anderson, leadership and inclusion specialist Ritu Bhasin, world-renowned comedian Jessica Holmes, five-time Paralympian and six-time World Champion Jeff Adams, and Juno Award winner Kardinal Offishall.  
We caught up with a few of the event's super inspiring speakers this week.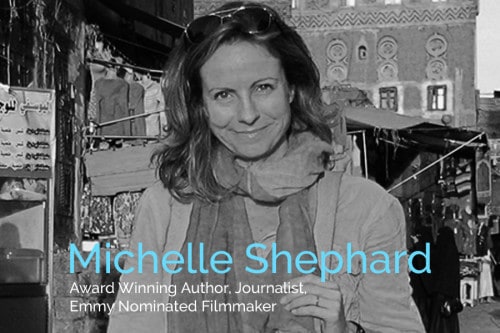 Michelle Shephard is an award-winning journalist, author, and Emmy-nominated filmmaker. Shephard has won Canada's top journalism's prizes – she's a three-time recipient of the National Newspaper Award and was part of a team that received the Governor General's Michener Award for Public Service Journalism. She is also the author of Guantanamo's Child: The Untold Story of Omar Khadr (2008) and Decade of Fear: Reporting from Terrorism's Grey Zone (2011).
SDTC: Which one of your stories has had the most profound effect on you personally? Why?
MS: There have been so many over the last two decades, but probably none hit me harder than the plight of Ismail Khalif Abdulle, a Somali teenager who I met in Mogadishu in 2010 after he refused to join a terrorist group and had his hand and foot amputated for his defiance. I've seen a lot of tragedies but Ismail's strength, determination, ability to forgive and sense of humour amid what he faced continues to inspire me today.
What do you want audiences to take away from your talk at Top 10?
Don't believe everything you see in a tweet. Be curious, be compassionate and pay attention to the world around you. We're all in this together.
What should we be paying more attention to in 2016?
Syria. We tend to suffer from crisis fatigue and turn away, when in fact the longer an injustice occurs the more tragic it becomes.
What is your advice to other young women starting out in journalism?
You don't have to apologize for being assertive and you don't have to become an asshole because you think you can better compete with the guys who are.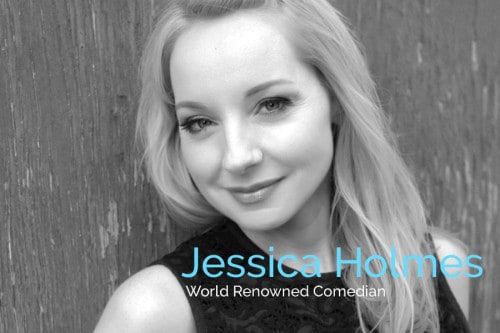 Jessica Holmes has been making us LOL ever since she joined the cast of CBC's Royal Canadian Air Farce. Off screen, she's opened for Ellen DeGeneres, Russell Peters, Jerry Seinfeld, and Oprah Winfrey.
SDTC: What is the funniest thing you've witnessed in recent memory?
JH: I'm usually laughing away my insecurities, like when my daughter was cuddling me and sweetly said, "Mommy, your beard is so soft." I didn't want to be defensive so I replied, "When a woman turns forty, nature turns her chin into a Chia pet. Isn't mommy lucky!?"
Which comedians should we be paying more attention to?
Netflix recently added a slew of comedy specials to their service – my fave is Bo Burnham's Make Happy. It's unexpected and actually quite sweet for stand up. 
What do you want audiences to take away from your Top 10 talk?
In comedy, we say tragedy + time = comedy. I want the audience to know the value of viewing disappointments and failures as punchlines. I suffered from depression for a few years, and when I came out of it I was so grateful to laugh again. Comedy takes the sting out of our grievances and reminds us that no problem is unique.
What's your best advice to other young women starting out in comedy?
Whether you do comedy as a career or as a hobby, keep it up, because the world needs your humour. And if you love it so much that you want to chase it as a career, don't give up because of the odd tough crowd, cynical peer, or rejection. Keep producing new material (as long as that's what makes you happy) and something will catch fire.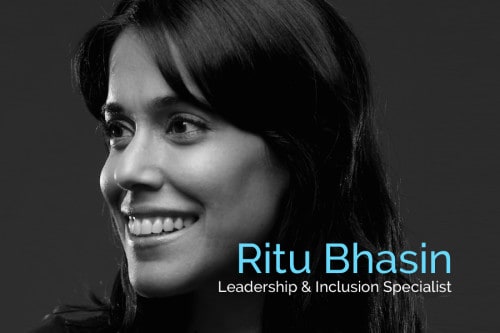 As a Leadership & Inclusion Specialist, Ritu Bhasin is a passionate advocate for social change and a dynamic public speaker. She's also the co-founder of Insayva, a self-empowerment platform that teaches mindfulness, yoga, and other strategies for personal and professional growth.
SDTC: Can you describe a pivotal moment in recent memory where you made a big change? What was it, and why?
RB: When I decided to write my first book, many people around me encouraged me to write about organizational inclusion, which is what I've been teaching for the past several years. My pivotal moment happened when I decided to write the book I really wanted to write – addressing the hurt I see among so many people who, because of their race, gender, or other differences, are constantly made to feel "other," and told to conform in order to belong and succeed. It's become my personal mission to create a world where everyone feels more empowered and included, and I'm so grateful I made the decision to write the right book!
How do you think that mindfulness training can help our society as a whole?
I see mindfulness as one of the keys to experiencing personal, relational, and professional joy. Mindfulness allows us to pause and actually listen to the noise that's continuously going on in our heads – the messages that play over and over that we may never consciously hear. It also allows us to better connect to our feelings and use our bodies as a guide in our decision making. Mindfulness is one of the most powerful tools there is to understand yourself.
What do you want audiences to take away from your talk at Top 10?
This ties back to the message of my book – that in order to truly feel personal, relational, and professional joy, we must learn how to know, embrace, and be our true authentic selves as often as possible. I really believe this is the key to breaking free from the expectations of conformity that hold us back, and to living more joyful, authentic lives.
What has been the most meaningful life advice you've received?
The best advice I've received is: F*ck the haters. That the most important thing, above all, is to love yourself and to be yourself, even when (maybe even especially when) the powers that be are uncomfortable with or threatened by it. For me, this advice rings so true and has been the key for me to achieving joy in my life.
SheDoesTheCity readers can receive a 10% discount using the promo code SDTC. You can find out more about the event and purchase tickets here.