Three cheers for Slo Pitch! The queer mockumentary series set in Toronto has hit it big, scoring a major distribution deal with IFC (US), and in Canada the series is available to watch on both OUTtv and AMC+.
Making the cross into TV is a major accomplishment for a small budget web series, and with Season 2 having premiered on the networks in the first week of June, Slo Pitch has become quite the buzzy must-watch for Pride 2022.
In the new season, the long-suffering, overly invested Coach Joanne (Kirsten Rasmussen) attempts to take the Brovaries, her underdog, queer slo pitch team, all the way to the championships, while planning her upcoming wedding with teammate Sasha (Chelsea Muirhead). Like the first season, fans can expect bizarre, over-the-top, raucous LOL comedy.
We caught up with creators Karen Knox, Gwenlyn Cumyn, and J Stevens to discuss the backstory of their beloved series.
What propels the story forward in Slo Pitch? Is it the desire to win?
Winning is definitely a big motivator for Coach Joanne, but to be clear, there's nothing on the line. Like, there's no prize for winning. We have a lot of fun putting life and death stakes onto objectively low stakes situations and making the most of communication mix-ups. One of our favourite episodes of the season is when the team gets trapped in the locker room with a weird bug. Oh, the antics! The big through-line of the season, however, is about Coach Joanne and her fiancé Sasha's wedding, which has been postponed time and time again because of Joanne's over-commitment to the slo pitch season. Any more delays are OUT OF THE QUESTION. NO MATTER WHAT!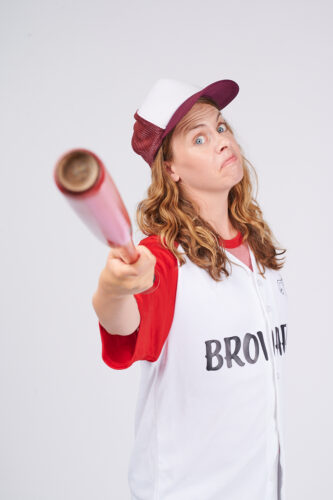 Why softball?
The director and co-creator of the show, J Stevens, played on a mostly queer, mostly female Australian Rules Football team, where they observed and participated in some inspirational shenanigans, which is actually where the idea for our team, "the Brovaries", came from. Seeing as softball is a pretty universal Toronto pastime, and Aussie Rules is …less so, we thought slo pitch softball would be the perfect adaptation of J's experience!
80% of your cast identifies as LGBTQ+, is this a first for you? Why was this important to you? How does it feel?
Slo Pitch has oodles of queer characters, so who better to make the show than a bunch of LGBTQ+ sweeties?! No really though …who better? Most of the team behind the project frequently create LGBTQ+ content, so working with a stunningly queer crew and cast isn't new so much as it is normal and positively wonderful. It's like Pride every day!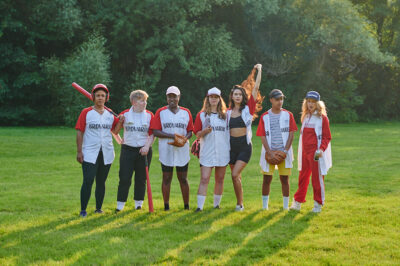 What happens on a queer softball league that's different than, let's say… a straight-man softball team?
Having never been on a straight-man softball team, it's difficult to say. There might actually be more similarities than one might think. In both cases, LOTS OF THROWING, CATCHING and BEER DRINKING. Other elements that contribute to the Brovaries' vibe include: frolicking, yelling, horseplay, merriment & misunderstandings, saliva swapping, losing, but also sometimes winning & singing. Would highly recommend all of the above to straight boy softball teams if this isn't what they're doing already.
This show looks like so much fun to make. What was the most fun part to shoot?
It's ludicrously fun. We had a couple of episodes this season that we could almost shoot in one continuous shot, like short plays. A lot of the cast comes from theatre backgrounds, so they all really shine given the opportunity to build on one another's energy. The improv is…hell for our editor to sort through, but so so so fun on set. Laughter leading to choking is a serious problem for the on-set medic.
You recently had a special in-person screening for Pride Month—what does that mean to you?
It feels so friggin' nice!!!!! To get to have the community out, IN PERSON, living, laughing, and lol-ing. The pandemic made events like this a bit of a nonstarter, so this feels like Dairy Queen after a soccer game when you're eight.
Are there mockumentaries out there that you really love that inspired you to make Slo Pitch? Or if not mockumentaries, other shows or films that influenced you? On first glance, we couldn't help but think of A League Of Their Own.
Heck yes we love A League of Their Own. Also can't deny that The Office and Parks & Rec were big influences. Also, Christopher Guests' entire oeuvre. The O.G mockumentary king. What a G.O.A.T.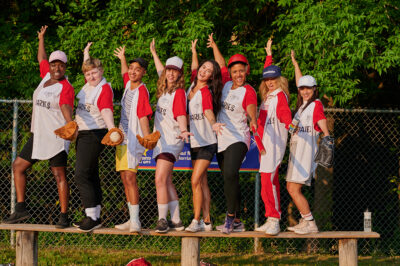 You shot this in and around Toronto. What are some of your favourite locations?
Well, in Season Two we got to shoot almost entirely at this awesome field up near the York Campus. It kind of felt like we had our own summer camp going. Also, we got to shoot at Mahjong for Sasha's Bachelorette. Dundas West come thru!
Viewers can catch Season 2 of Slo Pitch on OUTtv and AMC+ in Canada, and the series is also now airing on IFC in the US.