Girl Friday is one of our favourite Toronto boutiques. Owner Rebecca Nixon hand-picks every item in the store, which is especially impressive considering that new items arrive every week from a variety of designers. She's also the designer behind the eponymous house label.
Nixon has known she's wanted to work in fashion since the age of six. A graduate of Ryerson's Fashion Design program, she worked as a buyer/designer at Le Chateau and then at various American design houses before opening her first boutique in 2002. For her, the industry's vitality is one of the best things about her job. "I love that there's always a new challenge," she says. "Fashion is always changing." But she's also grateful for the opportunity to help women feel good about themselves. As a result, one of the biggest challenges for Nixon is not only responding to clients' needs, but anticipating them. That's why the clothes she designs are both comfortable and wearable. "I design with various friends in mind," she says. Okay, how do we get on that list?
We asked Nixon to style her ultimate fall outfit (the perfect ensemble for the busy fashion girl on the go). "I'm always running from my factory to buying appointments, stopping in at the store, and then out for dinner with friends! I need to wear clothes that are comfortable, versatile, and aren't fussy. This outfit meets all of my criteria. All I need is to change into heels for evening, put on a fresh coat of lipstick, and I'm ready to go."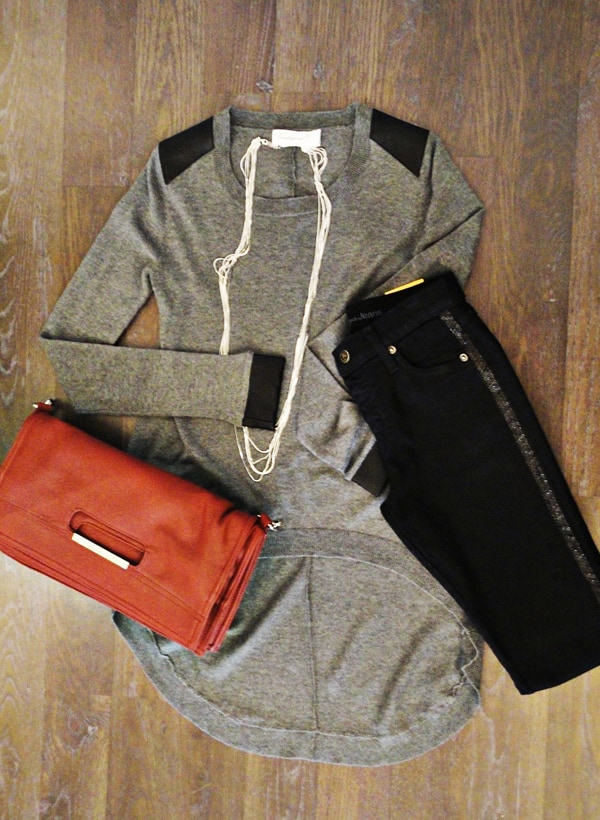 (1) The sweater is from a line new to Girl Friday, Vintageous ($156). I love the faux leather trim at the cuffs and shoulders which gives it a little bit of edge, and the hi-low hemline is very cool. 
(2) The jeans are Yoga Jeans- Skinny Tuxedo with Sequin trim ($138). I'm a sucker for anything sparkly, and yoga jeans are the most comfortable jeans you'll ever own. I'm also extremely proud to say that all yoga jeans are made in Canada.
(3) The necklace is from CPAK ($42) and just adds a little shine to the outfit without making it too busy.
(4) The bag is from S-Q ($63) and can be used as a clutch, but also has a nice long strap. I also like the burgundy colour… it adds a pop to this more subdued outfit.