The first time I travelled to Paris, I was sixteen. I had baby fat, a terrible I'm-growing-out-my-Winona-Ryder-pixie-cut, and I was a virgin. I went to Paris to complete my OAC (a.k.a. grade 13, a.k.a. a-fifth-year-in-high-school-that-really-wasn't-too-bad-and-maybe-they-should-bring-it-back-because-seventeen-years-old-is-way-young-for-university) French studies. I convinced one of my BFFs at the time to join me for the four-week intensive program, and, along with some weird kind of adapter ("They don't have the same kind of electricity as us?" I asked) and my great-grandmother's religious medallions ("They'll protect you, in case…you know…a plane crash, a mugging…" My mom said), we were off. I had never travelled overseas before. It was a big fucking deal.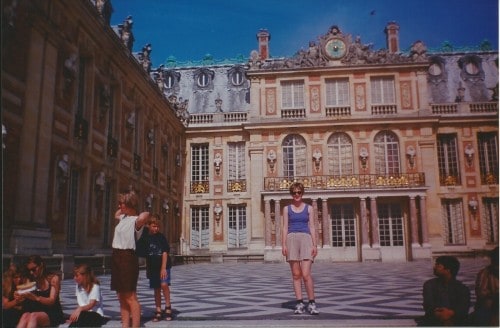 We stayed at a crummy motel on the edge of the city. Aubervilliers, on the pink line, was our metro stop. All of us fervently tried to speak French as much as we could to fit in. To learn.
Our French teachers, a pair of chubby sisters, though competent-enough educators, acted more like they were on a Club Med vacation rather than instructing two dozen sixteen year olds. We nicknamed one of them, "Madame Bacardi" because she had a tendency to slur her R's, except when it came to rum. Thinking back, maybe les soeurs had really bad marriages or bratty kids that they needed to escape from for a few weeks. Maybe they hadn't had a vacation in fifteen years. Or, maybe, they were just really shitty authority figures.
We were under lockdown at night. Not because we were young and unworldly, and, thus, most likely to appear on To Catch a Predator, but because the whole motel was put under lockdown at night. The neighbourhood was extremely sketchy and dangerous. Travellers were routinely mugged outside of the motel; catcalls, drunken French cursing and sirens comprised the soundtrack outside. With us forbidden to see the city at night, like we were reverse vampires, we were unable to see the City of Light, and its, well, lights. That sucked.
What we couldn't see at nighttime, we made up for during the day. Studying abroad as a teen is not for the leisurely, but for the orderly. Itineraries ruled our world. There were day trips to museums ("Seriously? That's the Mona Lisa? Damn, she's small!"), to Versailles, to a lot of old, abandoned churches that looked and smelled the same. One afternoon, most of the girls skipped class to attend a Ricky Martin autograph signing ("Livin' La Vida Loca" was mucho huge back then) where I was almost crushed to death (my obit reading: "Canadian teen killed at Ricky Martin autograph session," along with my mom's look of embarrassment flashed before my eyes) by a sea of screaming French teens before I was plucked from the crowd by a tall, dark stranger (thanks again, stranger. You did my family name a major solid).
We had some downtime. My friend and I bought alcohol for the first time at the corner store because it was legal, and because we could. We bought bottles of Bailey's and Kahlua, signifying both our inexperience and youthful high tolerance for sugar. We flirted with a pair of American college juniors at a café on Les Champs Elysees, whom we nicknamed Stubble and Shades. "We could have had SEX with them, you know," my friend would say later. But we didn't.
We ate whole baguettes as snacks that we bought from the supermarche down the street, and I remember thinking: how does one grocery shop? Shouldn't we buy something more nutritious? Shouldn't we buy something on sale?! We went to Euro Disney unchaperoned, bought questionable souvenirs (like a Goofy hat) and got home at dusk (but not dark!). We dressed up nicely for our farewell dinner in our pastel, chiffon-y Le Chateau outfits and had our first taste of wine. By the time we left Paris, I had earned an A not only in French, but for early adulthood, too.
The last time I travelled to Paris (OK, the second time), I was 31 (OK, it was last week). The baby fat is gone, the hair is long, and, now, I'm getting some. I went to Paris as part of a week-long vacation (four days in London, three days in Paris), and I went with a man—a beau—along with another weird adapter, but instead of religious medallions, this time, I brought a bunch of vitamins and sunscreen for protection.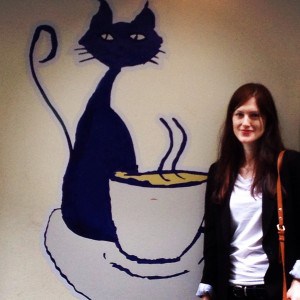 We stayed at an apartment in Montmartre. Less sketchy and less tourist-y, less threat of being mugged. We bought wine, cheese and chocolate from the local boulangerie and had a midnight feast chez nous. Other times, we would have a glass of wine at a local café, where sometimes my own R's would slur after a few Proseccos, and watch the sun set. I tried to speak French to waiters and the old lady in our building, but most times I didn't bother.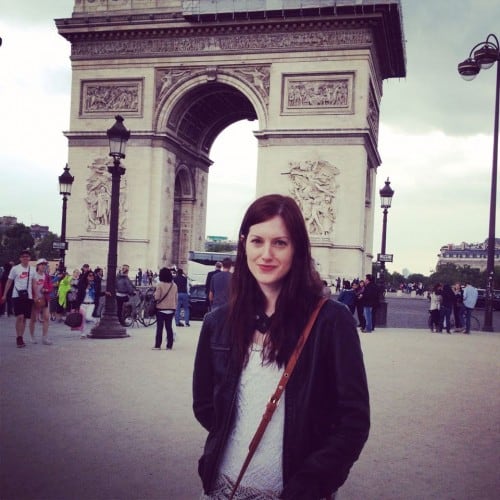 There were day trips this time around, too. The Eiffel Tower, the Latin Quarter, a cat café! But it was different this time. My first time in Paris, my default speed was hurtling. Trying. Wanting to discover something way more than just a new city; I was trying to discover myself as an individual, an independent, a grown-up. Yet now, I was already all of those things. I travel alone. I've lived alone. I go to the grocery store weekly and don't even blink an eye (except if you have more than eight items in the express checkout, then you and I will have words, pal).  I buy alcohol all the time (well, not all the time because I buy in bulk. Don't judge.). My clothes are nicer. I have sex. My As and honour roll-status got me into a good university. I am, essentially, all that I wanted to be when I was a sixteen-year old in Paris.
So, this time, I just was. I be'd. Instead of discovering, I experienced. I experienced the café crèmes I had regularly in the afternoon, the stroll through Luxembourg Gardens, the long trip up the Eiffel Tower (you better believe I experienced that one, step-by-step-by-thousandth-step), the guinea fowl I tried for the first time, the conversation we shared with a pair of American tourists at dinner. I experienced the highs of the vacation (the togetherness factor, the beauty of what it means to be "on vacation") to the lows (we both fell ill during our last weekend, the good byes). The only thing I wanted to discover was Paris at night.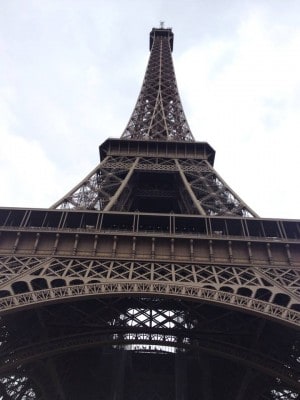 There's a French word, flânerie, which basically stands for aimless, idle behaviour. Though I wouldn't describe our trip as such (we planned where we would eat for dinner and generally what we wanted to do during the day), I would like to think if I planned to discover new things the first time I was in Paris, that this time I allowed myself to receive the unexpected. The true essence of who a flâneur is—a stroller, a person who stops to smell the roses—appeals to Type A-me, the me who is always hurtling. Trying. At sixteen, and even now. Back in post-vacation reality, it would be nice to remember to look out past my computer screen sometimes, to experience the café crèmes more. To be. To flaneur.
I did finally discover Paris at night. And, it was, of course, beautiful.