Earlier this week, Erin O'Toole, the leader of Canada's Conservative party, told a group of students at Ryerson University that the residential school system was designed to "provide education" to Indigenous children. He has since backtracked that statement, but the fact that it was said at all is proof that our country and its leaders still trivialize the trauma inflicted on Indigenous people throughout history and present day.
It's difficult to comprehend how O'Toole, or any Canadian, could possibly misunderstand residential schools to be anything other than sites designed to facilitate horrific child abuse and genocide. I urge those who have any doubts about it to take the time to learn the truth about Canadian history. Even if you do not have doubts, making the time to listen to accounts of our shameful past (and present) is incredibly important. The new documentary Inendi, directed by Sarain Fox, is yet another powerful piece to be added to the growing canon of work that sheds light on these evil chapters of Canadian history.
When the pandemic hit in March, one of the fears that Sarain had was that she'd lose members of her family, and with that loss, their stories. "Elders are the most vulnerable to this pandemic and they are our Knowledge Keepers," she says. So after securing a grant from CBC's COVID relief fund, Sarain packed her car and drove eight hours north to Batchewana First Nation, outside of Sault Ste. Marie.
A well-known activist, we are used to seeing Sarain tackling numerous issues, be it MMIWG or the construction of oil pipelines through Indigenous land, but Inendi is the first time we see her address her own family's trauma.
Growing up, Sarain would often listen to her Aunt Mary discuss bits of her past with her mother, but those conversations never included Sarain directly. "This was the first time that I sat across from my Aunt Mary and had her tell me some of the most traumatic things I could ever imagine,' says Sarain. "She's a survivor."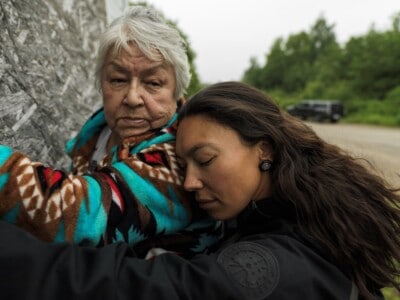 The documentary tells Mary's story from age seven to sixteen, when she spent ten monstrous years at St. Joseph's Residential School for Girls in Spanish, Ontario. The government removed Mary and her little brother from their mother's care and put them on a train that dropped them in the dark woods, in the middle of the night. From there, the siblings were pulled from one another, separated, and taken to isolated residential schools. Mary was shaved, starved, and beaten. She was told repeatedly that she and her culture were inferior. She was lied to; they told Mary that her mother had abandoned her.
It's unbearable to think about, but we must collectively face and acknowledge these injustices in order to understand and honour intergenerational trauma. There is no other way to heal from it.
In the film, Sarain introduces her Aunt as a 'Knowledge Keeper' and explains her reasoning for the title. "My people, the Anishinaabe people, come from an oral history. Listening to our stories is the only way we can trace where we come from. When you see an elder as a 'Knowledge Keeper' you're reminding yourself and others that there is so much value in every single story, and every moment that they have kept a record for. For me, my Auntie holds the legacy of perseverance, of fighting to be here. She taught us to be proud and out as Indigenous people."
Sarain knew that recording her Aunt's story would be difficult, so she built in extra time with her crew to help them process the experience. "We smudged every day and also got together and did a circle check-in after every day we shot. I thought that was important for my team to have room and a safe space to just let anything out," says Sarain. Her mother also made the trip north to be with both Sarain and Aunt Mary. "In the doc I say that my Auntie needed my mom to be there, but I think the truth is that I needed her there too. Having that support system was really important."
The pandemic lit a burning urgency in Sarain to make this documentary, and while she is glad that she did it, continuing to tell these stories now feels even more pressing. "I have four days of footage of her story that I've edited into 44 minutes, but there's so much more. It's not about listening and wrapping something up in a pretty package. My reclamation of those stories will happen in pieces, and there will never come a day where I will say, 'I've found it all!'"
Sarain was one month pregnant when she shot Inendi. When I ask her about her intergenerational healing, she talks about the little girl she will soon give birth to. "For me, healing intergenerational trauma is really going to happen in the next part of my life, where I get to provide something different for my youngster and talk about all the beautiful stories that have been passed on to me. Every time an Indigenous baby is born, and they are raised to be exactly who they are—and not be ashamed of being Indigenous—we heal a little more."
Inendi is free to watch on CBC Gem starting today. All Canadians should see it.