John Belushi, John Candy, Catherine O'Hara, Gilda Radner, Andrea Martin, Eugene Levy, Mike Myers, Amy Poehler, Tina Fey: So many of the world's leading comedy legends began their careers on the stages of
Second City
. To celebrate 60 years of laughs, a gorgeous new book has been created that chronicles its vibrant history in Toronto and Chicago, with a special forward by Catherine O'Hara (who happens to also
the subject of a retrospective
happening at TIFF Bell Lightbox later this month).
What is it that makes Second City so good at what it does? Author Liz Kozak, who's been with the company for 7 years, believes much of the success lies in taking risks. "We are not only allowed to fail, but encouraged to fail, and fail up in a way that allows us to keep pushing ourselves, and trying new challenges," says Kozak. "Trying new challenges is what sets us apart from other places. It creates a legacy of smart comedy, and thoughtful comedy."
Taking on the responsibility to put together the 60th anniversary book was a risk in itself, as while Kozak had ample experience as the keeper of the voice and story of the theatre, this was her first book. "The thing that I think unites everybody is the way the people unabashedly—and without fear—run things here, or the ability to embrace a challenge and build onto it."
If you've ever taken a class at Second City, you'll be familiar with the "Yes, And…" approach; it's the building block of sketch comedy, or as Liz describes, the tenant of improv. But having observed life within the walls of Second City for years, Kozak knows that this creative method doesn't just play out on stage. "To watch people live it, and put it into action is incredible—that's how you get the best art! And that's also how you get the best relationships. I've had the privilege of working with Andrew Alexander and going back to the original cast of SCTV, working alongside Martin Short and Catherine O'Hara and Eugene Levy; people who've had these relationships for decades and decades and decades, and see how they're still inspired to work together to make projects together that builds on what they've done."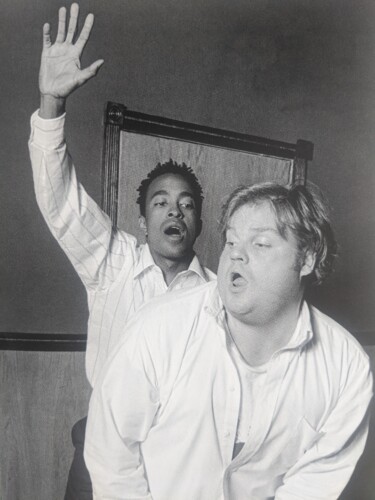 The last anthology that came out was when the company turned 40, and so much has happened since that time. "There was a small section on Tina Fey and her husband and collaborator, Jeff Richmond, and it was like; "Great things are ahead for these two!"', Kozak says with a laugh.
Beyond updating the major successes, the new book closely examines the stories of each decade, giving readers an enthralling (and accurate) evolution of the company. Naturally, much space is dedicated to the big names that broke fame, but also the lesser known heroes who played critical roles in growing the organization. "There's a lot of different ways that people hold weight in the company that we wanted to honour," she says.
Studying the history of Second City so closely gave Kozak an opportunity to extract the common themes that glue everything together, and consider how it adapts to each new era, and why their comedy resonates so deeply. "I think the greatest gift that Second City gives audiences is that it really provokes thought in an interesting way. The way that it uses satire to pull apart the world that we live in–and find the things that are crazy, or true, or things that we have in common–in a way that feels inclusive and approachable and challenging. There are certainly a lot of misses, but I think what makes Second City so special is that the failures are just as important as the successes."