Shayda Omidvar's grew up listening to her father's stories about fleeing Iran during the revolutionary crisis. The frightening, heartbreaking, and near-death experiences he met along his journey to Canada are tales that shaped her childhood. "We went camping a lot and these were the stories my that my dad told me and my sister while we sat around the fire", says Shayda, who has always wanted to find a way to share her father's stories with the world.
The ideas were always churning, but it was the Syrian refugee crisis in 2015 that compelled her to get moving. "I was taking a look at the responses from Canadians on both sides, in favour and against, and that was when me and Portia Larlee, my friend and co-writer, decided that the story really needed to get out", says Shayda. "We wanted to show how refugees are part of our community, and how they make up Canada's diversity."
So it was five years ago that the duo began writing. But like many creative endeavours, the project was interrupted by life.
At first, they thought they were writing a book, but in that time, their love for podcasts grew. "I love podcasts that tell a story. Dolly Parton's America came out and I thought that was such a beautiful display of storytelling, the way it used a greater story to tell a smaller one. That's where I really drew a lot of inspiration of how to use my dad's story as a catalyst to tell a greater one."
The Hopeful is a series of interviews that Shayda conducted with her father, starting with his childhood in Tehran, in the 1960s. The podcast takes us through the political upheaval in Iran leading up to The Revolution, the rise of Ayatollah Khomeini, and the sudden shutting down of the Iranian borders.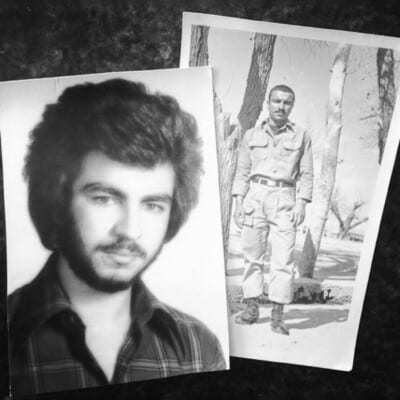 Like a riveting novel, we discover what motivates Amir to abandon his siblings and mother. We also discover his elaborate plans to escape, that include sewing bits of gold into his clothes, in case he's forced to barter with anyone while crossing the Turkish border that is lined with gunmen instructed to shoot.
His journey to freedom begins in the mountains of Iran, and takes him all the way to Miami, Mexico City, Tijuana and other foreign places, where he is forced to forge his way with barely any money, and no understanding of the various languages. From rationing bits of food to curb hunger to enduring solitary confinement in a Mexican prison, Amir's harrowing escape is full of dangerous complications.
While he was always comfortable sharing the stories with his daughters, it took Amir a long time to be able to open up publicly; like most refugees, he is haunted by fear. But now more than ever, he wants to share hope, and his message is timely: "It's not going to stay like this, it's going to get better. No matter how bad it gets, you never know what is waiting for you."
For Shayda, her father's courage and determination has always motivated her to push further, "At no point in his story did he run out of will."
The Hopeful is exactly what it set out to be: a gripping and emotionally powerful story with an important message that we an all relate to. It's no wonder Apple named it top show of 2020. Take a listen.