Emily Mills is a local powerhouse you ought to know, and this coming Sunday, her company How She Hustles will be hosting She Changed The Game, a motivational networking event for women of all backgrounds. She Changed The Game boasts an incredible lineup of speakers who'll share their personal stories of how they overcame obstacles to become leaders in their respective fields and run their lives on their own terms.
Emily's events are always ground-breaking, and She Changed The Game has already sold 100 tickets. Join in, get inspired, and walk out a little more confident to create, build, and make change happen. Read more details on the event here.
Get to know Emily, from starting How She Hustles to life lessons that have guided her.
SDTC: How did How She Hustles begin? How has it grown?
EM: How She Hustles began in 2010 after I posted a personal reflection on Facebook about the many demands we juggle as women. The post sparked a conversation and led to the first gathering of fifty diverse women in Toronto. Through word of mouth and social media platforms like Facebook, Twitter and Instagram, we're now connected to 5000 diverse women online. We continue to grow organically with a small army of passionate volunteers, and without any paid advertising, corporate funding or government investment.
For six years, we've sold out virtually every single event, including women's brunches, inspiring panels, after-work socials, an all-female pop-up shop and recently, a Mother's Day tribute, attended by 250 women, which featured special guests Jully Black, Michie Mee, Trey Anthony and more. The network has donated funds to grassroots causes from the Eva Smith Bursary to Malvern Women's Place. How She Hustles continues to profile women on the move, and share tips for success through a growing network of social media-savvy women across Canada, the United States, Africa, Europe and the Caribbean.
What can audiences expect from She Changed The Game?
She Changed The Game is a candid conversation about taking risks, pursuing your passions and redefining success featuring five innovative Toronto women. Our panel includes Aisha Addo, the visionary millennial & CEO of DriveHER, a ridesharing service by women and for women in the GTA; Leisa Washington, the first black female WNBA/NBA agent in Canada and founder of Camda Sports Foundation; and Tika Simone, musician and co-founder of the #Gyalcast podcast by black women (ranked as the #1 Canadian DIY Media Collective You Should Know by The Fader) plus, she created Toronto's wildly popular #Baregyal parties and The Known Unknown events.
We're lucky to have Nneka Elliott as our moderator – she recently left TV news to build her own digital empire. And we'll feature a video message from Toni Morgan, a phenomenal Toronto social entrepreneur you may have heard about: once homeless, she crowd-funded $100K in forty-eight hours to attend Harvard University. Beyond that, guests should expect a warm vibe and an opportunity to network in a room buzzing with Toronto's diverse women on the move. Join us, ladies – we've got a few tickets left!
Can you share with us an important lesson you learned in recent years?
A few years before I founded How She Hustles, I lost a beloved member of my family. Like me, she had a zest for life, loved connecting with people and volunteering in the community. She was in her twenties, recently married and a proud new mom. She was completing med school and destined to be a paediatrician. Three days before her graduation, she passed away in a tragic accident.
Losing her had a huge impact on me. Her passing reminded me that life is finite. But our potential to do great things is not. We can't always decide our fate, but we can do so much to choose a meaningful legacy. In spirit, she remains one of the driving forces behind How She Hustles and what we do to connect, inform and inspire diverse women on the move.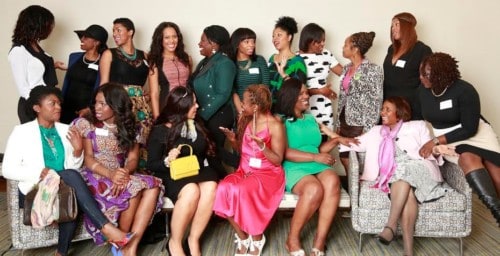 What motivates your work?
I created How She Hustles because I couldn't find anything quite like it in Toronto. I wanted to be part of a local network where culturally diverse women were the norm, not the exception. Where diverse women like me – who are balancing full-time careers, part-time entrepreneurship, families and volunteerism in a 24/7 social media world – could connect in more meaningful ways.
There's no membership fee. There's no application process. And there's no expectation that you come from a specific cultural background or industry. If you're a woman from any walk of life who is trying to find a unique community like this, find #howshehustles online or connect with us at an event.
How has your hustle evolved / changed since becoming a mother? How has motherhood enhanced your career?
With my husband Lekan, we're raising two precious little boys who are almost 2 ½ and 4. Motherhood *IS* a hustle and has made my life busier and more intense, yet more rewarding. In many ways, motherhood gives me more responsibility, yet more freedom. It sounds like a contraction, but it isn't. The boys demand our love, protection and guidance, but they also demand that we laugh, be curious and explore the world through fresh eyes.
Becoming a mom has enhanced my career and my life by giving me perspective about what's really important. It's given me a different kind of confidence too – I brought two humans into this world! It's helped me learn and practice different forms of communication, conflict resolution, negotiation and task management. Great skills at home – and work.
What are you feeling most proud of?
I'm really proud that How She Hustles has grown exponentially, but I'm even more proud of why this growth happened. It's because of enthusiastic supporters. Because of valued volunteers. And because many diverse women in this city feel like they've found a community that truly resonates. We've welcomed CEOs to Consul Generals to Olympians, media personalities to stay-at-home moms to students, and millennials to centenarians. My hope is that all these women continue to feel connected and inspired through the network.
I'm also proud that we continue to support and spotlight diverse women online and as part of women-led teams for all our events. We work exclusively with female photographers, videographers, DJs, sound technicians, caterers, fashion designers, décor specialists, make-up artists, hair stylists, event planners, musicians and performers for all How She Hustles events. It's really inspiring.
#howshehustles presents: SHE CHANGED THE GAME
SHE defied expectations.
SHE dared to do things differently.
SHE redefined success.
She. Changed. The. Game.
WHAT: She Changed The Game presented by #howshehustles. Real talk with innovative women.
WHEN: Sunday, October 30, 1 – 4 pm
WHERE: Tract 9 (358 Dufferin St at Queen. Suite #112)
ADMISSION: $35 advance tickets only. Exclusively for women. Reserve your tickets now.