We are PUMPED for Myseum of Toronto's fourth annual festival, Intersections, which touches down on February 28. For the month of March, you can explore seventeen FREE eye-opening, city-wide projects, including music, live performances, installations and workshops. The festival aims to create dialogue on civic issues and inspire a deeper appreciation for all that our city encompasses.
This year's theme is Revisionist Toronto, which will explore lost or hidden stories that have been paved over and forgotten, and seek to reclaim important perspectives from Toronto's past. Here's what we're most looking forward to: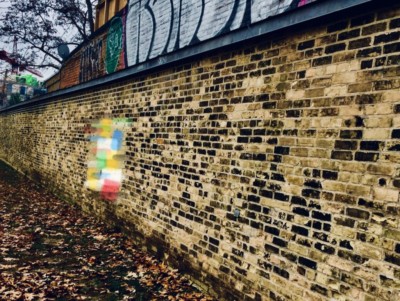 Reclaiming Tkaronto/Toronto: Transforming Lenses around Mental Wellness will reflect on the history of mental health in Toronto before re-envisioning how we can build a community based on a deeper understanding and connection to mental wellness. At this interactive workshop, you'll use creative thinking and art-making to collectively re-imagine how we see our past, present and future in relation to mental wellness. Meet at Queen St. W. and White Squirrel Way on March 23 at 1 p.m. RSVP here.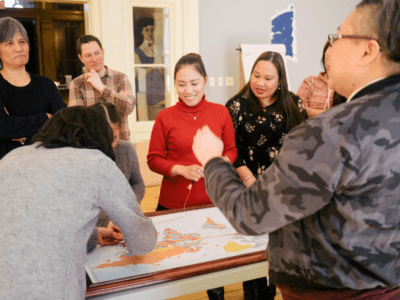 Re-imagining: Stories of Care Work is a collaborative storytelling and audio-visual art performance that will re-vision the history of Care Work in Toronto. Featuring real-life stories of migrant caregivers, accompanied by video art projection and electronic soundscapes, this event emphasizes the invaluable contributions of migrant caregivers to Canada's social, economic, and political history. Performance and reception at Spadina Theatre (24 Spadina Rd.) on March 10 starting at 1 p.m.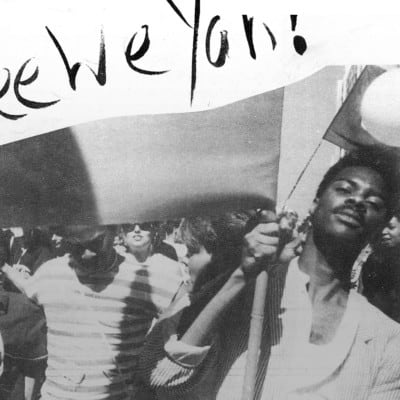 Legacies in Motion: Black Queer Toronto Archival Project unearths the stories of the vibrant period of political organizing and cultural activism from the Black LGBTQ communities in Toronto in the 1980s and 1990s. This exhibit connects an earlier generation of activists and artists, and their legacies, directly to contemporary organizations, movements, movers, agitators, disruptors, and creators. Showing at BAND–Black Artists Network Dialogue (19 Brock Ave) from March 14 to 24.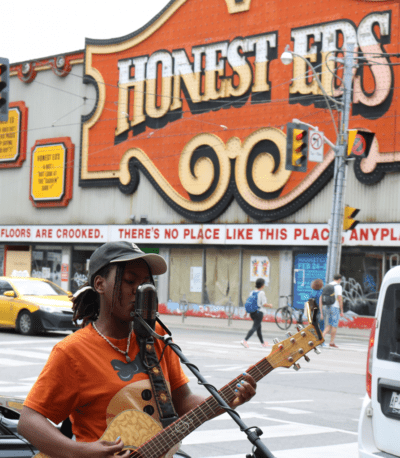 Bathurst Street: Music Gallery History Series explores a wealth of musical heritage along this iconic street. From vital venues and significant shops to the prominent personalities who have left their mark, History of Bathurst St. Sounds sheds new light on a perennially bustling neighbourhood with a panel discussion, archive exhibition and a parade (yes, in March). Exhibition will be on at The Music Gallery (918 Bathurst St.) throughout March with the Parade/Reception on March 24 from 2 p.m. to 5 p.m. at A Different Booklist (779 Bathurst St.).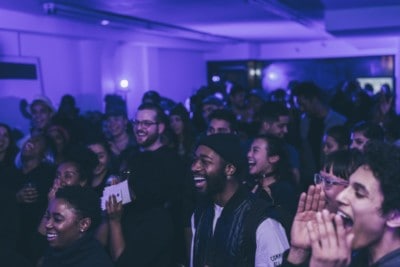 Blank Canvas Gallery's Fill in the Blank is an ephemeral re-creation of the recently defunct, black-owned DIY artspace. This exhibition highlights the systemic obstacles facing racialized and marginalized artists and invites attendees to share their vision for a better Toronto with a resilient arts community that thrives in the wake of race- and class-based violence brought on by the city's rapid gentrification. Reception on March 30 from 6 to 11 p.m. at Toronto Media Arts Centre Small Gallery/Main Gallery (32 Lisgar St.).
We are continually blown away with Myseum of Toronto's programming, and the Intersections Fest is not to be missed. See Toronto from a different perspective to re-evaluate our truth. Get the full schedule of events and free registration here. (MAKE SURE TO REGISTER YOUR RSVP!)