Powerful, thought-provoking, and intensely emotional: David Hare's award-winning SKYLIGHT, now playing at The Berkeley Street Theatre, will grip audiences with its sharp dialogue and heart-wrenching performances.
On a deep winter night in Northwest London, an unexpected knock at the door brings the past rushing back into Kyra's apartment. At the door is Tom, a restless, self-made restaurateur and hotel tycoon, and Kyra's former lover. After three years apart, Tom has come to reclaim his former mistress following the death of his wife. Though the current of their desire still runs strong, time has carved them into very different people.
Slightly unnerving, positively moving: SKYLIGHT is a thinking play that will enrapture your heart and toy with your mind. It shows us that relationships are a complex web of Freudian theories connecting history with the present, the memory to the heart (and to the groin).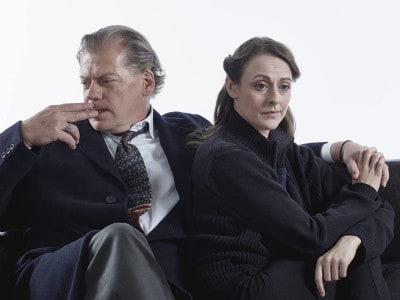 Whether it's obvious or not, we live tangled, complicated lives, and we can't help but feel prompted by the questions in this play: What motivates our life choices? Why do some of us choose an altruistic career path versus an entrepreneurial one that is motivated by money? How do we define success? How important is it to have a soul mate that shares our values? Why do we fall in love with who we do? If our love is determined by instincts, but our instincts don't serve us, is it possible to change course?
Directed by Larry Moss, and with phenomenal performances by Lindsay G. Merrithew and Sara Topham, SKYLIGHT is a play you will be glad you went to see, and while it is set in the early 90s, the themes of class structure and opposing politics are as relevant and timely as ever.
SKYLIGHT is best enjoyed with a post-theatre dinner date that involves a bottle or two of full-bodied red wine. After all, is there anything as provocative or arousing as the human psyche? Get in deep and explore.
SKYLIGHT will run June 10–July 9 at The Berkeley Street Theatre. Reserve your seats now.