David Hare's critically acclaimed SKYLIGHT opens in Toronto at The Berkeley Street Theatre June 9th. Directed by Larry Moss and starring Lindsay G. Merrithew, Sarah Topham, and Tim Dowler-Cotman, this brilliant play is primed to cause a serious stir. Reserve your seats now.
After three years apart, Tom, a self-made restaurateur, has come to reclaim his former mistress Kyra, following the death of his wife. Though the current of their desire still runs strong, time has carved them into very different people.
The bright colours of their lost love play out against the grey backdrop of Kyra's dingy apartment in Margaret Thatcher's England—worlds away from the luxurious life in which they conducted their clandestine affair. Is the gap between them unbridgeable, or can they resurrect their magnetic relationship?
SKYLIGHT examines the inner workings of the human heart and the myriad ways in which ideals and love collide, while asking us to consider where our own lines are drawn across political and emotional landscapes.
While we may not live in 1970s London, the themes of SKYLIGHT are universal. If we haven't experienced great love or great loss yet, we will. Those of us who have, know that love and loss is unpredictable; while we cannot control destiny, we can always learn through our experiences.
Inspired by the play, we put a call out on Bunz Trading Zone asking beautiful Toronto humans to share their own stories of love and loss. We received an overwhelming response and last Friday, arranged a photo shoot around Bloor and Bathurst, with the our meeting hub being the CSI Cafe at Centre For Social Innovation's Annex location.
Spending an afternoon listening to strangers tell me their stories was uplifting, poignant and sacred. Which are similar feelings stirred by David Hare's award-winning play. Read, reflect, be inspired and come check out the play, running June 10 – July 9th at Berkeley Street Theatre.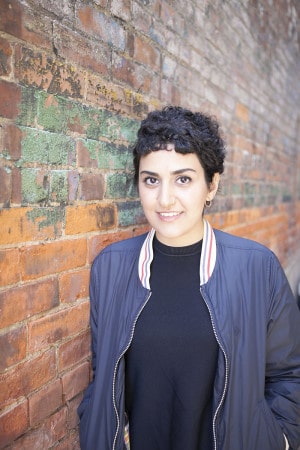 JASMIN ON LOSS THEN LOVE, AROUND THE WORLD
Jasmin first met her current partner while at grade school in Tehran. They were friends with a tumultuous history. Years ago, she remembers thinking: "This is someone I want to see do well, even if I don't want them in my life." Jasmin describes their history as having "a lot of loss and anger," so they never assumed that twelve years later, they'd not only reconcile their friendship (on the other side of the world), but also become a strong, loving couple. "Even the most mundane tasks are really fun. Going to the grocery store is an adventure…I don't understand why!" says Jasmin, with a laugh.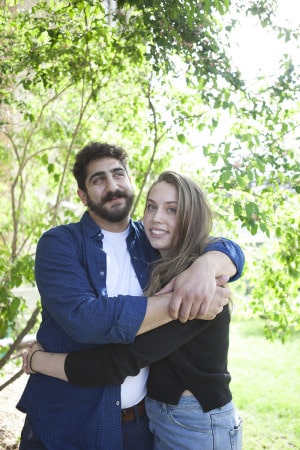 NICOLAS AND ZOE ON LOVE AND LEARNING THROUGH LOVE
Dates aren't organized, but they do bike together, eat together, and check out lots of shows together. When it comes to teaching each other, they've learned a lot.
What he's learned: "Zoe has been able to explain some feminist theory to me…that's been pretty neat, as a knowledge thing. Emotionally, she's taught me lots," Nicolas pauses. "It's the most emotionally open relationship I've ever been in. We tell each other everything."
What she's learned: "I like to talk about my feelings a lot. Nick has taught me that just because it's not said, doesn't mean it's not real. There are things you can show in actions that you don't need to put into words."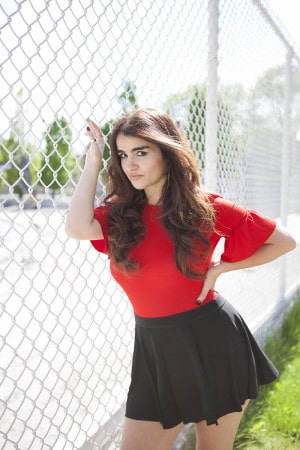 CHRSTINE ESTIMA ON STRENGTH THROUGH LOSS
"I went through a loss three years ago and it's interesting how, for some people, heartbreak can stall you; for me, it's informed everything I've done since. The pain I got from that heartbreak is the best thing he ever gave me. I turned what felt like death into a fighting chance for my life. The pain lit a fire and I've since had a lot more success in my career. I once wrote a short story called The Degree of Suffering Is Required, and I feel like that is true; great art requires great suffering. The only way to get respect is to demand it. Respect is earned not bestowed. It's a trope, but it's true: you have to crawl through a river of shit on your knees to find out who you are. I like that I went through it."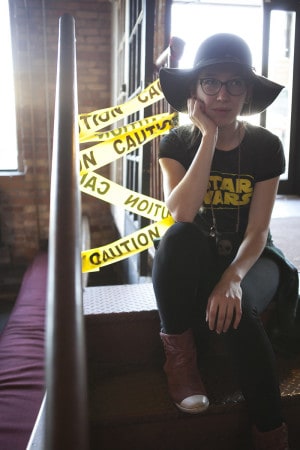 KATE ON HOW LOSS REMINDS HER HOW TO LOVE
Kate loved her grandparents dearly. Her grandfather was a survivor – he lived through war and poverty – but the one thing he couldn't live through was waiting for his wife to die. In a way, Kate feels grateful that he passed before her. A few weeks later, her grandma also passed away. She thinks of both of them often and fondly and admires how they chose to live. I ask Kate what they taught her about love and what she wants to share about them. "[They taught me] that there is always room for one more. Dogs, cats, people, children: there was always room for someone else at their table. It's what they taught me that has helped the most."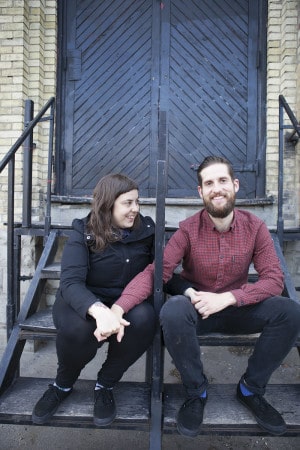 KRISTINA AND ANDREW ON LOVE AND DOG LOVE
"We met at the dog bowl," says Andrew.
"We don't have a dog…we just like looking at dogs," Kristina clarifies.
They also love heavy metal, beards, and freshly baked bread.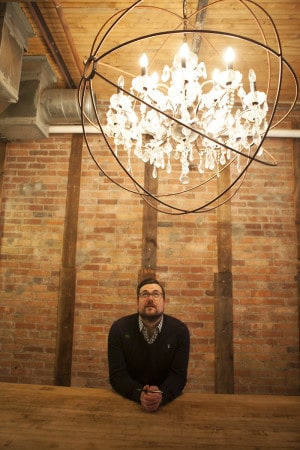 KRISTIAN ON THE JOURNEY OF LOSS
Kristian lost his father suddenly; fourteen years later, he still thinks about him daily. "It was a relationship that needed work and answers. I'm now left with questions…I don't have answers," he says. "It's the deepest cut, more than the loss of love. [His death] gave me, for the first time in my life, a finite idea of my own mortality. You never get over it."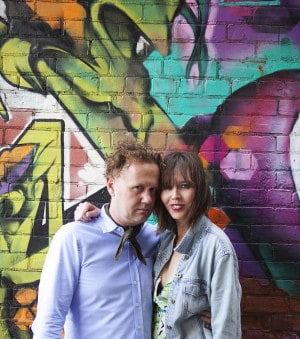 JAMIE AND JEN ON WHEN LOSS LEADS TO LOVE
"Having both been divorced, neither of us were sure we'd ever find love again," says Jen. "But that changed when I asked him to meet me for a slow dance and he said yes." They've been slow dancing ever since.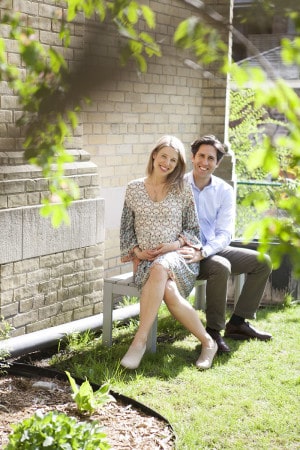 LARA AND AARON ON INDEPENDENT GROWTH THROUGH LOVE
Lara and Aaron are expecting the birth of their first child any day now. They are excited but nervous about the unknowns. They first got together in 2000, as first year undergraduate students at McGill. "We lived in the same residence, on the same floor," Lara exclaims with a smile. Since then, their relationship has survived years of long distance, from Toronto to Singapore, London, and New York. "We've been together a long time but with the distance, we were also able to grow individually. I always think that we've had four different relationship with each other," says Aaron. Dense and exciting chapter five is mere minutes away.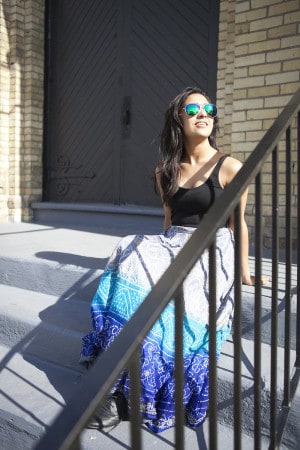 RADAH ON FINDING HERSELF THROUGH LOSS

"I've had a journey of loss. I'm at a point where I've done a lot of reflecting, not to let go of things, but to redefine how I look at life. It was a love I was so enthralled in that there was no you or I, only a we." Radah since had what she describes as a rebirth. "Being with him was probably the only 100% sure thing in my life, but now I realize that life is ever-changing. There is no wrong or right; it's a path  you are taking."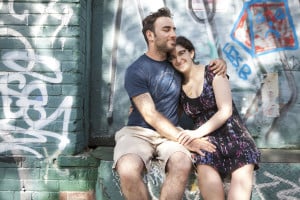 NAVA AND ALEX ON FOREVER LOVE
"This is someone I could very happily spend the rest of my life with and I know it will work," says Alex. They're getting married in a few weeks.
LIFE IS BEAUTIFUL, PEOPLE! Get deep and feel all the feels. We know you'll be deeply affected by SKYLIGHT. Reserve your seats now.