I pulled up to The Healing House, a pop-up spa at the bustling corner of Peter & Richmond Street, and even before entering the building, there were bold messages covering the windows: "You're in Good HIV+ Hands" and "Soothe Stress, Smash Stigma." The site-wide takeover is an initiative by ad agency Bensimon Byrne in support of Toronto's Casey House: Canada's only stand-alone HIV/Aids specialty hospital. I was attending to check out the space and had booked an appointment for a shoulder/neck/scalp massage.
As a child and teenager, growing up in the 1980s and 1990s, nothing was drilled into me in such a fearful manner as AIDS. Beyond an onslaught of media that created waves of widespread hysteria, my opinions were heavily shaped by films like Philadelphia and Kids. In fact, I was so irrationally scared of it, that I believe it's what kept me a virgin until age eighteen. When I did begin having sex, contracting HIV was always on my brain, and I regularly got tested.
I shared all this with Randy Davis as he gently rubbed my back. Randy is an HIV+ activist, and one of the eighteen HIV+ people giving massages during this weekend-long pop-up. As I shared my stories with him, he in turn shared with me, explaining that the only thing scarier than getting AIDS in the 1980s was coming out of the closet. In our ten-minute session, we covered a lot of ground, and it was really lovely to cut right to the chase of the matter with a stranger, while also sharing the warmth of human touch.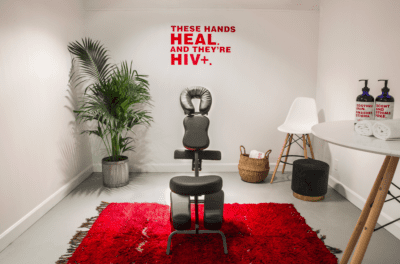 Randy explained to me that he takes one pill at night and lots of vitamins, and that he's not worried at all about living a long life. As we chatted, we talked about other illnesses like diabetes, which actually requires much more rigorous daily attention, with needles before meals and daily blood monitoring, yet it doesn't have the same stigma at all as HIV. Heck, even my asthma likely requires more attention than Randy's health routine.
I admitted to him that my relearning of how to think of HIV over the decades was challenging because the fear around it had such an impact on my youth; it was planted deep into my brain. And while I'm not one of the seven million Canadians who still believes you can contract HIV from touch (I never was), it's taken effort to rewire my brain when it comes to the fear and comfort level around the disease.
In a panel discussion, Randy defined stigma as a combination of ignorance (mostly wilful, because—hello, Google) and fear. The Healing House hopes to take aim at both, from stopping people in their tracks as they buzz to and from work, to inviting the public to book a massage and chat intimately with Torontonians living with HIV. It's a bold and beautiful concept that has already achieved its goals, because at this moment in time, there are only a few remaining spots to book! Don't miss out: it's a truly positive experience on all fronts.
People can visit www.smashstigma.ca to book for November 30 + December 1.