The time has come to say goodbye to Sort Of, the beloved Canadian comedy that has broken barriers, warmed our hearts, and provided a beacon of inclusivity and representation since its premiere in 2021.
Earlier this year, co-creators Bilal Baig and Fab Filippo announced that Sort Of would end with its third season. While acknowledging the difficult decision to end the series, they are hopeful that Sort Of's legacy will live on: "Our hope is that this series can continue to affirm lives and spark conversations well after the final season drops. Sort Of will always exist, despite all the transphobia in our world."
Sort Of follows gender-fluid millennial Sabi Mehboob (Bilal Baig) as they straddle various identities, from sexy bartender at an LGBTQ bar, to the youngest child in a large Pakistani family, to the de facto parent of a downtown hipster family. In this final season, viewers can expect to see Sabi face even more change as they grapple with big questions in the aftermath of their father's death.
Part of Sort Of's magic is the diverse and dynamic cast of supporting characters in Sabi's life! To mark the final season of the series, we got a chance to catch up with Amanda Cordner, who plays 7ven, Sabi's larger-than-life best friend, Grace Lynn Kung, who plays Bessy, and Ellora Patnaik, who plays Raffo, Sabi's mother.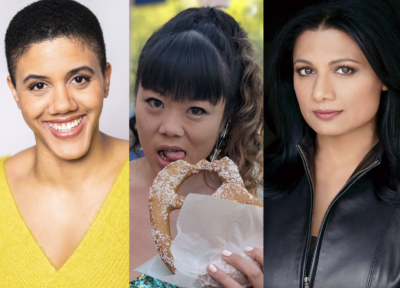 What do you enjoy most about your character on Sort Of?
Amanda Cordner (AC): Ah, 7ven. I love 7ven's name. I deeply enjoy 7ven's silliness and boundless spirit. This character is fun and free and deeply cherishes friendship. What a great joy to play with 7ven these last three seasons. I'm saying 7ven's name as much as I can!
Grace Lynn Kung (GLK): Bessy has allowed me to portray a lot of grey areas that I have felt in my own life. I particularly identify with the greys of connection – being with someone that just gets you or never got you or used to get you and the confusion of where that fits between romantic, platonic, non-existent or star-crossed. Bessy's struggle with what is societally expected resonates deeply. But she never gives up on putting herself out there to connect or being curious. As Bilal said in an interview, "with love comes trouble" and Bessy has never shied away from trouble.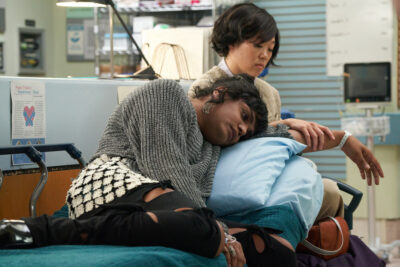 Ellora Patnaik (EP): Raffo felt familiar from the start. I feel she's the glue that brings everyone together. I've played "mom" many times and Raffo IS, but her inner child brings a curiosity and thirst for freedom that I adore. Nothing stops her from connecting and understanding her children as well as the people in their lives. Like my own mother, she is everyone's Mom! Plus Raffo's gots moooooves!
Sort Of was a groundbreaking show for representation. What does meaningful representation look like to you?
AC: Meaningful representation to me means seeing on screen that which reflects real life. And to me, real life is "diversity". Especially living in Toronto, the spectrum lives here– all the colours and orientations of the rainbow! It seems it's more readily accepted to create and allow for monsters or supernatural creatures to be diverse in culture and speak made-up languages, however when it comes to real people, we still have to "check-in", making sure everyone is "dedicated to inclusive casting"? WHY is it still unfathomable to have a Black James Bond? It truly makes me laugh how and where people are willing or unwilling to suspend their reality to enjoy fantastical entertainment. You're fine. It's ALL fake.
GLK: For those who are not equally represented in media, especially in lead roles, the type of representation often matters more than the number of faces on a screen. The show allows all our characters to be shown in their unique weirdness and humanity. We get to see queerness in celebration and casualness, not only in pain or longing. (Don't worry, we also have longing).
One of the most important things to me is centring underrepresented characters so we journey and empathize through experiences that may not be our own. One of the best feelings was looking at our cast and creators photo from our Season 2 premiere and seeing that 10 of 11 of us were people of colour — a beautiful first for me.
EP: It looks like a day at work on Sort Of! Going in and seeing people from so many communities and backgrounds, both on and off camera is inspiring. It has set an example for what I hope all productions will strive for in the future.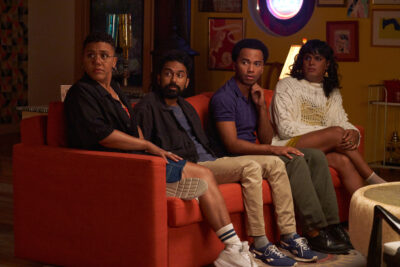 Why do you think a show like Sort Of is so important in today's political climate?
AC: Sort Of is a show of humanity. Today's political climate prioritizes profit and dehumanizes people as a tactic to gain popularity, to push insidious agendas. Sort Of is important because it gives audiences 25 minutes, 8 episodes a year to show love and care for humanity. A bright light in overwhelming darkness.
GLK: There is so much that is overwhelming right now. It's important to be informed, it's important to speak up, and it's also important to care for yourself radically. Sometimes action doesn't look like what it looks like in the movies. What Sabi has shown me is that for all the noise, sometimes the quiet is the best way to break through. There are many ways to be of service to our communities. Resistance and passion look different in everyone and I think Sort Of shows us that. Keep being messy, take gorgeous naps, show up for your people and yourself.
EP: Humans are creatures of survival that come with a side of "ego". Unfortunately, our world will always have chaos and darkness. People are people. The characters in our story wrangle with their own pandemonium through communication, transparency, compassion and acceptance. I find things get a bit easier to deal with when I channel these attributes.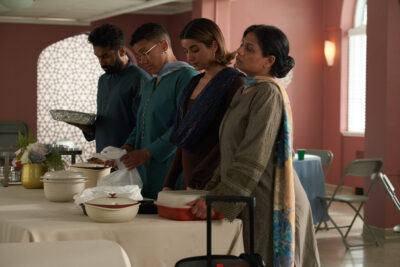 Sort Of has sparked a lot of conversations and has meant so much to the trans, non-binary and queer communities. For you, what have been some of the most meaningful conversations or reactions to this show?
AC: I am in awe of how this show has sparked a love in people who thought maybe this show wasn't for them. I have family and friends who've never watched anything like Sort Of, yet they've been deeply touched by the stories and the characters, have gained new perspectives and are walking away a little softer than when they began.
GLK: It is meaningful every time someone reaches out to say they've seen the show. It's meaningful when people tell us how it's affected their lives. It's meaningful when people describe it as a hug. It's meaningful when people say it's helped them talk about their transness or their queerness to their parents. It's meaningful when parents tell us how they've been struggling to understand their enby or trans child and that the show has given them a space to understand more and ask questions. It's meaningful when families tell us they watch the show together and it helps them have conversations. It's meaningful when someone just stops me to ask if I'm on Sort Of even if they don't say much more. Just knowing that there is something out there in the world making people feel a little more seen and maybe less alone feels special and like a bit of magic.
EP: I've had so many wonderful surprises along the way. People from different communities have approached me and expressed their love & appreciation. I have been especially touched by young South Asian, LGBTQIA+ people informing me that they were inspired to have "the conversation" with their parents. And vice-versa. Some people have pleaded that Sort Of never ends! For our show to have that kind of effect is truly amazing!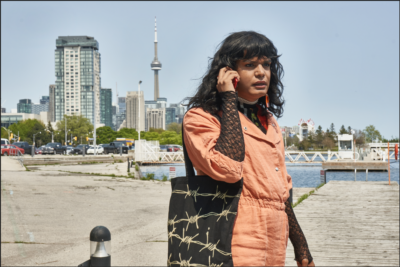 When you look back on the show years from now, what do you think will be remembered the most? What will you miss the most?
AC: Sort Of will be remembered for being fiercely original, QUEER AF, funny, dark and unapologetically Canadian. I will definitely miss gathering to create with this cast, meeting new crew members who love the show and of course, 7ven, my King.
GLK: I will always miss the people. The filming process always creates family quickly. It can be intense and messy because you are mashing a bunch of humans together each with their little goldfish (their character or their job on set) to take care of. It's a living breathing pond with each department responding to the alchemy of whatever fishies we have in the water that day. It truly is a magical process.
Actors have to access vulnerability – sometimes emotional, sometimes physical, sometimes personal or all three – and do it in front of friends, folks you've just met or never met and often after you've all eaten lunch and are gassy and full. But making Sort Of has been a wild, weird and wondrous goldfish party that has been one of the most pivotal shows in my life.
EP: I will miss the whole experience, watching my cast and crew in action! It was inspiring that so many of the crew members loved the story and were happy to be on the show. I haven't experienced much of that in the past. I loved that our writers interlaced characters you wouldn't expect to be together in a scene! I had the privilege to work with so many wonderful performers. I will fondly remember the effortless ease and comfort playing with Bilal that brought forward the Sabi-Raffo dynamic that people have grown to love. Mostly, I will miss being Sabi's Amma.

What is the greatest lesson Sort Of has taught you?
AC: Sort Of reminds me to never forget the greatest lesson in making art: you never know where it will go or what your piece will become so focus on creating the story YOU want to tell.
GLK: One of the greatest gifts this show has given me is Bessy. Bessy and the show have taught me that life is messy, but amidst the s***storm there will be people in your life that when you look around, will be there in a boat beside you. Sometimes the boat will be further away and you might not see it because of the fog between you and you will feel like you are alone, but you are not. Don't ever let an ill-placed poutine truck stop you from eating poutine.
EP: Even though they are so completely different, Bilal and Fab showed the world that they can come together and make a beautiful creation for all to enjoy. We can all learn from this. To me, transition parallels a feeling of "what is to come". Sort Of is a sweet reminder that everyone is transitioning-evolving-blooming. I know I have. So…what's next?
What can viewers expect in this final season from your character?
AC: More 7ven.
GLK: "Get in the mess, Bess"
EP: Mama Raffo doesn't spill chai or anything coming up for the final season. You'll have to wait and see. Enjoy the ride!
The third and final season of Sort Of is now streaming on CBC Gem, with new episodes added weekly.