An exciting new program launching in Canada is providing opportunities for emerging gender-diverse filmmakers. The Spindle Films Foundation mentorship program pairs emerging transgender, non-binary, two-spirit and gender-diverse filmmakers in Canada with industry leaders for an immersive skill-building, networking and job shadowing experience. And all participants are paid—what an awesome opportunity!
Spindle Films Foundation is a new non-profit founded by J Stevens, one of the first openly non-binary filmmakers in the Director's Guild of Canada. "For years, individuals have been working to dismantle the systemic barriers faced by trans, non-binary, two-spirit, and gender-diverse filmmakers, pushing for an equitable representation and fair treatment on set," said Stevens. "Spindle Films Foundation aims to bring together this community and amplify these underrepresented voices to accelerate change within the industry."
The mentorship program will launch in winter 2024 with a focus on screenwriting and directing. Participants will start off in Banff with an all-expenses paid intensive where they can connect with industry professionals, participate in filmmaking workshops, and more. For the next six months, mentees will continue to receive support through check-in meetings, on-set opportunities and work placements.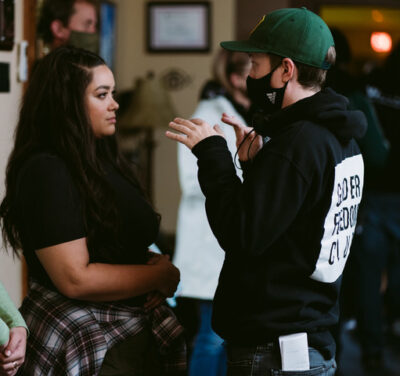 "The mentorship program will equip emerging filmmakers with industry insights and connections; in other words, it's about the gender-diverse community helping each other to overcome the systemic barriers to career advancement," Stevens said.
In recent years it's been excellent to see film festivals showcasing the work of gender-diverse filmmakers, both on a larger scale with TIFF, and with grassroots festivals such as the Breakthroughs Film Festival and the Femme Fatale Film Festival. But more support is needed to get these films made and have these voices heard. This program is an amazing opportunity for not only developing your craft, but also for connecting with a community that can help you get your film in front of an audience, and receiving mentorship from industry leaders who understand the experience of being a gender-diverse filmmaker.
Stevens knows that being a gender-diverse filmmaker comes with additional challenges and systemic barriers, and there is A LOT of change needed for the industry to become truly inclusive.
"I know firsthand how isolating it feels to be misgendered on set," they said. "Spindle Films Foundation aims to educate and introduce new policies that will make the wider industry more equitable."
Programs like these are how change starts to happen. Doesn't this sound so needed and wonderful? If you are an emerging gender-diverse filmmaker, learn more about how you can apply here! Applications are open until September 30.