We're experimenting with eyelashes, newspaper and ombre! Here are three simple but creative manicures that are easy for you to try at home.
Put A Tired Pair of Eyelashes to Good Use!
After you apply a base coat, paint on two layers of nude nail polish. You can use any shade you like, just keep in mind that the lighter the polish, the more the eyelashes will stand out.
Using tweezers, remove a single knot of lashes from the lash band and place directly onto the wet base colour, let dry.
Once nails are dry, paint on a Matte Top Coat to seal the deal.
You can leave your nails with single wisps of eyelash, or you can take this mani to the next level with a French tip! The contrast between the matte nail bed and shiny tip makes this manicure oh-so striking!
Get the look with: 3in1 Base Coat, Sweet Surrender, This Blue Is So You! & Matte Top Coat.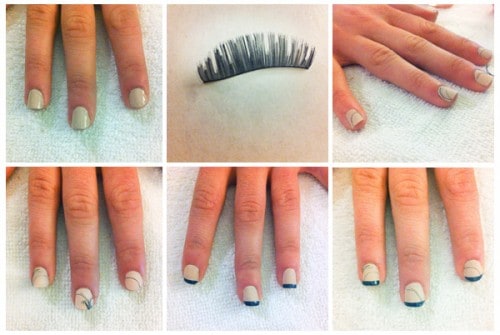 Get Wordy!
Start by painting your nails with a soft taupe. This insures thats the newspaper print will stand out on the finished nail.
Using scissors, cut a newspaper article into pieces just big enough to place over your nail bed. I chose an article from the Toronto Star that really hit home for me – it was about wine.
Once your taupe coat has dried and your newspaper is prepped, pour 70% rubbing alcohol into a glass, and submerge your fingertip in the liquid for about 5 seconds.
Remove your nail from the alcohol, and quickly press a morsel of newspaper onto the nail bed. Hold firmly for 10-15 seconds.
After removing the newspaper and letting your finger dry completely, paint a matte topcoat onto the entire nail.
For this manicure, be sure to throw on some cuticle oil afterwards, as alcohol has a drying effect on the skin.
Get the look with: 3in1 Base Coat, That's Putting It Mild, Matte Top Coat & Oil To Go.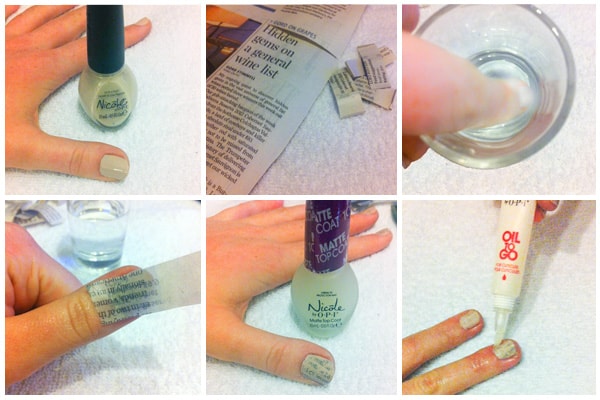 A Structured Ombre!
Choose three colours that compliment each other nicely and flow from dark to light tones. Using the boldest of the three colours, paint a coat onto your nails.
With your second lightest shade, paint your nails starting in the centre ¼" below the cuticles down to the tip of the nail.
Using your lightest shade, start at the centre ¼" below the last colour you've applied and paint to the tip of the nail. SO EASY
Get the look with: 3in1 Base Coat, I'll Have The Salmon, That's Putting It Mild, Yoga Then Yogurt & Quick Dry Top Coat.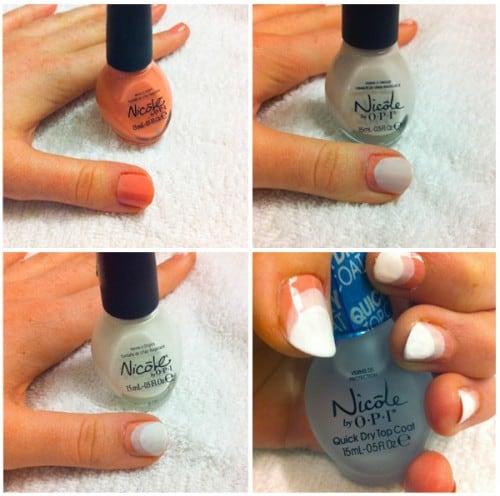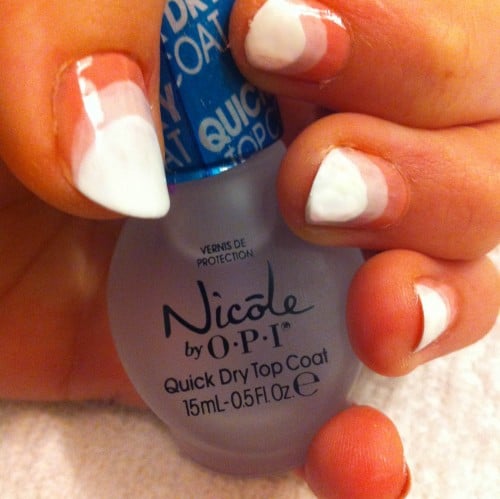 All of these looks were inspired by Nicole by OPI's core collection.
If you have any designs you love, please share them with us on Facebook or Instagram! Happy painting!