The practice of stoning goes back thousands of years, but it persists to this day.
Next week, Anita La Selva's provocative performance, STONES, will premiere in Toronto. This piece reflects on women around the world who have lost their lives due to violence–particularly through this most heinous action of stoning. Created by a diverse cast of some of Toronto's most fierce and gifted artists, these women are given a voice through haunting songs, kinetic dance and immersive imagery.
Roshanak Jaberi is one of the collaborators on the project. She is an Iranian-Canadian performer, choreographer, producer and activist. She is also the Artistic Director of Jaberi Dance Theatre–a contemporary performing arts company that is committed to the research and presentation of socio-political issues while highlighting the experiences of racialized women.
We asked her about the performance this week.
SDTC: Why did you want to collaborate on STONES? What drew you to the piece?
RJ: As an artist, I'm interested in the intersection of performing arts and social justice and finding creative ways to tackle difficult subject matter. I'm drawn to projects that challenge me artistically while providing a platform to speak about issues that I'm most passionate about. So when Anita La Selva approached me about STONES, I didn't hesitate to take part in the project.
What have you learned from the other dancers taking part in this project?
One of the strengths of STONES is that all the performers come from a wide range of cultural and artistic backgrounds. Because this project has had a long incubation period, different artists have contributed at various stages of its development, with each collaborator leaving a unique imprint on the work. What anchored the ensemble throughout the process has been the stories of the women at the core of this project.
What has been your personal experience with violence?
Gender-based violence (GBV) is an issue that continues to threaten the safety, dignity, health and quality of life of so many women from around the world. In my own work, I choose to focus on the stories and lived experiences of racialized women. In my research, what continues to humble me is the resilience of the extraordinary women who are faced with the most inconceivable circumstances.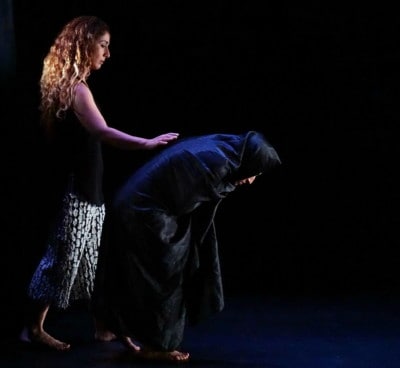 Why is it important to bring this issue of violence against women to the forefront?
Violence against women is a complex and prevalent human rights issue that affects individuals and entire communities. It takes on many forms, from domestic violence to honour crimes, of which stoning is an extreme version. It's embedded in societal and systematic structures, which is what makes it so difficult to dismantle. Thankfully, there are many courageous activists, educators, service providers and relief workers who work tirelessly to combat this issue. It's their work that has paved way for allies like myself.
What do you hope audiences will take away from STONES?
Everyone will experience the work differently. Whatever audiences take away from the show will be valid, but I do hope that the show will resonate emotionally and that it will provoke thoughtful discourse, reflection, investigation, and–at best–some form of positive action.
What should we be paying more attention to?
Personal accountability. We need to think less about individual gain and more about collective advancement.
STONES is onstage at Geary Lane Studios (360 Geary Ave) May 25–June 10. Get your tickets here.