In the heart of Dundas West, there is a dream closet that awaits you where you can rent gorgeous dresses and smokin' seventies jumpsuits (at totally affordable rates) for your next fabulous fête.
For years, we've been singing the praises of Julie Buczkowski and Angela Pastor, who first wowed us with their pint-sized fashion outpost in the back of BYOB Cocktail Emporium. We quickly fell hard for Fitzroy Boutique and made sure to show up every time they popped up in the neighbourhood. (Like, we ran.)
Now they've permanently set up shop mere feet away from Shedoesthecity headquarters (1227 Dundas St. West) and we couldn't be happier. For a crew of writers who try to hit up as many Toronto events as possible, Fitzroy dress rentals are a game-changer. And you don't need an appointment.
Strike a pose on their Foxy Lady doorway, wander up the stairwell into the warm apartment-like space, flank out on the green velvet couch and let them help you find the perfect outfit for that upcoming gala, holiday party or wedding. They may even pass you a bevy between twirls in the dressing room.
Get to know these stylish BFFs (they met in kindergarten!) who are taking fun fashion in a different direction and inviting all to explore their delightful wonderland.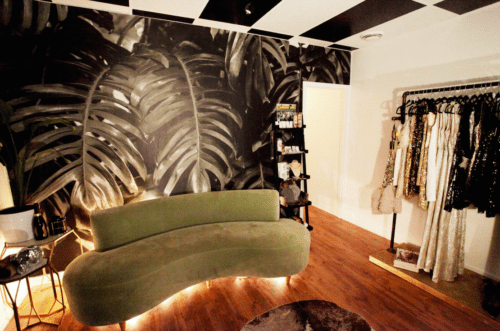 Why do you think people have switched from purchasing to renting?
So many reasons. Honestly, we believe social media has a lot to do with it. Once your photo in a certain dress is seen everywhere, you don't want to wear it again, or at least not for a while. Renting gives you the opportunity to wear something new and different every time without dropping major cash on a piece that's just going to sit in your closet. It's more economical, less wasteful, and more fun! You can really go for the crazier statement pieces, since you're not committed to buying it.
Your new space feels like stepping into someone's apartment. How did you settle on this second-floor space?
We wanted to create a space that would feel cozy and intimate, as if you're just hanging out at your best friend's place getting ready to go out. We also wanted to stay in the neighbourhood where so many of our current customers already are. We fell in love with our second-floor space because it had tons of natural light and lots of potential to be creative with it. There are several different rooms: one for the showroom, one for change rooms and one that we plan on turning into a beauty studio very soon.
We love that it's centrally located (Dundas and Ossington), but being on a second floor makes it feel more private for fittings. It's kind of a tucked-away hidden gem in the middle of it all. We really wanted to create a unique, relaxing experience, rather than just another storefront.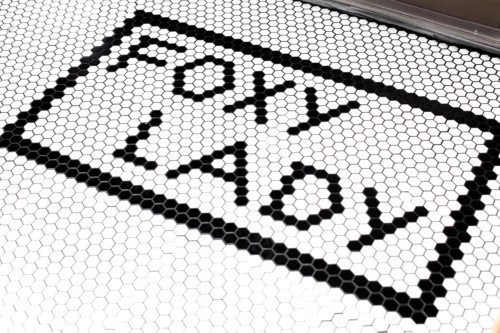 Which pieces do you predict will be popular for holiday parties?
Velvet is doing really well right now. We have a Free People velvet jumpsuit we're crazy about that has already been booked for holiday parties, as well as a killer blue velvet dress with cut-outs. Sequins will also do well of course, as they always do for holidays, and we have some really fun options in-store.
What's the cost range that you rent?
Our price point ranges from $50 to $100 for a four-day rental and $75 to $125 for eight days. The pricing structure is determined by two factors: the retail price of the dress and the cost to dry clean it. Gowns or higher-end designer pieces are the most expensive, whereas you'll pay $50 for a more casual dress you could wear to say, a backyard wedding. We carry both and everything in between.
Who are your biggest fashion inspirations?
We take a lot of our inspiration from film. Michelle Pheiffer in Scarface is a favourite of ours for sure. In terms of the red carpet, we're always looking at people who are doing something different. Chloë Sevigny for example, or Rose Byrne, who'll kill it in a white sequin jumpsuit when everyone else is in a gown.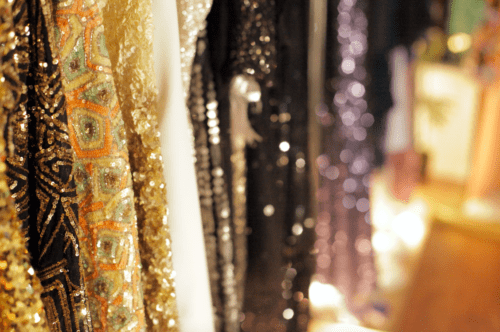 How would you describe the Fitzroy girl?

Our girl is a little bit edgy, a little bit bohemian, and definitely someone with a strong fashion sense who wants to stand out from the crowd at an event.
When it comes to the fashion biz, what is one of the biggest lessons you've learned over the years?
Boobs are tricky to fit into dresses! We had no idea. I guess what we've learned over the years is to adapt and change with the times. When we started out in 2011 Instagram wasn't a big influence and people were happy to wear dresses more than once. Over the past few years we've seen a major shift in that the party dress has become, for the most part, a "one use" item. So we changed our business model to renting to reflect that demand.
Do you still have a retail section?
We do! We still sell locally made jewellery (Armed and Shop For Jayu) and clutches (Nicole Manek) to complement the dresses, as well as unique gifts that people come to us for, like the celebrity prayer candles and round towels.
What do you love most about running Fitzroy?

We love hearing from our clients how special they felt in the dress, and how many compliments they got. It makes so happy. Also our buying trips – so many shenanigans!
Take a peek inside, and swing by next time you're cruising the Dundas-Ossington strip.
1227 Dundas Street West (one block west of Ossington)
2nd Floor: side door entrance on Grove Ave
IG: @StudioFitzroy