Wandering Toronto's Parkdale neighbourhood to shop local for the holiday season has become a beloved annual tradition. Carving out time to intentionally stroll the strip, talk to the shop owners, and poke around a variety of shops is a wonderful and important reminder that small businesses bring so much soul to city blocks—their passion is palpable.
Every Toronto neighbourhood has its own distinct charm, but we really do love the character and diversity of Parkdale, and this upcoming weekend (Nov 24-27) dozens of businesses will be participating in the #ShopLocalParkdale initiative, which means you can expect good sales, extra fun, and lots of seasonal cheer.
To help you make a plan, here are the shops we hit on our 2022 route, but there are so many more to discover and explore.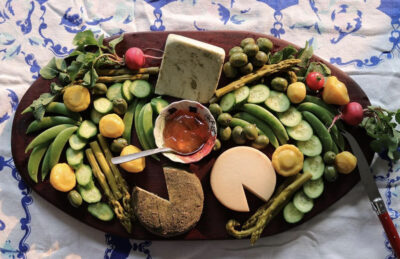 Wandering Deli – 1598 King St. West
At the corner where King meets Queen meets Roncy, you'll find the tiniest gem of a shop. Wandering Deli is Toronto's only plant-based vegan cheese shop, cafe, and deli. Find something different for the table.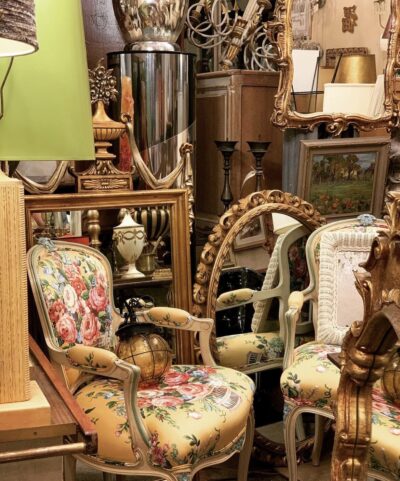 Era Antiques – 1629 Queen St. West
A wander through Era Antiques is like a trip back in time. Since 1996, this gorgeous storefront has showcased a well curated collection of vintage modern furniture, lighting, art, decorative objects and antiques.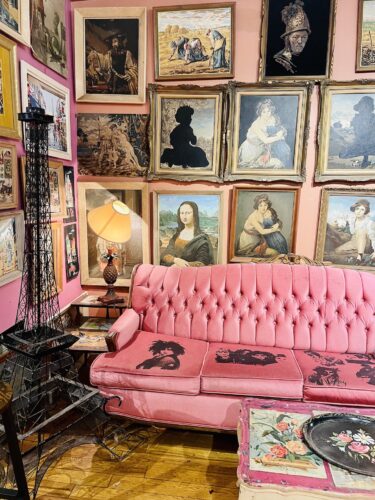 Peach Berserk – 1694 Queen St. West
Part art gallery, part studio, part fashion boutique and part event space, stepping into Peach Berserk is like falling down a rabbit hole. Definitely pop in, if only to marvel at the whimsical space. Beyond Kingi Carpenter's wild fashion, she also rents the space out for private events. If you're looking to book a memorable holiday event or baby shower, kid's birthday party or whatever else, get in touch. They offer some great silk-screening workshops too.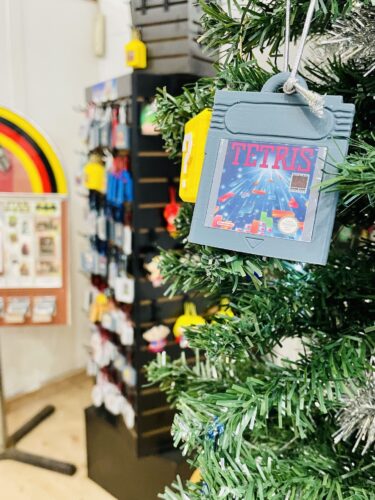 Nerdgasm – 1652 Queen St. West
If you have a gamer in your life, or someone who likes rare collectibles (The Simpsons, Garbage Pail Kids, Star Wars), Nerdgasm is a treasure trove. The hobby shop shares a space with Revamped Clothing and Koffee Kween, making it quite the eclectic nook to explore.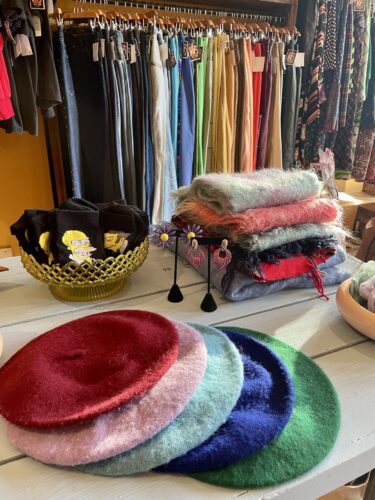 Black Diamond Vintage – 1614 Queen St. West
We love a good vintage shop, and Parkdale has a ton. If you are seeking a 1970s wool, velvet, or shearling coat, this is the place. Black Diamond Vintage also has loads of colourful pre-loved berets—add a pop of colour to the dark months that lie ahead. Browsing their racks is a pleasure.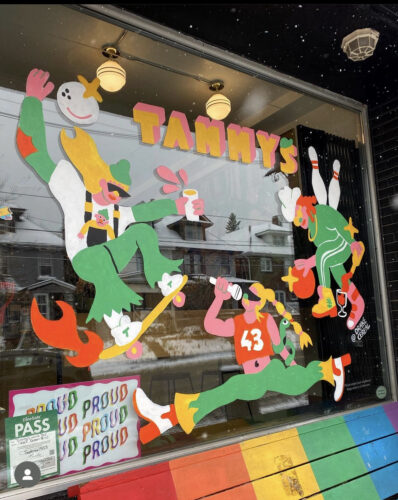 Tammy's Wine Bar & Coffee – 1662 Queen St. West
A bottle of natural wine is an easy gift to bring to a party host (if they drink, if not – see this article), and Tammy's has lots of bottles to choose from. We love that their wine bar is also a cute coffee shop, making it an ideal spot to break while on your travels. Also of note is the window mural by Toronto illustrator/artist @DrakeCereal, who was a regular and beloved contributor to Shedoesthecity, many moons ago.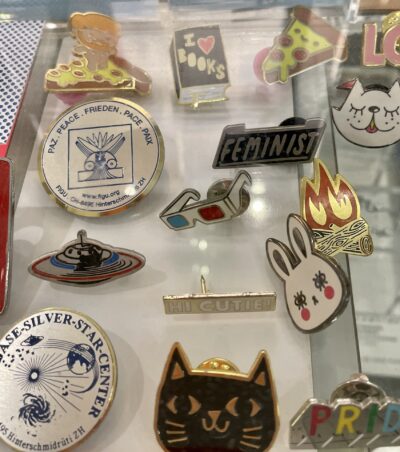 Studio Brillantine – 1518 Queen St. West
This wow-worthy design shop has been a favourite neighbourhood fixture for over 25 years. Browse the breathtaking display cases for curious art objects, stylish homeware, and cool design. There is nothing that is comparable to Studio Brillantine.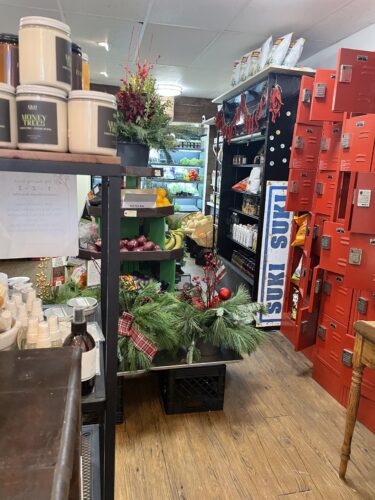 Soepa Fresh – 1540 Queen St. West
For food gifts, pop into Soepa Fresh and see what beautiful Ontario products line the shelves! This new mini grocer is full of fresh local produce, artisanal delights, holiday flower arrangements and lush seasonal greenery.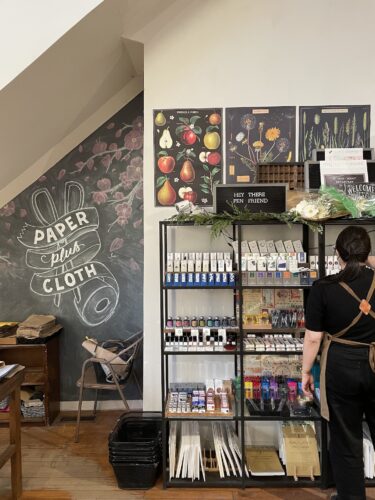 Paper Plus Cloth Stationery – 1340 Queen St. West
For those who love ink, journals, and exquisite stationery, Paper Plus Cloth is an absolute paradise. Fill someone's stocking with the most beautiful pens, find a handmade card that a loved one will treasure, or just wander this stunning shop and see what sparks your creativity.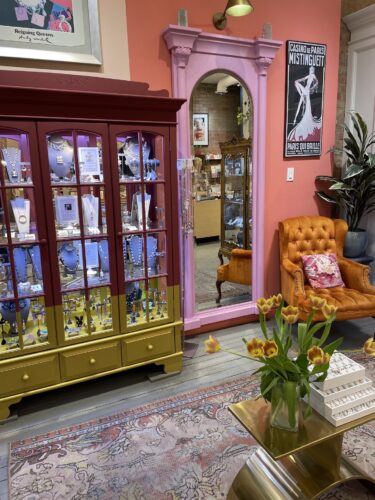 Made You Look Jewellery – 1338 Queen St. West
Made You Look is another business that has called Parkdale home for many years. Their gorgeously revamped space features 100 local designers, and there is a goldsmith on site to help repair and transform treasured pieces or create custom designs. If something sparkly is on their list, this is the place.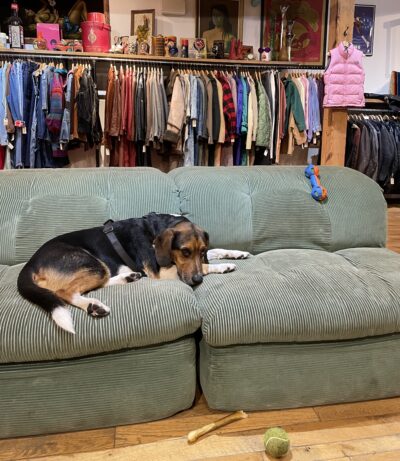 House of Vintage – 1239 Queen St. West
House of Vintage is another favourite on the strip. Cozy knits, plaid shirts, designer scarves, graphic tees, and the best selection of pre-loved puffers we've ever seen. While you are there, say hi to resident hound dog, Mumu.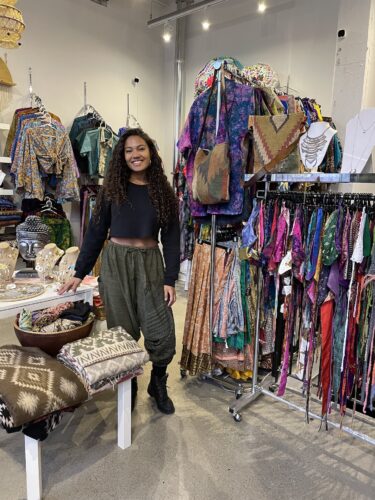 Shop Sol – 1205 Queen St. West
New to the neighbourhood this past June, Shop Sol is a treasure trove of sustainable, one-of-a-kind bohemian pieces from around the world. Gorgeous robes, upcycled fashion, harem pants, beautiful scarves, gold bands, and more! Good vibes radiate at Shop Sol.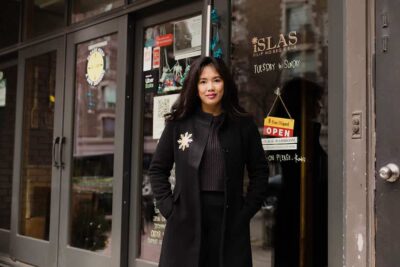 While you are enjoying your Parkdale romp, make sure to stop in and enjoy some of the amazing food in the neighbourhood. This is the best place in the city to enjoy Tibetan cuisine. Fill up on momos, noodles and more at Himalayan Kitchen, Tibet Kitchen, Shangrila Tibetan + Asian Cuisine. If you like a good diner atmosphere, step into Skyline Restaurant. Other favourites include iSLAS Filipino BBQ, Mother India, and Miss Thing's. But there are dozens to choose from. ENJOY!