To help you avoid the stressful frenzy of holiday gift shopping this year, we wanted to share gift ideas from some wonderful women-owned businesses in Canada, many based right here in Toronto. Instead of turning to a massive corporation for a mass-produced gift, there are so many beautiful creations from these businesses that will make unique and personal gifts for your loved ones. Whether you're shopping for an art connoisseur, a foodie, a beauty guru, a design lover or anyone in between, this list has more than 30 ideas for your gifting needs this season. And we're keeping your wallet in mind too—ALL of the ideas in this gift guide are under $150.
Happy shopping and happy holidays from Shedoesthecity!
Apparel, Accessories & Jewelry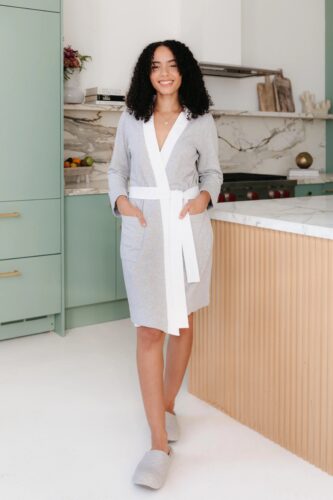 The Signature Robe from All You Are ($149)
The All You Are Robe was inspired by women who wake up every morning and give their best each day. Made with 100% cotton French Terry, and style notes like ¾ length sleeves, and deep pockets, this is a robe you will live in (there's even a secret message under the sleeve). Founder Kena Paranjape founded All You Are after losing her husband at a young age. The beloved fashion label is known for its stylish and cozy loungewear, but the message behind the brand runs much deeper.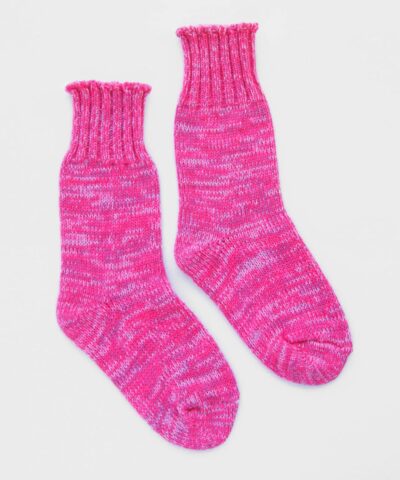 A Pair of Sunday Socks from OkayOk ($24)
You can't go wrong with socks. The OkayOk Sunday Socks are thick, cozy and come in a variety of punchy colours. Made with mixed fibres and yarns, every pair is totally unique. Perfect for long walks in High Park, or slow days with a good book. We also adore OkayOk's sweatshirts and kids clothes.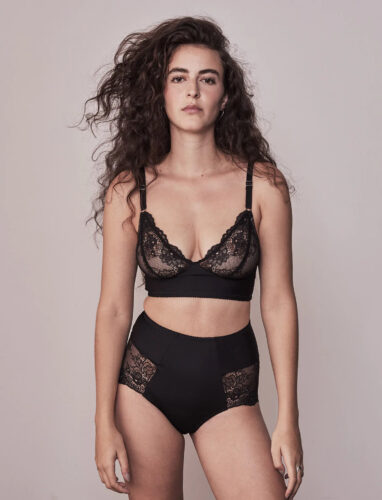 Exquisite Lingerie from Fortnight ($132)
This piece from Fortnight's classic Ivy collection makes both a beautiful and practical gift. Careful seaming and a silky Italian jersey band offer excellent structure and support, while the longline shape and floral lace cups create an alluring silhouette. Fortnight's lingerie is ethically made in Toronto, and they're well known for their gorgeous undergarments that feel as good as they look.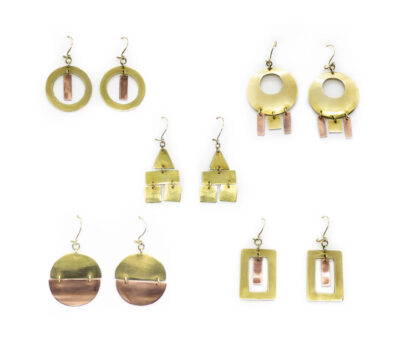 Statement Earrings from Pacha Arts ($45)
This family-owned Indigenous arts collection has so many unique earring styles to choose from at affordable prices, making it a great place to find a gift. These copper and brass earrings are one of their best-selling styles. They're neutral enough to fit with most outfits or styles, but the two-tone metals and interesting shapes add some intrigue. If your giftee would like something a little bolder, browse through traditional beaded fringe pieces, dreamcatcher-inspired earrings, warrior studs, and for the animal lovers, cute dragonfly or hummingbird earrings. Check out Pacha Arts online, or at their location in the Richmond-Adelaide Centre.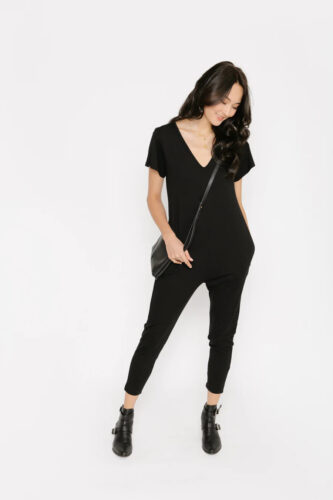 A Romper to Relax in from Smash + Tess ($120)
Smash + Tess' Sunday Romper is a bestselling style from the women-owned brand that revolutionized rompers. These one-pieces make for a comfy, flattering, and multi-purpose gift that will always be in style. We interviewed co-founder Ashley Freeborn earlier this year, and she told us why so many women love the Smash + Tess Rompers: "It's a one and done, cute, playful clothing item that has your back in the morning when you're busy. You can sleep in it, you can throw on denim, you can grab a coffee in it; we simplify women's lives and there's a sense of playfulness in the romper that women are drawn to."

Cozy Cashmere Lingerie from Sartoria ($110)
Sartoria is a go-to spot for knitwear lingerie and loungewear handmade in Toronto. Their Cloud bralette collection is made with reclaimed fine cashmere knit and gorgeous stretch lace details for the ultimate comfort and softness. Shop their sustainable, one-of-a-kind vintage finds online or at their location on Bloor St. W!
A Coffee Bean Necklace from Omi Woods ($147)
A unique gift for a coffee lover, this 18K Gold Vermeil necklace is inspired by the legend of coffee's origins in Ethiopia. Omi Woods' individually handmade pieces are crafted with fair trade African gold and conflict-free fine metals, and the Toronto brand was featured in Oprah's Favourite Things List last year! See more of their ideas for gifts under $150.
Beauty & Skincare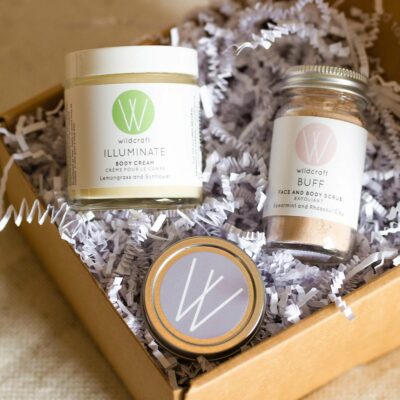 A Winter Warrior Skincare Set from Wildcraft ($58)
Dry skin from the harsh winter weather is the worst. Give the gift of hydration with this Winter Warrior set from the Indigenous-owned Wildcraft Beauty. It comes with an invigorating spearmint body scrub, a nourishing lemongrass and sunflower body butter, and a soothing, all-purpose salve for extra moisture on your lips, heels, or other dry patches. All handmade in Wildcraft's Toronto studio, you can be sure you're gifting 100% natural and luxurious products.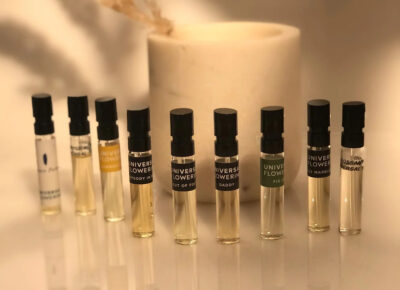 A Perfume Set from Universal Flowering ($85)
Universal Flowering's perfumes, made in Toronto's west end, are designed to be genderless, putting a smile on the face of anyone on your holiday shopping list. This delightful assortment has eight scents from their core collection, with fun names like Holy Hell, Daddy, and Pleasure Portrait. The discovery set makes an excellent gift, allowing the wearer time to experiment with each and find the fragrances they love.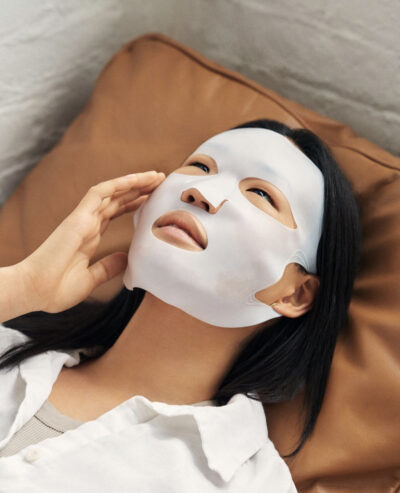 A Rejuvenating Face Mask from Province Apothecary ($36)
Who doesn't love a refreshing face mask? Province Apothecary's gentle and hydrating formula is safe for ALL skin types you might be shopping for. Made with green tea, lavender oil, violet leaf and other active plant enzymes, this mask will gently exfoliate and polish the skin's surface, helping to refresh your complexion. Check out the mask, or a gift set of Province Apothecary's best-selling plant-powered skin essentials.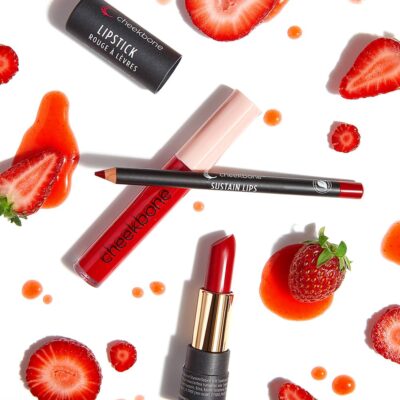 A Red Lip Kit from Cheekbone Beauty ($59)
You can't go wrong with a classic red lip during the holidays. This Lip Kit from Indigenous and women-owned Cheekbone Beauty contains everything you need for a perfect lip look: lipstick for that bold pop of red, the fan favourite SUSTAIN lipgloss for plenty of shine, and their True Red lip pencil for a defined finish. Bonus points for the environmentally conscious ingredients and packaging.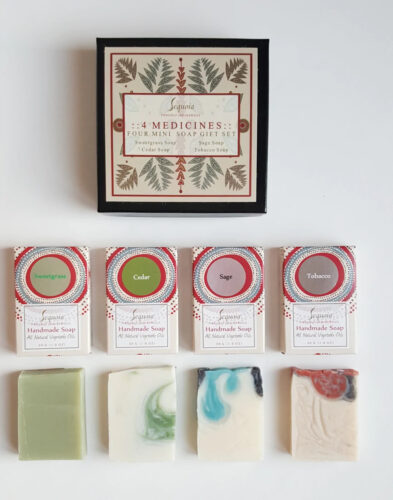 A Mini Soap Set from Sequoia ($18)
This set of high-quality fragrant soaps from Sequoia, an Indigenous women-owned sustainable brand, comes in a beautifully packaged box. The Four Medicines set includes moisturizing sweetgrass, cedar, sage and tobacco soaps—you can also choose from their Sweet Blends or Legends collections. The mini size is great to give as a sampler pack, for your giftee to discover which scents they love before purchasing a full size.
Art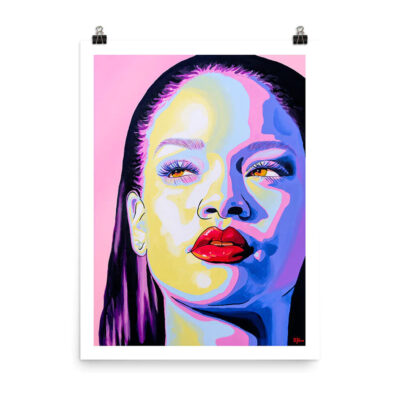 A Bold Pop Art Print from Melissa Falconer ($50)
Toronto artist Melissa Falconer's inspirational pop art is sure to make a bold addition to the walls of an art enthusiast. Her vibrant, close-up depictions of Black cultural icons, such as Michelle Obama, Rihanna, Missy Elliot, Toni Morrison, and Lizzo, channel so much confidence and positive energy. These high-quality, original paintings are instant mood boosters, and would make an excellent statement piece for any space.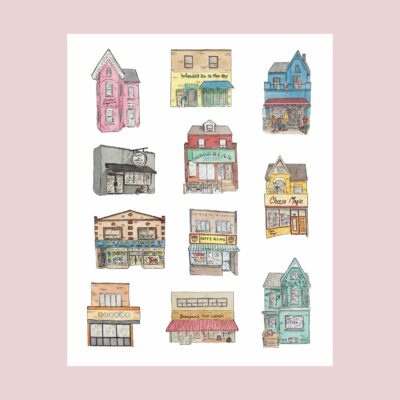 A Toronto Watercolour from Natalie Czerwinski ($27)
Known for her charming watercolour illustrations of Toronto landmarks, a print from Natalie Czerwinski makes a perfect present for the friend that knows all of the city's hidden gems. Choose from Kensington Market storefronts, famous buildings like the ROM, local cafes and restaurants, and some of the city's iconic arts institutions, including Massey Hall, Hart House and Buddies in Bad Times Theatre. For your Canadian pals outside the city, browse through local prints for Vancouver, Montreal, Hamilton and Atlantic Canada.

A Work of Art Celebrating Women from Rachel Joanis ($35)
Toronto illustrator Rachel Joanis has an extensive collection of beautiful prints celebrating favourite female stars, high-fashion moments, and the everyday life of women. While her work often includes pink hues and abstract shapes, depending on who you're shopping for, there are a few styles in her collection. You can go for something clean and sophisticated, a bit more of a pop art style, or one of her more avant-garde designs. Each print is available in three sizes.
Food & Drink

Festive Popcorn from Comeback Snacks ($7)
The snack enthusiast in your life will love these 3 limited-time holiday popcorn flavours from Comeback Snacks. Choose from Gingerbread Caramel, Candy Cane Caramel and Nutcracker Crunch, as well a creative range of other flavours. It's perfect for a stocking stuffer or a yummy addition to a gift basket. Plus, you'll be supporting their mission to endorse reintegration programs and advocate for hiring those with criminal backgrounds—co-founder Emily O'Brien started the company after spending time in prison.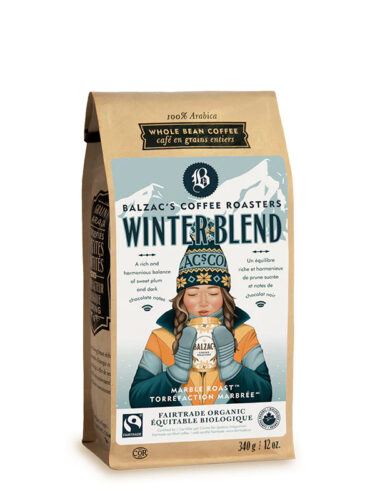 A Rich Winter Blend from Balzac's ($20)
For the constantly-caffeinated person on your list, give the gift of Balzac's coffee to enjoy at home. Their fairtrade and organic Winter Blend is perfect for a cozy day indoors, with sweet plum and dark chocolate notes. Paired with one of the snacks on this list, anyone with a sweet tooth will appreciate this delicious treat.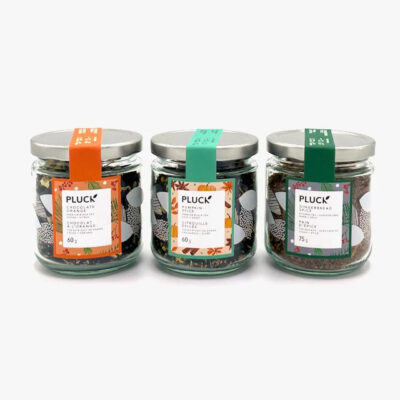 A Seasonal Tea Set from Pluck Teas ($40)
This seasonal bundle from Pluck Tea is soothing and delicious all in one. Available in tea bags and loose leaf, this set includes the cinnamon-y Pumpkin Spice blend, the sweet Gingerbread Spice, and the Chocolate Orange flavour, made with a blend of roasted cacao shells and upcycled orange peels. Or, if you're looking for a customized gift for the tea lover in your life, take the quiz on their website to find the perfect tea for them and get a 10% discount code.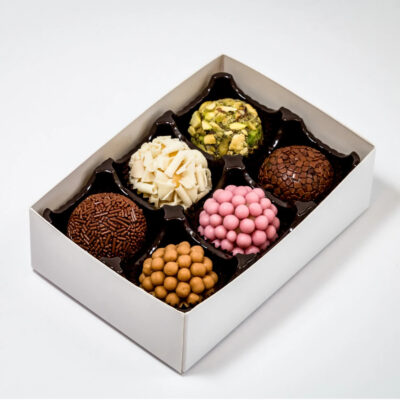 Handcrafted Decadent Chocolate from Mary's Brigadeiro ($18)
This woman-owned chocolate shop specializes in Brazillian Brigadeiros, chocolates they describe as "a creamy truffle, but it's a little bit chewy like a caramel and intense as a fudge." Choose from a range of unique flavours (Lemon Cheesecake Pie, Mulled Wine, Passionfruit & Toasted Coconut, to name a few) for a gift box that any chocolate lover will appreciate. Drop by their storefront on The Danforth or order online.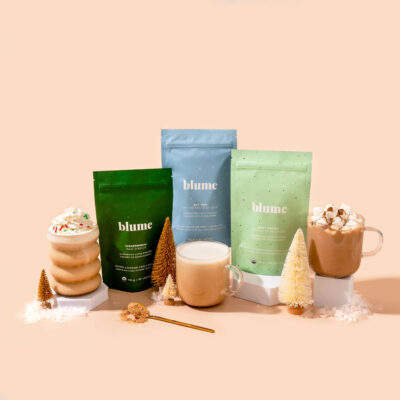 A Festive Superfood Latte Bundle from Blume ($65)
If the superfood lover in your life hasn't already heard of Blume, they're going to be obsessed with their latte blends. Loaded with a myriad of health benefits, you can combine these mix-ins with water to create gorgeous, Instagram-worthy drinks that can be enjoyed hot or cold. Shop by "benefit" (energize, focus, unwind, digest) or check out their holiday bundle with cozy flavours Gingerbread Latte, Mint Cocoa, and Nut Nog, all without added sugar or caffeine.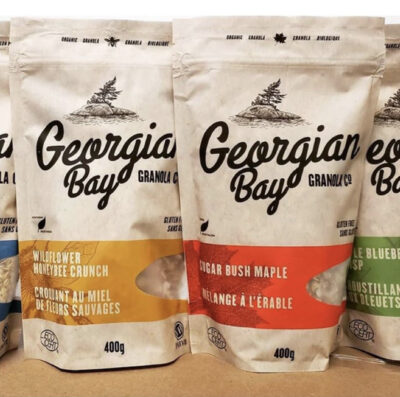 A Delicious and Organic Snack from Georgian Bay Granola ($11)
Georgian Bay Granola's mixes will make a tasty stocking stuffer for anyone who loves to start their day with a healthy crunch. Gluten-free, baked using organic and kosher ingredients, and sweetened without refined sugar, these granolas are a healthy option for snacking. They have some punchy flavours too — choose from Apple Blueberry Crisp, Coconut Mango Bliss, Sugar Bush Maple, and Wildflower Honey Bee Crunch.
More Ideas!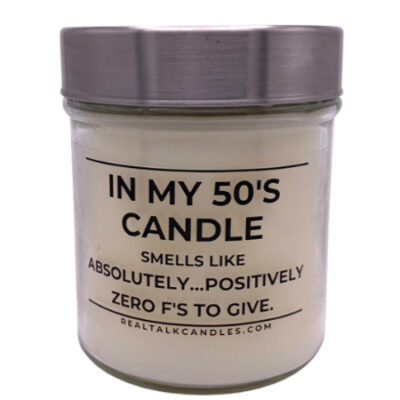 A candidly honest candle from Real Talk Candles ($25)
Candles are a holiday gift staple, but why not make it a little more interesting? Real Talk Candles sell candles branded with funny, clever, no-bullshit messages. They have a witty gift for almost anyone you're shopping for, from your co-worker to your astrology-obsessed friend. They'll get the laughs of a gag gift and an aromatic candle that they can actually enjoy, with scents like Basil Sage and Mint, Butterscotch Brulee and Spiced Harvest Pear.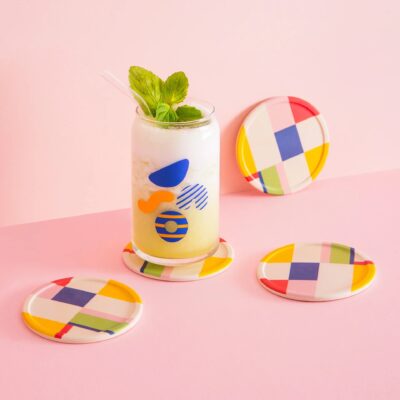 A Poketo Bamboo Coaster Set from Easy Tiger ($28 – Set of 4)
Easy Tiger is a boutique on Dundas West that's full of cool objects and design, including tableware, apothecary, stationery, kids toys, jewelry, and other wonderful things. We could have easily made a whole guide of cool gifts from this gem of a shop, but settled on these colourblock bamboo coasters from Poketo. Cheerful and durable—add a pop of art to someone's life.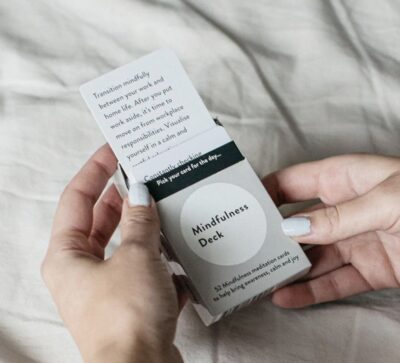 A Mindfulness Meditation Card Deck from Crying Out Loud ($22)
Founded by four widows, Crying Out Loud is an east-end boutique and community that promotes mental wellbeing through a thoughtful selection of self and community care items. We think everyone can benefit from a deck of mindfulness meditation cards. We live in a noisy and chaotic world, anything that supports a sense of calm and clarity is a good thing. Head to their online shop to see other gifts that bring comfort and serenity.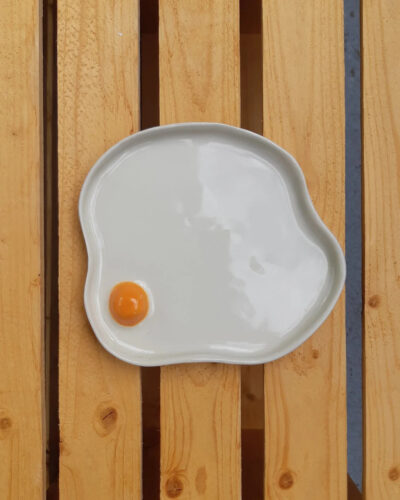 Egg-cellent ceramics from Wandy Cheng ($48)
Toronto-based illustrator Wandy Cheng has an adorable collection of porcelain egg plates that would make a quirky addition to any kitchen. They're perfectly sized for an omelette or sunny side up, or get creative and use it as a jewelry dish, or hang it as wall decor. Find more stunning hand-painted bowls, vases and dishes in her shop!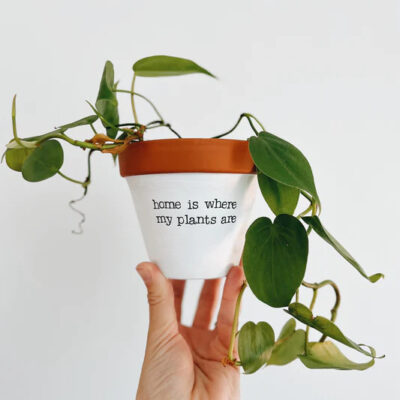 An adorable planter from Rally and Roots ($22)
If you're shopping for a plant parent, consider one of Rally and Roots' hand-painted clay planters. The minimal design of these planters will go with most decor, and you can choose from a mix of heartwarming, funny and punny phrases—or even get a personalized, hand-stamped message. You can never have too many cute planters!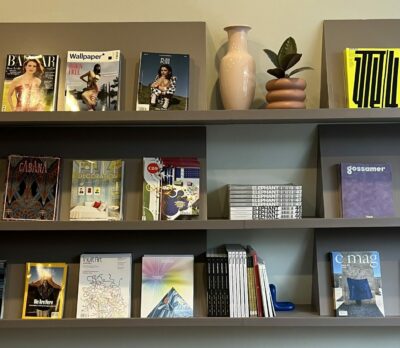 A Custom Magazine Boxset from Issues ($75)
Issues Magazine Shop, which opened in Toronto earlier this year, offers a curated selection of independent and hard-to-find magazines from around the world. For the print lover on your list, their custom boxsets make a unique and personal gift. Pick your budget ($75 will get you 2-3 magazines, but you can choose anywhere from $25-$300), and provide a bit of info about who you're shopping for and what they like. Issues will curate a selection of independent magazines personalized to your loved one, so they can enjoy a new issue of a magazine they love, or discover a new title based on their interests. Browse through the shelves at their Dundas St. W location, or shop online.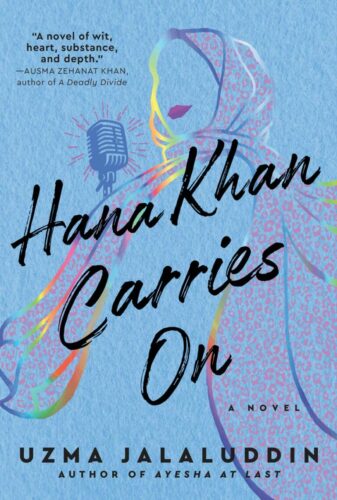 A Romantic Read from Happily Ever After Books ($20)
For the hopeless romantic on your list, gift them a love story to get lost in. Happily Ever After is Canada's first romance-exclusive bookstore, and the ultimate hub for any romance fan. You'll find just about every subgenre of romance you can think of: historical, contemporary, fantasy, and even paranormal. If you're not sure where to start, we recommend their selection of queer books, and their collection of Canadian romance novels — Hana Khan Carries On is an engaging rom-com set in Toronto's east end.

Holiday Cards from The Paperhood ($27- Box of 8)
Don't forget a card! Instead of a cookie-cutter greeting, check out The Paperhood's beautifully designed holiday card collection. Known for their bright and playful paintings, this women-owned paper goods studio is based in The Junction and sells nature and city-inspired greeting cards, postcards and gifts. This Toronto-themed pack features idyllic snowy scenes at Trinity Bellwoods, The Distillery District, the CN Tower and even a streetcar.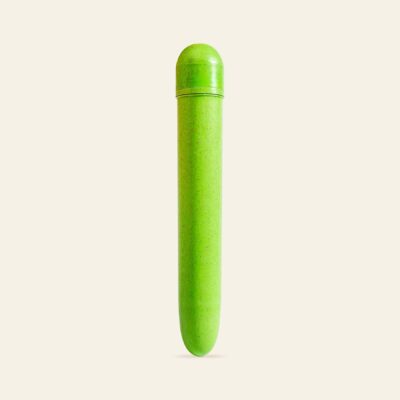 A Blush Gaia Eco-Friendly Vibrator from 8850 ($12)
Meet the world's first biodegradable vibrator. This sleek little toy from Canadian women-owned sexual wellness company 8850, is crafted with a classic vibrator design and can be used for internal or external stimulation. It's an affordable and buzz-worthy gift. We love 8850's range of carefully chosen pleasure-boosting products , but what makes them stand out from other adult sex companies is their commitment to transparency, and their strong set of values. Each product they sell is rated based on how it's made, and who it's made by, with environmental footprint, sexual freedom, healthy work conditions, and diversity & inclusion all being considered. Take a look around and see what we mean.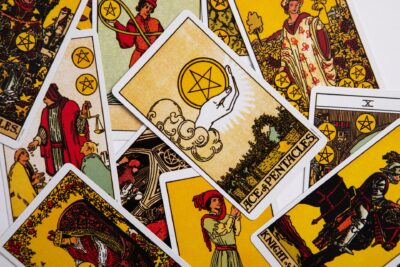 A 2023 Chariot Year Tarot Bundle from Kait Fowlie ($55)
Well known Toronto Astrologist and Tarot Reader Kait Fowlie has created a 7-day online course to help people kick off 2023 with clarity. Explore themes and opportunities through the lens of numerology and tarot, and let Kait help you set goals for the new year. Whoever receives this special gift will get daily lessons, tarot rituals and exercises delivered directly to their inbox, and the Chariot Year bundle also includes an invite to a live group tarot reading. This sounds really fun and full of possibilities. Find out more.