Blume's latte blends will give your body the boost it needs, inside and out.
The Canadian wellness brand was born out of a desire for a healthier coffee — one that tasted great and had benefits beyond just waking you up. So, Co-Founder and CEO Karen Danudjaja created Blume, a line of drink mix-ins loaded with superfoods that have a myriad of health benefits. As well as a delicious range of flavours like Blue Lavender, Oat Milk Chai, and Matcha Coconut, you can also shop by benefit, with categories like Energize, Focus, Unwind, and Digest. Plus, Blume's latte blends mix with water to create gorgeous, Instagram-worthy drinks, with a blend for nearly every colour of the rainbow.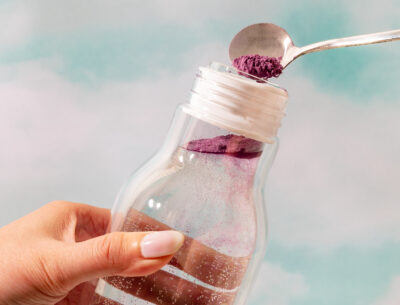 Blume's newest product, The Glow Up Elixir, is a collaboration with Canadian influencer Sasha Exeter focused on whole-body wellness. The concoction of butterfly pea flower, blackcurrant, rose petals, and hibiscus contains 100% of your daily Vitamin C dose (no oranges required!), mood-boosting botanicals and skin-glowing antioxidants. And it's all organic, vegan, and gluten-free!
We caught up with Karen to hear more about Blume's partnership with Sasha Exeter, what working in the wellness industry is really like, and her smartest business moves at Blume.
What makes Blume products unique?
Here at Blume we take your favourite mainstream drinks and turn them into decaffeinated, refined-sugar free, superfood boosted versions, made from whole ingredients. We treat our lattes like a wellness ritual: a five minute break to relax and focus on creating a drink that matches our lifestyle best. We are here to turn the caffeinated beverage world upside down, with a focus on personal wellness and Blume-ing up lives!
What should we know about The Glow Up elixir?
When formulating The Glow Up, we got to celebrate a lot of firsts. It's our first water-based elixir, the first product we've created in collaboration with a member of our community (shout out to Sasha Exeter), and our first product with 100% of your daily dose of Vitamin C. Not to mention, it's also our first product that changes colour from deep purple to light blue depending on the pH of your drink base!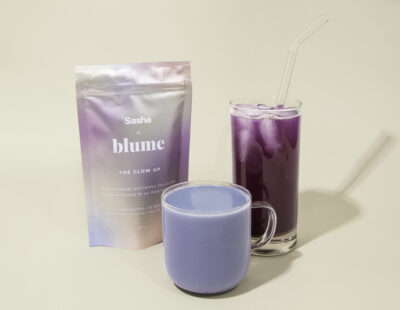 What is your best-selling product? What about your personal favourite?
Our bestseller and the blend with the #1 spot in my heart is Rose London Fog. It's a twist on a classic, with sweet floral notes and a smooth finish. I love to enjoy it hot or iced, and it's the perfect cup if you're looking to reduce inflammation and keep your skin glowing!
What would you say is the biggest challenge of working in the wellness industry?
I think that one of the biggest challenges about working in the wellness industry is that it can often be not accessible or approachable, which is one of the reasons I started Blume. Wellness products can be so clinical and non-intuitive, which makes it challenging to know what to use and who to trust. Something I also think about often is the lack of representation in the wellness industry. It isn't just about being super flexible and drinking green juices all day. Wellness is a feeling and it looks different for everyone.
What made Sasha Exeter the perfect choice for a partnership?
Our entire team admires Sasha for many reasons, but we really connected over our united passion for whole body wellness and the importance of taking care of yourself from the inside out. It's a message that she authentically shares with her community regularly, which really inspires us. When you combine that with her entrepreneurial spirit and ability to always keep it real, we knew she was the perfect person to collaborate with!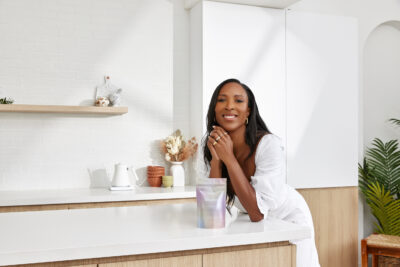 As an entrepreneur, what do you consider one of your smartest moves?
It would definitely have to be not taking investments too early. I needed time to learn and grow as an entrepreneur, and immerse myself in everything from product development to hearing feedback directly from our customers. Doing this is what allowed us to build a company that is value-driven and focused on community, versus growth at any cost. I am so glad that we are bootstrapped to this point and that we were forced to really build slowly and strategically.
Aside from Blume, what does your feel-good routine look like?
Going for a forest walk with my dog and without my phone is one of my favourite things. I am grateful to live in North Vancouver where we have such incredible access to the outdoors. Sometimes you just need to get lost on a trail to recharge and see everything with more perspective.
What principle is currently helping to guide your journey?
It is super cheesy, but I've had a poster since university that I love and have always kept in all of my offices. It says "work hard and be nice to people". I think kindness is a superpower and that dedication and commitment is more important than experience or know-how.
Check out all of Blume's latte blends on their website.