Female citizens in Saudi Arabia are required by law to obtain written permission from a male guardian to travel independently. The guardian may be a woman's father, husband, brother, or sometimes even her son. Saudi-Arabia-born artist Manal AlDowayan addresses this in her powerful exhibition Suspended Together (Standing Dove, Eating Dove), running until October 1 at the Aga Khan Museum.
The installation, which floats above the courtyard café, features white porcelain doves with copies of women's travel documents imprinted on their wings. The exhibition comes to Aga Khan by popular demand after AlDowayan's 2015 exhibition, Home Ground: Contemporary Art from the Barjeel Art Foundation, featured a pair of porcelain birds, which quickly became visitor favourites.
We caught up with AlDowayan this week.
SDTC: The image of doves suspended in flight is a particularly powerful one. Can you bring us back to the time you came up with the concept? What was going through your mind? What message did you want to get across?
MA: I like to work with multimedia: black and white photography, sculpture, video, sound, neon and large-scale participatory installations. My artistic practice revolves around themes of active forgetting, archives and collective memory, with a large focus on the state of Saudi women and their representation. I want to use art as a new platform to address social injustice.
With Suspended Together, I wanted to give the impression of movement and beauty; however, once the viewer takes a closer look at the doves, they realize that the doves are actually frozen and suspended with no hope of flight, which is a poignant reminder of the male guardianship system in Saudi Arabia.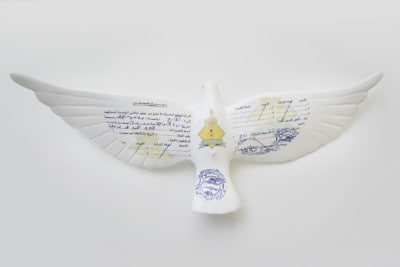 How did you connect with the women whose travel documents you used on the wings?
I reached out to a large group of leading women from Saudi Arabia to donate their permission documents for inclusion in this artwork. Suspended Together carries the documents of award-winning scientists, educators, journalists, engineers, artists and leaders with ground-breaking achievements that gave back to their society. The youngest contributor is six months old and the oldest is sixty. Regardless of age and achievement, when it comes to travel, all these women are treated "like a flock of suspended doves."
Can you explain a bit about what the male guardianship system in Saudi Arabia entails and how it affects women's day-to-day lives?
Notwithstanding their circumstances, all Saudi women are required to have a permission document to travel, issued by their appointed male guardian (normally a father or husband but in some cases a brother or even a son) who has the power to make a range of critical decisions on her behalf. The guardianship system used to be paper-based but is now digitized and invisible.
These systems have become dated and obstructive to the development of our societies and our economies. There is a strong push from the new leadership of Saudi Arabia to abolish these rules in a new phase of the country's history, where women are now joining the workforce and academia in huge numbers, and their movement both inside and outside the country will be impossible to stop.
Looking towards the future, what brings you hope?
Youth bring me hope! Both men and women who will grow up not knowing the old systems will create their own social rules that I imagine will be more inclusive for all members of society.
Suspended Together (Standing Dove, Eating Dove) runs until October 1, 2018 at the Aga Khan Museum.