Adored actor Tara Spencer Nairn (Corner Gas) has always been forthcoming when it comes to her own challenges with mental health. Like us, she believes in the power and freedom that comes with speaking her truth, and understands how every time she does, it make others feel less alone.
Parenting during a pandemic has forced the subject of mental health to be even more top of mind for Tara. So when she was asked to join the Designing Minds team to help raise funds for children's mental health programs at Holland Bloorview Kids Rehabilitation and New Start Foundation it was a quick yes.
The fundraising event has paired local personalities (actors, on-air hosts, influencers) with Canadian fashion designers to create one-of-a-kind masks that will be part of a wow-worthy silent auction that kicks off today and runs until May 2nd. Beyond masks, the event will also auction off special collaborations and experiences—see everything up for offer here.
We already shared the incredible masks that Raptors in-game host Kat Stefankiewicz created with Considerate Goods, which is totally different than what Tara created with womenswear designer NARCES. The bright floral mask they designed would be a cheery addition to any spring wardrobe.
We connected with our favourite TV cop to chat about why this event is meaningful to her and which mental health issues still need to be blown open.
Why was being part of this initiative important to you?
As someone who has ADHD and deals with anxiety and depression, mental health is always top of mind. I feel it's essential to have an open conversation around the topic constantly, to educate and build understanding, and help remove the stigma once and for all. I often feel like a broken record, but until we can have open conversations about our mental health and not be awkward or embarrassed, I will be standing on my soapbox, repeating myself.

How has this past year made you rethink mental health? And what support have you found really helpful for your kids or yourself?
This has been a tough year for every single human. My main focus has been on my children and making sure that they express themselves in any way they need. This past year has been challenging because there are things that often trigger me, but it also creates a great space to engage and communicate about any big feelings. Being a part of Designing Minds gives me peace of mind as I know the programs at Holland Bloorview and New Start Foundation will help other families or us if we ever need them.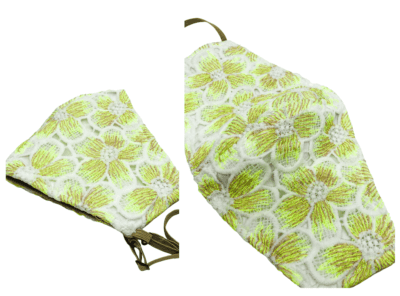 What issue, in your opinion, still needs more attention, when it comes to mental health?
There are a few things. I feel like women have a far easier time speaking about their mental health, whereas the stigma around men and feeling "weak" really needs to be changed. I also feel like the conversation around addiction needs to be addressed more, as well as how we treat and talk about homelessness in this city.

Which designer did you collaborate with, and what creative choices were important to you, in designing your mask?
I worked with NARCES to create a mask I hope everyone will appreciate. I have a great relationship with them and have worn quite a few of their gorgeous pieces over the years to various events and appearances. For our collaboration, we chose yellow, which is my favourite colour. We also incorporated flowers which, for me, celebrate growth. I cannot wait to see the mask on someone else. It brings me joy, and I hope it brings joy to others.
Browse the Designing Minds silent auction here. All proceeds will benefit and provide funding for initiatives and programs to support child and youth mental health initiatives within each organization Holland Bloorview's Facing Your Fears program and the New Start Digital Youth Intensive Outpatient Program (IOP), which benefits youth across Canada.