This week, Toronto introduced a new park between the Aga Khan Museum and the Ismaili Centre. The part was inaugurated by Ontario Premier Kathleen Wynne yesterday, along with His Highness the Aga Khan. There's no doubt this will become one of Toronto's newest cultural hubs over the summer.
Unlike many popular spots around the city that boast flocks of people when the weather is warm, the Aga Khan Park can be enjoyed year-round, with over a thousand trees and plants specifically chosen to withstand Toronto's changing climate. Move over, High Park and Trinity-Bellwoods! You'll want to revel in the Aga Khan beauty every day.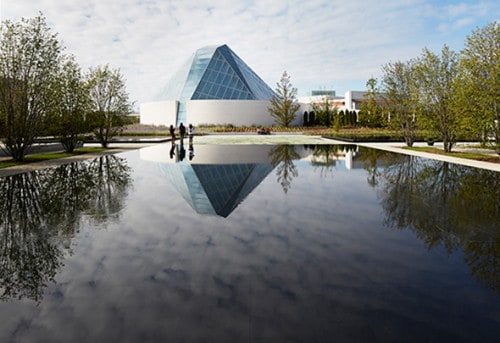 This four-part garden was designed by Lebanon-based landscape architect Vladimir Djurovic and will become the site for a number of cultural, educational, and social programs. As Primier Wynne stated, "The Park brings its own unique style and its own atmosphere to this beautiful corner of the city. This is a true 21st-century space, one that's steeped in history but that speaks to our modern vision of a global, inclusive, and peaceful society."
The Aga Khan Park is a private park open to the public year-round. Summer hours of operation are from dawn to 10pm and admission is FREE! Learn more about this exciting addition to Toronto culture at agakhanpark.org.