Beau's makes some of the tastiest organic craft brews around, so we wanted to find out who was behind all this beer-making magic. We chatted with some of the women from Beau's brew team in the village of Vankleek Hill to see how they got into the biz, and what you'll find them sipping after a long day at the brewery.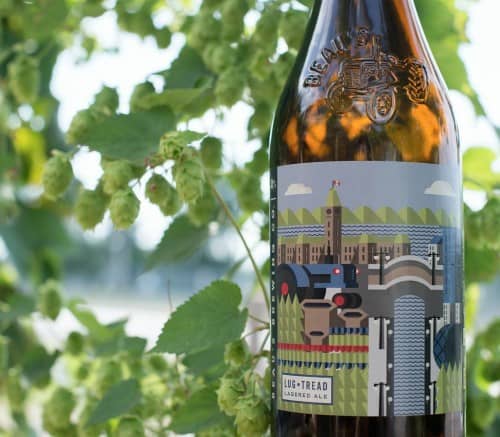 Name: Jen Beauchesne
Job title: Director of "not-so-corporate" Communications
What does your job with Beau's entail?
I manage what I call "not-so-corporate" communications and media relationships for Beau's, so mainly I get to write pretty things about our beer. I write the descriptions that go on our labels, posters and tags. I also write about our brewery and our company culture, write and send press releases, and answer any requests from writers about our beer and brewery. We always have a ton of fun stuff on the go—new beers, events, and projects. I'm always finding ways to share our stories.
Walk us through a typical day.
A 5-10K run is the start of a good day for me. I'm usually reading emails from 9 to 10 a.m. and prioritizing requests, then I'll pester a few people by email for things I'm waiting on or info I need. I try to do most of my creative work in the morning while thoughts are still fresh, and the more technical stuff in the afternoon. Around 5 p.m. I usually head to the Beau's tasting room and grab a "shifty" with my co-workers, then head home. (I live across the road from the brewery so it's not a rough commute!) Most evenings I read or get caught up on social media, listen to music, and hang out with my sons.
What was the best piece of advice given to you in relation to your career?
"It's just beer, not brain surgery." It's a good mantra for when things get screwed up. It happens! But it's just beer.
What was your trajectory to get where you're at now?
I earned a BA from York University with a major in Humanities, and also studied Magazine Journalism at Ryerson before I started working as a writer and editor full time. I worked on a community newspaper for a few years, and then transitioned to working for a niche publishing company, writing and editing how-to books and career advice.
When Beau's started in 2006 there were no jobs open, so I volunteered to write press releases and got paid in beer! I got my "big break" when one of the sales reps broke his right (driving) foot, and I filled in for a few months…aaaaaand I've been working at the brewery ever since. I wore a lot of beer-hats (project management, purchasing, accounting) before we created a full-time role for communications in 2015, but now I'm finally combining my love of craft beer with my love of writing, and it's a dream job. I was also able to power up my beer writing skills last April with a Brewing Technology Diploma from Siebel Institute in Chicago.
What's your fave Beau's brew?
Lug-Tread right off the bottling line. So fresh! Nothing better.
Name: Korina Tkachenko
Job title: Customer Engagement Manager
What does your job with Beau's entail?
I'm always on the lookout for Beau's "super-fans" or "super-fans-in-the-making." I build and cultivate relationships with wonderful people who drink our beer and support us daily—online, in person, at events, on the street. We're always looking to go above-and-beyond and strive to continue to raise the bar on customer service. Another hat I wear is being a point-of-contact with collaborative partners and managing those relationships. I assist in the organizational development of a collaborative beer from its conception to its first sips. We work with a lot of incredible brewers and personalities—each experience is quite different.
Walk us through a typical day.
Working at Beau's is very much a lifestyle and customer engagement is no exception. Drinking beer is not limited to a 9 to 5 work-week and neither are we. A lot of time is spent on social media responding to questions and comments as well as engaging in conversations. I'm also participating in a lot of meetings—mine just happen to be called "beer meetings." A lot of time is spent determining how to exceed expectations and then following through.
What was the best piece of advice given to you in relation to your career?
"Beer is supposed to be fun. If you're not having fun, you're doing something wrong."
What was your trajectory to get where you're at now?
I studied Advertising & Marketing Communications not knowing where it would take me, but I learned it set a solid base for where I am now. I work well with different personalities and have been lucky to grow the Customer Engagement world at the brewery. We're very fortunate to have such great fans, so we decided to make that a focus. We let our valued relationships with our customers evolve into a full-time position. I've been with the company almost six years, starting with our original retail store. My position went through various manifestations to what it is today: interacting with awesome people about everyone's favourite subject, craft beer. And much more.
What's your fave Beau's brew?
It is entirely mood- and craving-based.
Go-to: Lug-Tread
First love: Farm Table: Märzen
Latest obsession: Old Skål
feBREWary favourite: Tyrannosaurus Gruit
Name: Nikki Tessier
Job title: Assistant Brewer
What does your job with Beau's entail?
Long story short: I brew beer, occasionally filter beer, tidy up, and high-five my co-workers!
Walk us through a typical day.
A typical day—depending what shift I'm on—means I bolt out of my apartment with a coffee in hand, or relax on my balcony with my coffee in hand, pet my cat, wash away the yesterdays. I then get to work and take over my co-worker's shift, which could mean starting a brew or casting out a brew, and everything in between. I brew beer, which starts off with wort production. I mill in, mash in, give the mash a rest, start the boil, add the hops, send it to the whirlpool, send it out to the fermenter, and juggle. I may have two brews on the go at different stages of wort production, hence the juggling. I squeeze in some lunch and snacks whenever possible and chat with my co-workers, answer questions and pick up after myself. Lots of sweating! Lots of high fives! Lots of reasons to!
What was the best piece of advice given to you in relation to your career?
"You made a mistake? Don't do it again." "Don't be so hard on yourself." So many wise words, but none as short and simple as these.
What was your trajectory to get where you're at now?
I've been at Beau's for about eight years. I worked my way from retail and events, to packaging, packaging clerk, cellar woman and finally brewing the beer. It seemed like the best route to take – very scenic. Every single job meshed with the next. I was taught wort production and the brewing process and am still learning on the job. Backwards approach to some, but my favourite approach. I hope to one day go to school, put my practice into theory.
What's your fave Beau's brew?
Overall, I think Farm Table: Märzen is my favourite. I get excited about it every year. Try it! I also love Kissmeyer: Nordic Pale Ale from the B-Side brewing label series. There's no such thing as one favourite brew—there are too many favourites. I also have high expectations for a couple of new brews coming out really soon. Suspense.
Name: Bridgid Young
Job title: Sales Representative
What does your job with Beau's entail?
I work with awesome bars and restaurants who have great taste in beer, to get delicious pints of Beau's into the hands of craft beer lovers!
Walk us through a typical day.
Before getting out of bed, I start each morning catching up on emails that came in overnight. Once I'm up, I usually spend a few morning hours connecting with licensees to see what they need to order for the week or working on special requests and ironing out details for events. By noon, the day has usually set itself up and I'm out the door. Meetings with current and potential customers, dropping off coasters and glassware, running all over the city to check how things are going. There's usually a beer delivery or two mixed into the day and hopefully a pint of Lug-Tread with lunch. Late afternoon, I may find myself doing some training with bar staff or setting up for a beer sampling. In the evening, if I'm not at a beer event, I'm catching up on emails and texts with a cold beer in my backyard. My work and my life are really integrated, which I find very fulfilling—I'm always working and never working at the same time!
What was the best piece of advice given to you in relation to your career?
My mom always says, "What's the worst that can happen?" For me, this doubles as both solid career and life advice. It reminds me to take chances and also helps me keep perspective. Change is hard and it takes time and work to get good at something. It's important to be gentle with yourself and to treat obstacles as opportunities for growth. It's also important to look back every once in a while to see how far you've come and to keep looking ahead, staying positive, dreaming big and leaping on occasion.
What was your trajectory to get where you're at now?
I studied Winemaking and Viticulture at Niagara College. I spent several years making wine and then became enamoured with craft beer. I moved to Toronto and brewed for about five years. During that time I was also doing a lot of brand ambassador work—beer dinners, beer festivals, tours, training. My interests shifted and I wanted to spend more time talking about beer than making beer. I took some marketing classes and when I saw that Beau's was looking for an east end sales rep in Toronto, I jumped at the opportunity to work with such an awesome team.
What's your fave Beau's brew?
I really love Lug-Tread; it's such a satisfying beer. Going back in the vaults, I was crazy about MaddAddamites NooBroo (a collaboration with acclaimed Canadian author Margaret Atwood and her partner, novelist Graeme Gibson) and Happy Pilsner.
Toronto's beer-loving women should check out Vankleek Hill Fairgrounds for Beau's Oktoberfest, happening September 23 and 24! This year's stellar acts include 54-40, K-OS, Born Ruffians, Hannah Georgas, Fast Romantics, Motel Raphael, Gazoline and Walter Ostanek.