When Tempest Storm began her career as a burlesque dancer back in the 1950s, newspapers and radio hosts would often describe her impressive bust, instead of her as a person, with headlines like, "Biggest Props in Hollywood" or "44-inch Pleasure Chest."
She loves performing, which is why she's done it for nearly seven decades. "No one has ever stayed in the business as long as me," says Tempest, who is now 88 years old. While the stage may be her happy place, her life has been riddled with heartache.
During Hot Docs, when the documentary Tempest Storm by Toronto-based filmmaker Nimisha Mukerji first premiered, I had the opportunity to meet the "Queen of Exotic Dancing" at The Gladstone Hotel for an interview.
Tempest wears long satin gloves to cover her thickly veined and fragile arthritic hands. Her hair is still the gorgeous fiery red it was in her youth and is beautifully coiffed and puffed. Although she's approaching ninety years of age, she still has a glow to her skin and a smile that is noticeably mischievous.
Born in 1929 in Newton County, Georgia, Tempest grew up during the Depression. I wanted to start our interview by discussing her childhood, so I asked her what she remembered most clearly from that time.
"I remember these five guys, one was a policeman, putting me into a car in the afternoon, taking me up to the hills and raping me one by one," says Tempest, without flinching. "One night, I woke up and my stepfather was on top of me, and his cousin also tried to do the same thing. That's mostly what I remember. Most of it was not good." It was not the answer I anticipated, and I wasn't sure how to respond, but this is her story. The violence done to her will never leave her, it will always burn and churn inside, but she's become comfortable talking about it, even to strangers like me.
Those men, the ones who raped her, are why Tempest left Georgia; it's how she ended up wandering far away from her family and becoming a burlesque performer. She can still remember the dressing room antics from those first few months of burlesque dancing. "All the girls in the business thought I was a bitch," Tempest says with a smile. "I never mingled with the other girls. I saw what kind of bitches they could be. They used to put itching powder in [other girls'] costumes, if someone got a bigger name on stage. I said to them, 'If you worry about yourself instead of the girl before you, you might become somebody.'"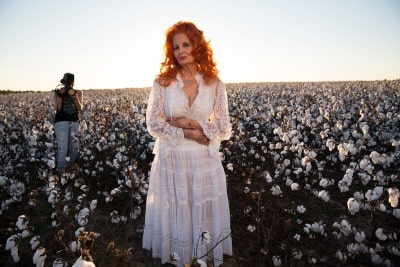 And that's what Tempest did: she focused on the work. "I never smoked, I never drank, I never did drugs." But she did have many lovers, including Elvis and JFK. In fact, the documentary dives into one particular evening when Elvis was so desperate to see her, he jumped the back fence of a hotel lot at 3 a.m. and arrived at her door (through the back staircase to avoid paparazzi) with ripped pants. When I asked her what he was like, she was quick to respond: "He was a real southern gentleman. Very sweet, very nice." When I asked about her impressions of JFK, her response was a little slower, "He was…nice. I told him when I first met him that he would be president one day. He said, 'I hope you're right.'"
While Tempest has seen and done many great things and had many great loves, including four marriages, her present-day life is as complicated and heavy-hearted as her past.
In 1959, she wed musician Herb Jeffries, who was widely known as "America's First Singing Black Cowboy." Removing her clothes and dancing on stage was already viewed as disgraceful by many, but a white woman from Georgia marrying a black man was even more scandalous. Despite being ostracized by family and ridiculed in the media, Tempest carried on, seemingly not phased by the negative attention. In 1963, the couple gave birth to a little girl, Patricia Ann.
For the first few years of her daughter's life, Tempest would bring Patricia Ann to all her acts. "I took her on the road with me, several times. It was fun. She was cute," she says. But then one day Tempest got a phone call: "I got a crank call telling me that something horrible would happen to my daughter. So I stopped taking her."
It was around this time that Tempest's career really exploded, and she chose touring across America over staying at home with her family. She chose the stage over her daughter. Now that Patricia Ann is a grown woman with her own children, Tempest tries to connect with her, calling her and sending cards, but the wounds of abandonment run deep. In the film, we see Tempest's efforts being rejected, and while it's understandable, it hurts to watch. She assures me that she has friends in her hometown of Las Vegas, and that on Mondays they get together to watch Dancing With The Stars, but it seems that Tempest is very much alone.
On stage people tell her that she glows. "It's because I see this little girl dancing," she says, reminiscing of her childhood. When she's in the spotlight, she goes back to that time and dreams of that happy little girl…before all the painful stuff happened.
A remarkable film about a truly fascinating woman, Tempest Storm opens in Toronto on June 17th, and in Vancouver on June 18th.
Watch the trailer now.