Located on College Street just west of Dovercourt Road, The Depanneur, or "the place where interesting food things happen", is celebrating a decade of vibrant culinary life with a kickstarter campaign for an upcoming cookbook which boasts 100 recipes from 100 Toronto cooks.
"We're long overdue for a cookbook that actually reflects the diversity of Toronto," says Len Senater, the founder of The Depanneur, who shares that the cookbook will feature those who've cooked at The Depanneur, but also home cooks he admires, a variety of local foodie personalities, and some celebrity chefs too.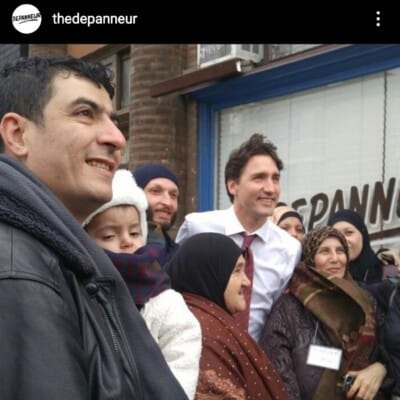 The neighbourhood gem has always been a go-to for brunch and curious food workshops, but it gained worldwide notoriety when their Newcomer Kitchen initiative—or the weekly menu prepared by Syrian refugee women—received international press featured everywhere from Al Jazeera to The Guardian. This was soon followed by a visit from Prime Minister Justin Trudeau (it was an exciting day for the Dufferin Grove community).
Since the onset of COVID, The Depanneur has gotten quite creative with their beloved pick-up dinners. Recent offerings have included Indian Comfort Classics by SpiceGirlEats, a Taste of Paris by Robert Yee, Turkey visits Albania by Tuba Tunc, and Guyanese Oxtail Pepperpot by Eshwar Sarwan. Truly, it's a one of a kind establishment run with love.
The Depanneur Cookbook Kickstarter launches November 19th. Bookmark it now and get ready to be first in line to pre-order a copy (with an incredibly loyal following, we have a feeling they'll go fast!).